BOPP Film Granulation Equipment Description:
This BOPP film granulation equipment for PP film pelletizing recycling plant is mainly used for crushing, cleaning and drying of PP/BOPP/CPP recycled materials.The material is fed by screw feeder or vacuum feeder, then the material is fed to the extruder screw through a quantitfy feeding device. The screw is specially designed for the recycled material recycling pelletizing , and has advantage of fast feeding and resistance. With natural venting and vacuum system; can effectively discharge the water inside the material; the extruder uses cast aluminum heaters, durabl. Customers aso may choose two-stage pelletizing system, use the two extruders pass the secondary filtration to make the pellets be cleaner and higher quality.
BOPP Film Granulation Equipment Features:
1. Make full use of the high-pressure continuous friction heating system to automatically heat production, avoid continuous heating and save energy.
2. The BOPP film granulation machine adopts a split automatic distribution system to ensure the safe operation of the motor.
3. Dry or dry, dry, can be produced, wet or dry.
4. From raw material crushing, washing to automatic processing of particles.
5. The screw and cylinder are made of imported high-strength, high-quality carbon structural steel, which is durable.
BOPP Film Granulation Equipment Application:

BOPP Film Granulation Equipment Video:
BOPP Film Granulation Machine Technical Parameter:
FS series single-stage granulator machine
Model
Extruder
Screw diameter(mm)
L/D ratio
Power(kw)
Productivity(PE)(kg/h)
Productivity(PP)(kg/h)
FSJ70
70/33
φ70
33:1
110
110-150
100-130
FSJ85
85/33
φ85
33:1
150
180-250
150-200
FSJ100
100/33
φ100
33:1
210
280-350
250-300
FSJ130
130/33
φ130
33:1
300
480-550
400-480
FSJ160
160/33
φ160
33:1
370
650-750
550-650
FSJ180
180/33
φ180
33:1
460
800-1000
750-850
FS series double-stage granulator machine
Model
FSJ100/120
FSJ130/130
FSJ160/160
FSJ180/200
First extruder parameter
Screw diameter(mm)
φ100
φ130
φ160
φ180
L/D ratio
33
33
30
30
Extruder motor(kw)
90
132
185
250
Heating power(kw)
45
55
70
70
Screw speed(RPM)
0-120
0-120
0-120
0-120
Second extruder parameter
Screw diameter(mm)
φ120
φ130
φ160
φ200
L/D ratio
10-15
10-15
10-15
10-15
Extruder motor(kw)
30
45
55
75
Heating power(kw)
30
35
45
60
Screw speed(RPM)
0-120
0-120
0-120
0-120
Productivity(kg/h)
250-350
400-550
500-700
800-1000
BOPP Film Granulation Machine Detail:
Detail 1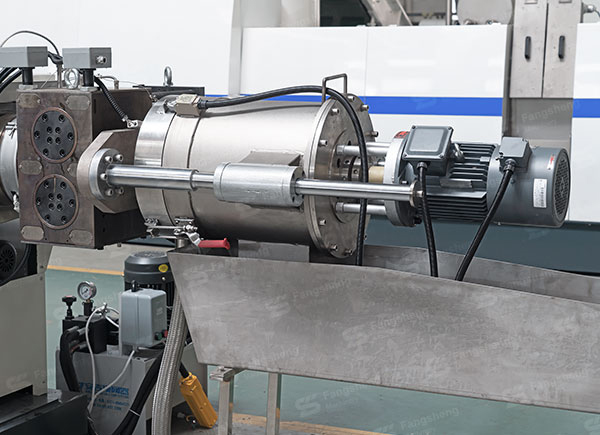 Detail 2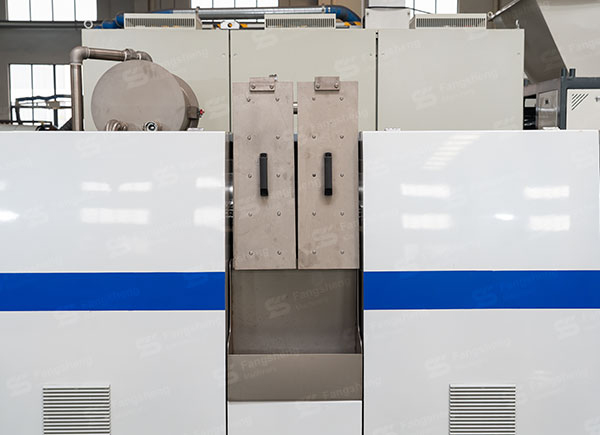 Detail 3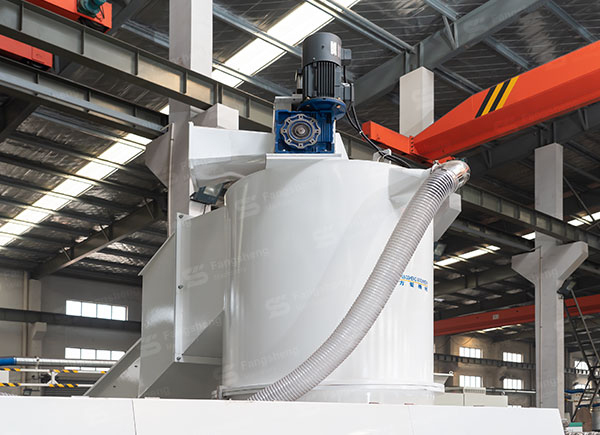 Detail 4
Detail 5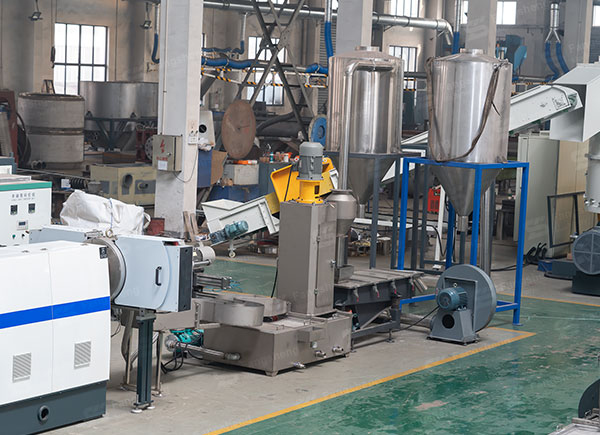 Detail 6