BOPP Film Granulator Equipment Description:
BOPP film granulator equipment, used for recycling and waste plastic materials.The BOPP film granulator machine is equipped with automatic temperature, electric change filter screen.After loading the feeder, the crushed material can be granulated.BOPP film granulator machine adopts speed regulating motor.Material can be cut according to the feed rate of the extruder.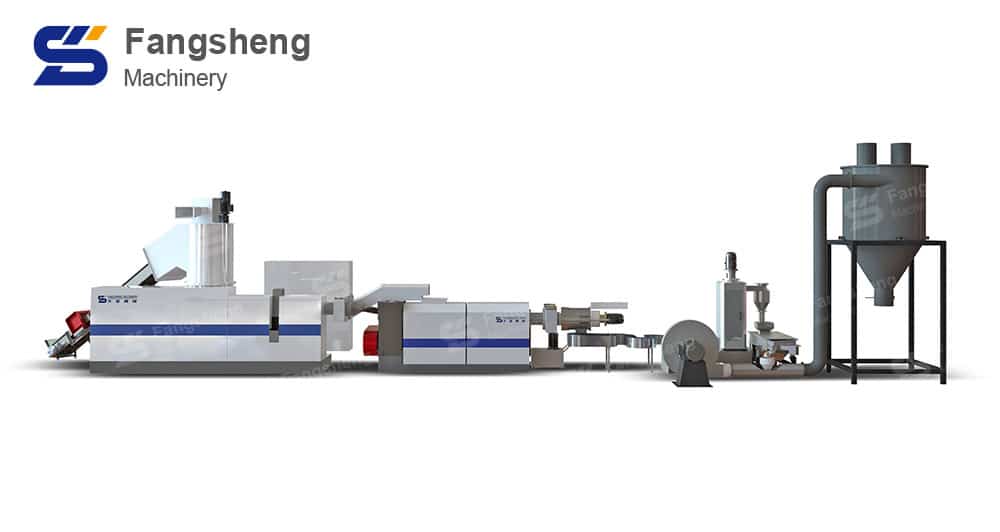 BOPP Film Granulator Equipment Features:
1. The BOPP film granulator machine is equipped with a fully automatic control cabinet and PLC operating system. Simple operation and stable performance.
2. Single screw extruder, equipped with specially designed screw and barrel, exhaust system, high average output.
3. The high-efficiency feeder ensures large-capacity feeding and low energy consumption.
4. The material will be cut, preheated, mixed and compacted by the compactor
5. Granulation method: water ring and water-cooled strand cutting, using extrusion die, even cutting can ensure a good shape.
BOPP Film Granulator Equipment Application:

BOPP Film Granulator Machine Video:
BOPP Film Granulator Machine Technical Parameter:
FS series single-stage granulator machine
Model
Extruder
Screw diameter(mm)
L/D ratio
Power(kw)
Productivity(PE)(kg/h)
Productivity(PP)(kg/h)
FSJ70
70/33
φ70
33:1
110
110-150
100-130
FSJ85
85/33
φ85
33:1
150
180-250
150-200
FSJ100
100/33
φ100
33:1
210
280-350
250-300
FSJ130
130/33
φ130
33:1
300
480-550
400-480
FSJ160
160/33
φ160
33:1
370
650-750
550-650
FSJ180
180/33
φ180
33:1
460
800-1000
750-850
FS series double-stage granulator machine
Model
FSJ100/120
FSJ130/130
FSJ160/160
FSJ180/200
First extruder parameter
Screw diameter(mm)
φ100
φ130
φ160
φ180
L/D ratio
33
33
30
30
Extruder motor(kw)
90
132
185
250
Heating power(kw)
45
55
70
70
Screw speed(RPM)
0-120
0-120
0-120
0-120
Second extruder parameter
Screw diameter(mm)
φ120
φ130
φ160
φ200
L/D ratio
10-15
10-15
10-15
10-15
Extruder motor(kw)
30
45
55
75
Heating power(kw)
30
35
45
60
Screw speed(RPM)
0-120
0-120
0-120
0-120
Productivity(kg/h)
250-350
400-550
500-700
800-1000
BOPP Film Granulator Machine Detail:
Detail 1
Detail 2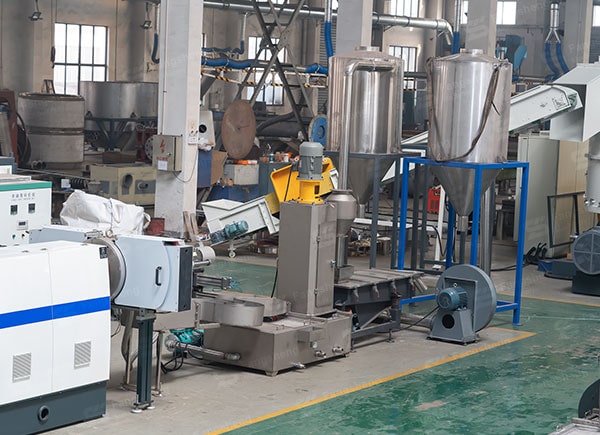 Detail 3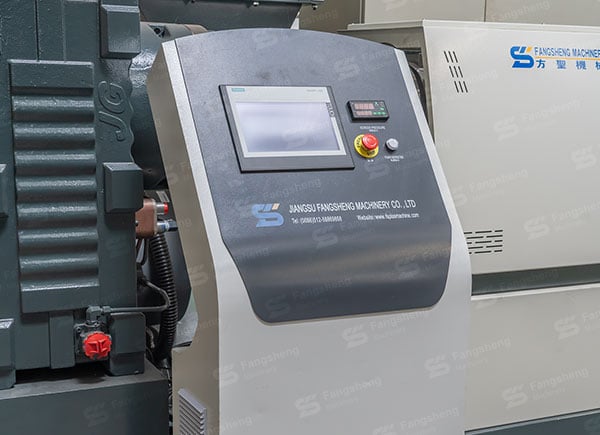 Detail 4
Detail 5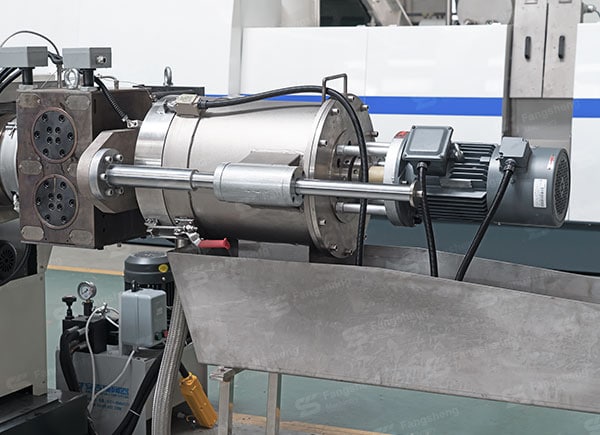 Detail 6