BOPP Film Pelletizer Line Description:
The BOPP film pelletizer line is a model specially developed by our company for the extrusion and pelletization of waste BOPP film materials. This  BOPP film pelletizer unit integrates the transportation, crushing, extrusion and granulation of raw materials. The production process saves the labor of repeated turnover and transportation of raw materials. The waste film generates thermal pellets during the crushing process, which is conducive to compression and plasticization. The BOPP film pelletizer machine has a high output. Low energy consumption, low work intensity of workers, and good quality of recycling and granulation. The BOPP film pelletizer machine is an ideal equipment for recycling and granulating waste films.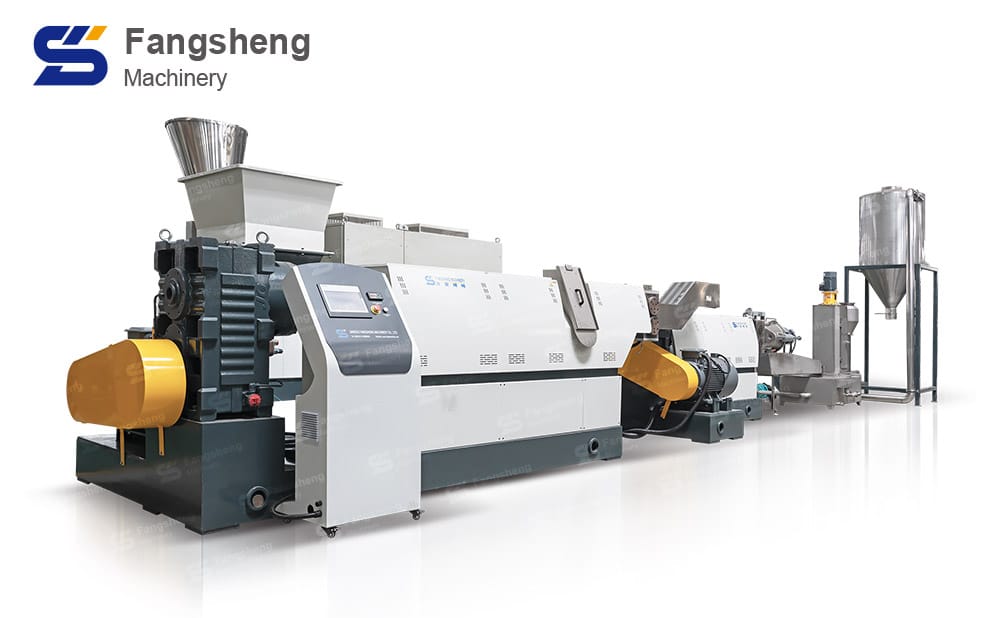 BOPP Film Pelletizer Line Features:
1. The entire BOPP film pelletizer machine has a high degree of automation and is a fully automatic assembly line. As long as someone adds waste plastic in the front and someone at the back receives the pelletized product, it can realize the direct transformation from waste plastic to pelletized product;
2. The screw and barrel of the pelletizing line are made of special materials, and the surface is nitrided and hardened, and the service life is super long;
3. After the pelletizing line is discharged, the pellets are cut directly by the water ring, dehydrated by the dehydrator, and the appropriate pellets are selected through the vibrating screen and sent to the storage bin by the fan.
BOPP Film Pelletizer Line Application:

BOPP Film Pelletizer System Video:
BOPP Film Pelletizer System Technical Parameter:
FS series single-stage granulator machine
Model
Extruder
Screw diameter(mm)
L/D ratio
Power(kw)
Productivity(PE)(kg/h)
Productivity(PP)(kg/h)
FSJ70
70/33
φ70
33:1
110
110-150
100-130
FSJ85
85/33
φ85
33:1
150
180-250
150-200
FSJ100
100/33
φ100
33:1
210
280-350
250-300
FSJ130
130/33
φ130
33:1
300
480-550
400-480
FSJ160
160/33
φ160
33:1
370
650-750
550-650
FSJ180
180/33
φ180
33:1
460
800-1000
750-850
FS series double-stage granulator machine
Model
FSJ100/120
FSJ130/130
FSJ160/160
FSJ180/200
First extruder parameter
Screw diameter(mm)
φ100
φ130
φ160
φ180
L/D ratio
33
33
30
30
Extruder motor(kw)
90
132
185
250
Heating power(kw)
45
55
70
70
Screw speed(RPM)
0-120
0-120
0-120
0-120
Second extruder parameter
Screw diameter(mm)
φ120
φ130
φ160
φ200
L/D ratio
10-15
10-15
10-15
10-15
Extruder motor(kw)
30
45
55
75
Heating power(kw)
30
35
45
60
Screw speed(RPM)
0-120
0-120
0-120
0-120
Productivity(kg/h)
250-350
400-550
500-700
800-1000
BOPP Film Pelletizer System Detail: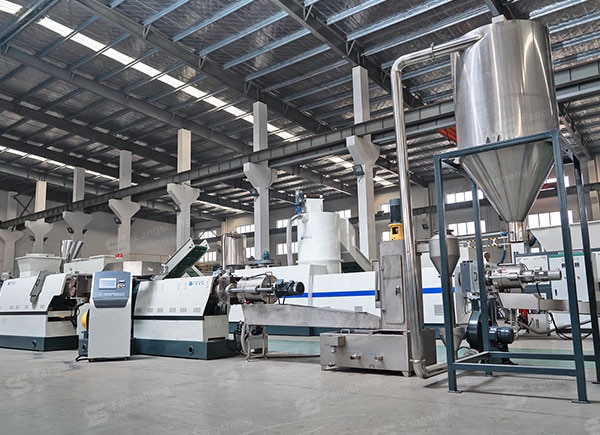 Detail 1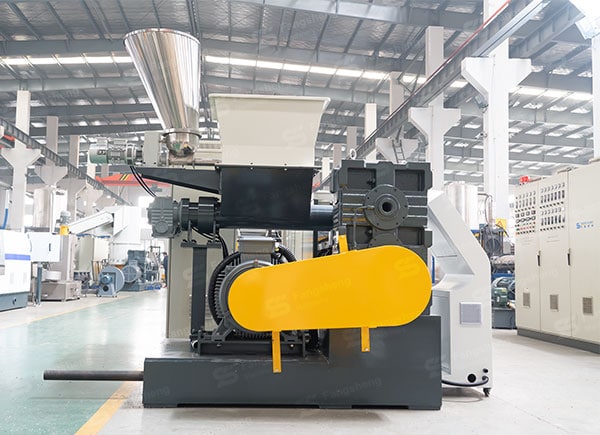 Detail 2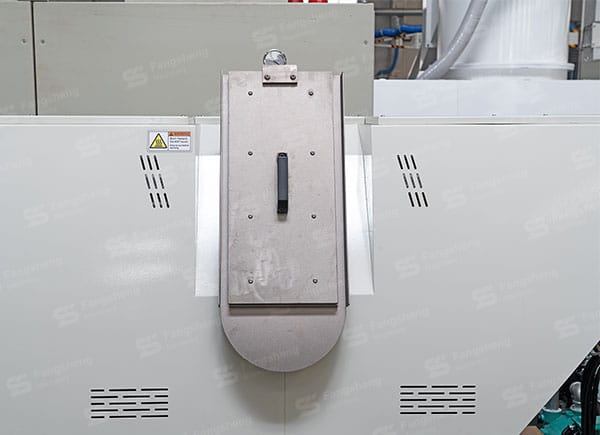 Detail 3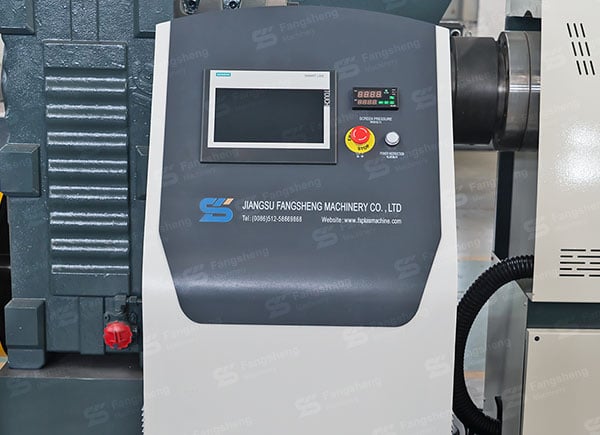 Detail 4
Detail 5
Detail 6