CPP Film Granulating Equipment Description:
High-efficiency CPP film granulating equipment from Fangsheng is designed for recycling plastic CPP,PP etc. It is widely used to make bags, film rolls, stretch films, shrink Film, multilayer film, t-shirt bag cutting; foamed PE, sheet, food container, fruit net, lid, fiber, raffia, silk, yarn, woven bag, big bag. One pelletizing machine can produce more than 10 kinds of plastic materials.
CPP Film Granulating Equipment Features:
1. The barrel and screw of the same direction parallel twin-screw granulator are designed according to the building block principle, and different combinations can be made according to the needs. CPP film granulating machine adopts electric heating and water cooling to automatically control the temperature of the barrel, and is equipped with forced feeding and quantitative feeding, vacuum exhaust and non-stop screen changing devices.
2. Equipped with a specially designed barrel and screw and a single screw with exhaust system to ensure high output.
3. Single screw mainly includes natural exhaust type granulation and vacuum exhaust type granulation. There are water-drawing cooling method and air-cooling cooling method for forming.
4. The CPP film granulating machine can work with forced feeding, quantitative feeding, weighing feeding, and central feeding systems. The main machine of the CPP film granulating machine adopts variable frequency speed regulation, AC motor drive or DC speed regulation, DC motor drive.
CPP Film Granulating Equipment Application:

CPP Film Granulating Equipment Video:
CPP Film Granulating Machine Technical Parameter:
FS series single-stage granulator machine
Model
Extruder
Screw diameter(mm)
L/D ratio
Power(kw)
Productivity(PE)(kg/h)
Productivity(PP)(kg/h)
FSJ70
70/33
φ70
33:1
110
110-150
100-130
FSJ85
85/33
φ85
33:1
150
180-250
150-200
FSJ100
100/33
φ100
33:1
210
280-350
250-300
FSJ130
130/33
φ130
33:1
300
480-550
400-480
FSJ160
160/33
φ160
33:1
370
650-750
550-650
FSJ180
180/33
φ180
33:1
460
800-1000
750-850
FS series double-stage granulator machine
Model
FSJ100/120
FSJ130/130
FSJ160/160
FSJ180/200
First extruder parameter
Screw diameter(mm)
φ100
φ130
φ160
φ180
L/D ratio
33
33
30
30
Extruder motor(kw)
90
132
185
250
Heating power(kw)
45
55
70
70
Screw speed(RPM)
0-120
0-120
0-120
0-120
Second extruder parameter
Screw diameter(mm)
φ120
φ130
φ160
φ200
L/D ratio
10-15
10-15
10-15
10-15
Extruder motor(kw)
30
45
55
75
Heating power(kw)
30
35
45
60
Screw speed(RPM)
0-120
0-120
0-120
0-120
Productivity(kg/h)
250-350
400-550
500-700
800-1000
CPP Film Granulating Machine Detail:
Detail 1
Detail 2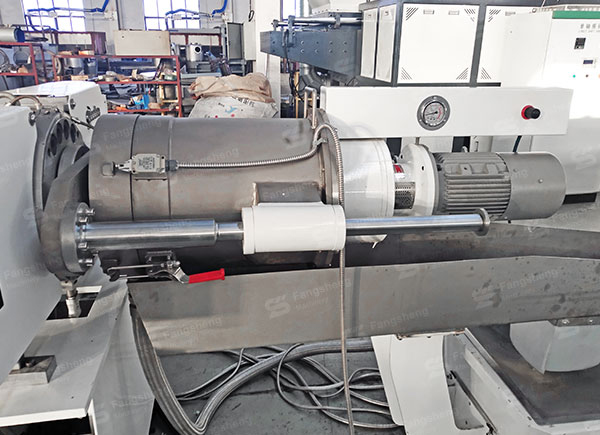 Detail 3