CPP Film Pelletizer Line Description:
CPP film pelletizer line is a three in one recycling machine designed for low density plastic articles. It could provide the excellent recycling pelletizing solution for film, raffia, filament, woven bag and nonwoven fabric which sourced from production factory and washing line.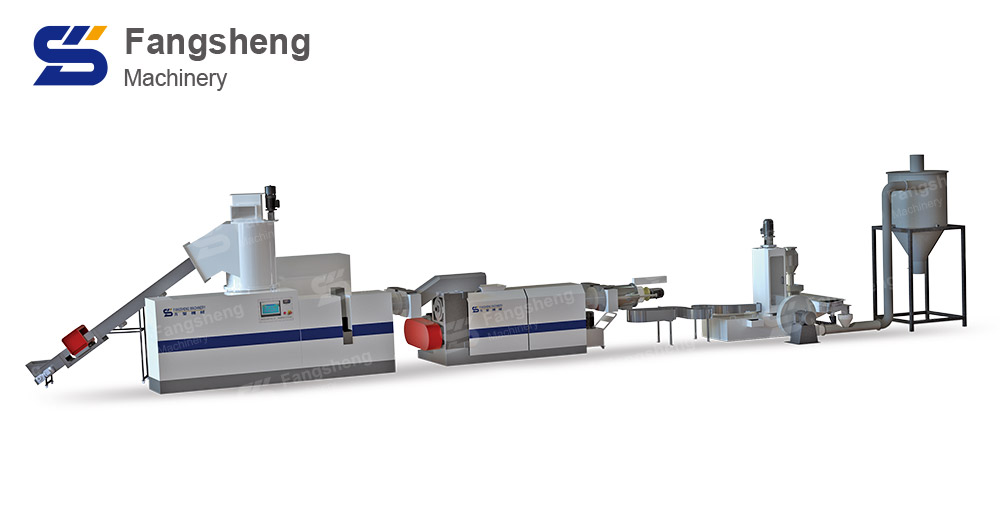 CPP Film Pelletizer Line Features:
1. Suitable for plastic film CPP,PP ,PE ,HDPE,LDPE,LLDPE and so on.
2. CPP film pelletizer machine is equipped with the vertical and horizontal force-feeding device to ensure high output.
3. Vent design on the barrel to evaporate the volatiles form the recycle material.
4. Hydraulic screen change unit and pressure gauge for easy operation and safety.
5. Water chamber with die face cutter simpifes the process.
6. The vertical centrifuge separates and dry the pellets faster.
7. High-efficient force-feeder ensures high capacity feeding, low energy consumption
8. CPP film pelletizer equipment style: water-ring cutting with extrusion mould, even cutting ensures good shape.
CPP Film Pelletizer Line Application:

CPP Film Pelletizer Machine Video:
CPP Film Pelletizer Machine Technical Parameter:
FS series single-stage granulator machine
Model
Extruder
Screw diameter(mm)
L/D ratio
Power(kw)
Productivity(PE)(kg/h)
Productivity(PP)(kg/h)
FSJ70
70/33
φ70
33:1
110
110-150
100-130
FSJ85
85/33
φ85
33:1
150
180-250
150-200
FSJ100
100/33
φ100
33:1
210
280-350
250-300
FSJ130
130/33
φ130
33:1
300
480-550
400-480
FSJ160
160/33
φ160
33:1
370
650-750
550-650
FSJ180
180/33
φ180
33:1
460
800-1000
750-850
FS series double-stage granulator machine
Model
FSJ100/120
FSJ130/130
FSJ160/160
FSJ180/200
First extruder parameter
Screw diameter(mm)
φ100
φ130
φ160
φ180
L/D ratio
33
33
30
30
Extruder motor(kw)
90
132
185
250
Heating power(kw)
45
55
70
70
Screw speed(RPM)
0-120
0-120
0-120
0-120
Second extruder parameter
Screw diameter(mm)
φ120
φ130
φ160
φ200
L/D ratio
10-15
10-15
10-15
10-15
Extruder motor(kw)
30
45
55
75
Heating power(kw)
30
35
45
60
Screw speed(RPM)
0-120
0-120
0-120
0-120
Productivity(kg/h)
250-350
400-550
500-700
800-1000
CPP Film Pelletizer Machine Detail:
Detail 1
Detail 2
Detail 3
Detail 4
Detail 5
Detail 6