CPP Film Pelletizer Machine Description:
CPP film pelletizer machine has unique design, adopts separated efficient screw, high degree of automation, convenient operation, continuous production, stable and reliable. The CPP film pelletizer equipment provides excellent regranulation solutions for film, coconut fiber, filament, woven bag and non-woven fabrics from the production plant and cleaning line.
CPP Film Pelletizer Machine Features:
1. The CPP film pelletizer equipment is suitable for the recycling and granulation of CPP crushed materials.
2. The extruded compression is high, the particles are full, and the shape is similar to that of the new material slice.
3. According to the conditions of use, a vibrating screen is used for sorting after dehydration.
4. High degree of automation, simple operation and maintenance.
5. According to the actual situation, the CPP film pelletizer equipment can be configured to use two-stage granulation.
CPP Film Pelletizer Machine Application:

CPP Film Pelletizer Line Video:
CPP Film Pelletizer Equipment Technical Parameter:
FS series single-stage granulator machine
Model
Extruder
Screw diameter(mm)
L/D ratio
Power(kw)
Productivity(PE)(kg/h)
Productivity(PP)(kg/h)
FSJ70
70/33
φ70
33:1
110
110-150
100-130
FSJ85
85/33
φ85
33:1
150
180-250
150-200
FSJ100
100/33
φ100
33:1
210
280-350
250-300
FSJ130
130/33
φ130
33:1
300
480-550
400-480
FSJ160
160/33
φ160
33:1
370
650-750
550-650
FSJ180
180/33
φ180
33:1
460
800-1000
750-850
FS series double-stage granulator machine
Model
FSJ100/120
FSJ130/130
FSJ160/160
FSJ180/200
First extruder parameter
Screw diameter(mm)
φ100
φ130
φ160
φ180
L/D ratio
33
33
30
30
Extruder motor(kw)
90
132
185
250
Heating power(kw)
45
55
70
70
Screw speed(RPM)
0-120
0-120
0-120
0-120
Second extruder parameter
Screw diameter(mm)
φ120
φ130
φ160
φ200
L/D ratio
10-15
10-15
10-15
10-15
Extruder motor(kw)
30
45
55
75
Heating power(kw)
30
35
45
60
Screw speed(RPM)
0-120
0-120
0-120
0-120
Productivity(kg/h)
250-350
400-550
500-700
800-1000
CPP Film Pelletizer Line Detail:
Detail 1
Detail 2
Detail 3
Detail 4
Detail 5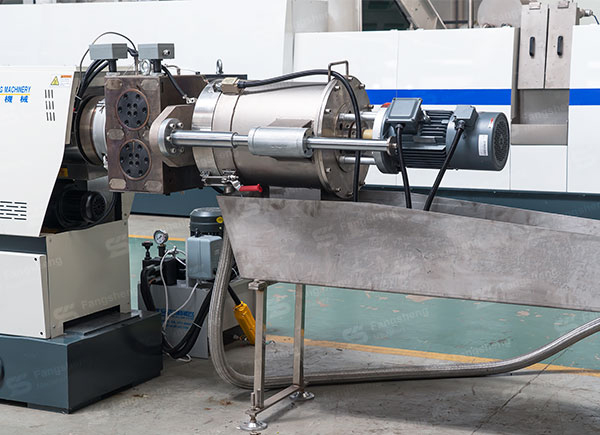 Detail 6