CPP Film Pelletizer System Description:
The pelletizing technology of the traditional waste plastic recycling extrusion pelletizing machine is to extrude the melt to be cooled and solidified and pelletized, while the CPP film pelletizer system is directly underwater pelletizing in the melt state This is a new type of machine, melt pelletizing has obvious advantages over solid pelletizing. Pelletizing underwater pelletizing extrusion pelletizing unit is mainly equipped with: two-stage exhaust extruder, underwater pelletizing die, and flexible knife It consists of a vertical automatic dewatering device, a vibrating separation screen, an air conveying system, and an aggregate hopper.
CPP Film Pelletizer System Features:
1. Since the plastic is scraped off by the blade in the melt state and solidified after being cooled by circulating water, polymers of different viscosities can be pelletized by this type of pelletizing, and the pelletizing in the melt state will not form any dust, and The shape of the cut pellets is regular, and the packaging and transportation are more convenient.
2. According to the extrusion volume, it can automatically adjust the output of the die and the cutting speed to change the size of the pellets. You can also manually use the knife holder with different blades to change the shape of the pellets.
3.CPP film pelletizer line  pellets the plastic melt and cools it, so that the pelletizing process can be automated, the operation is convenient, the noise is low, and the slice quality is good.
CPP Film Pelletizer System Application:

CPP Film Pelletizer Machine Video:
CPP Film Pelletizer Machine Technical Parameter:
FS series single-stage granulator machine
Model
Extruder
Screw diameter(mm)
L/D ratio
Power(kw)
Productivity(PE)(kg/h)
Productivity(PP)(kg/h)
FSJ70
70/33
φ70
33:1
110
110-150
100-130
FSJ85
85/33
φ85
33:1
150
180-250
150-200
FSJ100
100/33
φ100
33:1
210
280-350
250-300
FSJ130
130/33
φ130
33:1
300
480-550
400-480
FSJ160
160/33
φ160
33:1
370
650-750
550-650
FSJ180
180/33
φ180
33:1
460
800-1000
750-850
FS series double-stage granulator machine
Model
FSJ100/120
FSJ130/130
FSJ160/160
FSJ180/200
First extruder parameter
Screw diameter(mm)
φ100
φ130
φ160
φ180
L/D ratio
33
33
30
30
Extruder motor(kw)
90
132
185
250
Heating power(kw)
45
55
70
70
Screw speed(RPM)
0-120
0-120
0-120
0-120
Second extruder parameter
Screw diameter(mm)
φ120
φ130
φ160
φ200
L/D ratio
10-15
10-15
10-15
10-15
Extruder motor(kw)
30
45
55
75
Heating power(kw)
30
35
45
60
Screw speed(RPM)
0-120
0-120
0-120
0-120
Productivity(kg/h)
250-350
400-550
500-700
800-1000
CPP Film Pelletizer Machine Detail: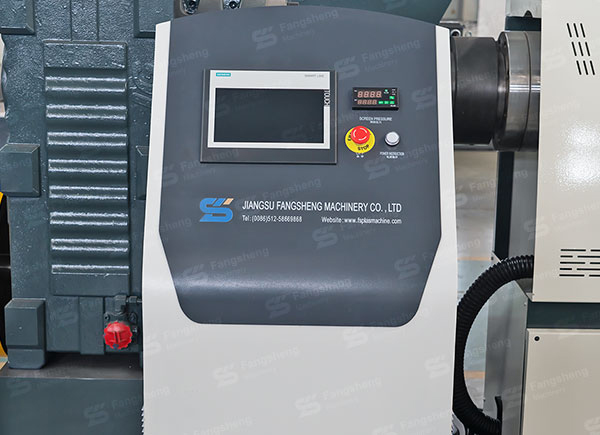 Detail 1
Detail 2
Detail 3
Detail 4
Detail 5
Detail 6