LDPE Film Pelletizer Description:
This LDPE film pelletizer is tailor-made for customers who produce LDPE LLDPE film. All motors, inverters, and PLC touch screens are Siemens. This is a high-quality agricultural LDPE film, HDPE film, PP film, LLDPE film granulator. The LDPE film pelletizer is equipped with a compactor. The LDPE film pelletizing machine is mainly used for PA, PP, PS, PE, EPE, EPS, PET, UPS, ABS film, etc.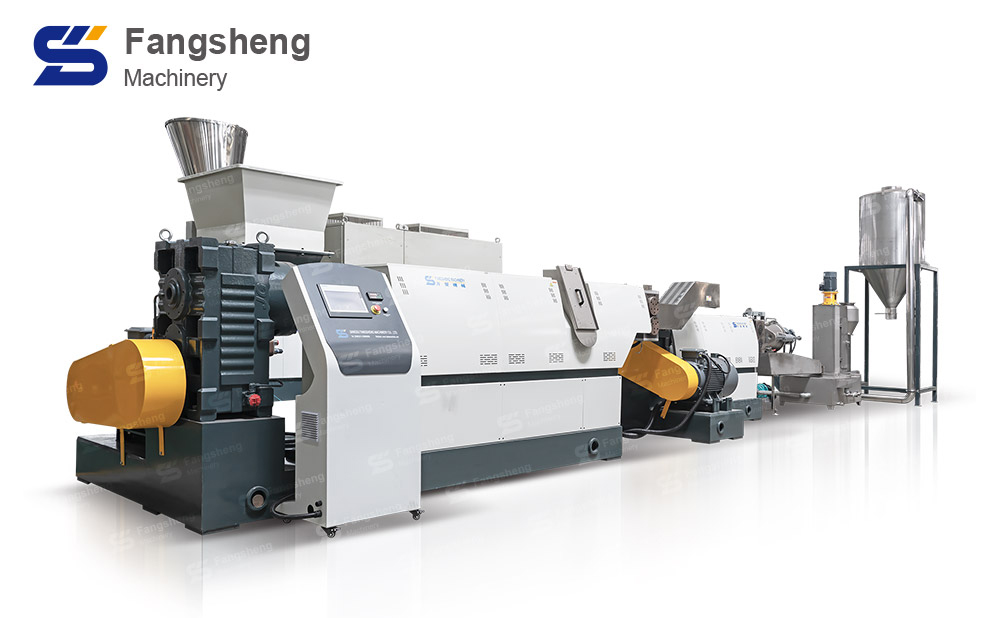 LDPE Film Pelletizer Features:
1. The LDPE film pelletizing machine adopts high precision gear box, with large bearing capacity, smooth running and low noise.
2. Newly designed barrel and screw ensure better melt uniformity, lower melt temperature and higher yield.
3. For most applications, standard nitride steels are used for barrel and screw with high corrosion resistance. Unusual materials can be handled by choosing two metals.
4. PID meter keeps temperature stable and accurate.
5. Hydraulic net changer, easy to change, can be completed in a few minutes.
LDPE Film Pelletizer Application:

LDPE Film Pelletizing machine Video:
LDPE Film Pelletizing machine Technical Parameter:
FS series single-stage granulator machine
Model
Extruder
Screw diameter(mm)
L/D ratio
Power(kw)
Productivity(PE)(kg/h)
Productivity(PP)(kg/h)
FSJ70
70/33
φ70
33:1
110
110-150
100-130
FSJ85
85/33
φ85
33:1
150
180-250
150-200
FSJ100
100/33
φ100
33:1
210
280-350
250-300
FSJ130
130/33
φ130
33:1
300
480-550
400-480
FSJ160
160/33
φ160
33:1
370
650-750
550-650
FSJ180
180/33
φ180
33:1
460
800-1000
750-850
FS series double-stage granulator machine
Model
FSJ100/120
FSJ130/130
FSJ160/160
FSJ180/200
First extruder parameter
Screw diameter(mm)
φ100
φ130
φ160
φ180
L/D ratio
33
33
30
30
Extruder motor(kw)
90
132
185
250
Heating power(kw)
45
55
70
70
Screw speed(RPM)
0-120
0-120
0-120
0-120
Second extruder parameter
Screw diameter(mm)
φ120
φ130
φ160
φ200
L/D ratio
10-15
10-15
10-15
10-15
Extruder motor(kw)
30
45
55
75
Heating power(kw)
30
35
45
60
Screw speed(RPM)
0-120
0-120
0-120
0-120
Productivity(kg/h)
250-350
400-550
500-700
800-1000
LDPE Film Pelletizing Line Detail:
Detail 1
Detail 2
Detail 3
Detail 4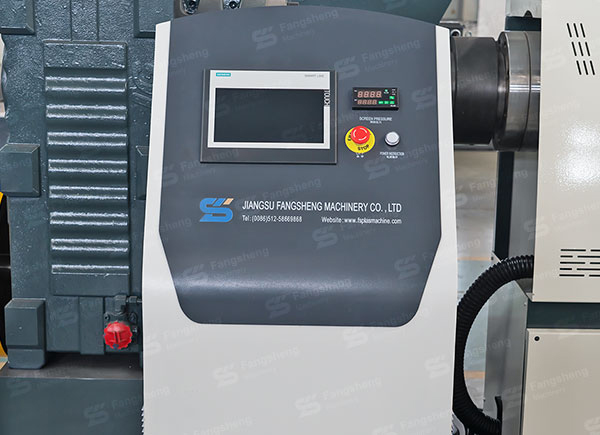 Detail 5
Detail 6