LDPE Film Pelletizing Equipment Description:
LDPE film pelletizing equipment is used for PE LDPE soft material. As compactor is equipped, film in big size can enter into the machine directly, not need extra crushing process. Compactor is controlled by PLC and inverter, the temperature inside is stable. Cooling is by water which has better cooling effect. Customer can choose water ring hot cutting or strand pelletizing. Single stage or double stage pelletizing for choice.
LDPE Film Pelletizing Equipment Features:
1. Low cost in using after redesign: now this LDPE film pelletizing machine is more economic in electric power source and also water. In the long working life of this LDPE film pelletizing machine, it can save many sources in energy!
2. High output, long operating life and lower noise: it's the ideal waste plastics regenerative pelletizer machine for nowadays.
3. Make full use of the high friction uninterrupted heating system, automatic heating production, avoid continuous heating, and save energy.
4. The automatic power distribution system is adopted to ensure the normal operation of the motor.
5. This LDPE film pelletizing equipment is equipped with a quick screen changing device, which is convenient and quick.
LDPE Film Pelletizing Machine Application:

LDPE Film Pelletizing Equipment Video:
LDPE Film Pelletizing Machine Technical Parameter:
FS series single-stage granulator machine
Model
Extruder
Screw diameter(mm)
L/D ratio
Power(kw)
Productivity(PE)(kg/h)
Productivity(PP)(kg/h)
FSJ70
70/33
φ70
33:1
110
110-150
100-130
FSJ85
85/33
φ85
33:1
150
180-250
150-200
FSJ100
100/33
φ100
33:1
210
280-350
250-300
FSJ130
130/33
φ130
33:1
300
480-550
400-480
FSJ160
160/33
φ160
33:1
370
650-750
550-650
FSJ180
180/33
φ180
33:1
460
800-1000
750-850
FS series double-stage granulator machine
Model
FSJ100/120
FSJ130/130
FSJ160/160
FSJ180/200
First extruder parameter
Screw diameter(mm)
φ100
φ130
φ160
φ180
L/D ratio
33
33
30
30
Extruder motor(kw)
90
132
185
250
Heating power(kw)
45
55
70
70
Screw speed(RPM)
0-120
0-120
0-120
0-120
Second extruder parameter
Screw diameter(mm)
φ120
φ130
φ160
φ200
L/D ratio
10-15
10-15
10-15
10-15
Extruder motor(kw)
30
45
55
75
Heating power(kw)
30
35
45
60
Screw speed(RPM)
0-120
0-120
0-120
0-120
Productivity(kg/h)
250-350
400-550
500-700
800-1000
LDPE Film Pelletizing Machine Detail:
Detail 1
Detail 2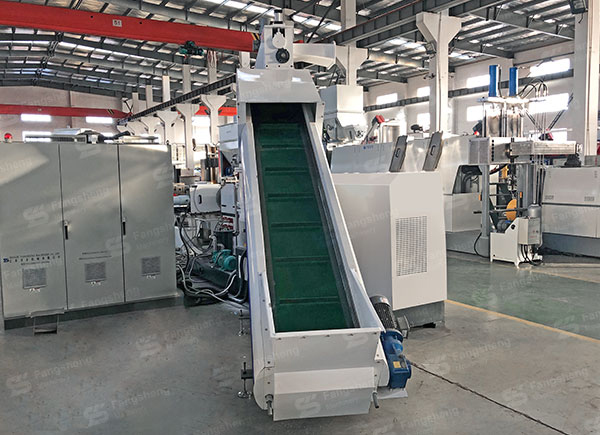 Detail 3