LLDPE Film Granulating System Description:
The LLDPE film granulating system is specially designed for blown film, garment packaging bag, industrial waste film, washed agricultural film, garbage film, PP woven bag, non-woven bag, ton bag granulation and surplus PE accessories. The PE film slitting and pelletizing production line includes belt conveyors, slitting pelletizers, extruders, pelletizing devices, pellet cooling, drying devices, storage tanks, etc. The LLDPE film granulating system integrates cutting, extrusion and granulation. The raw materials do not need to be pre-cut, and can be directly sent to the PE PP film cutting, compaction and pelletizing production line. The cutting compactor generates frictional heat during the compaction process, which helps to dry and remove the water in the water-washed film.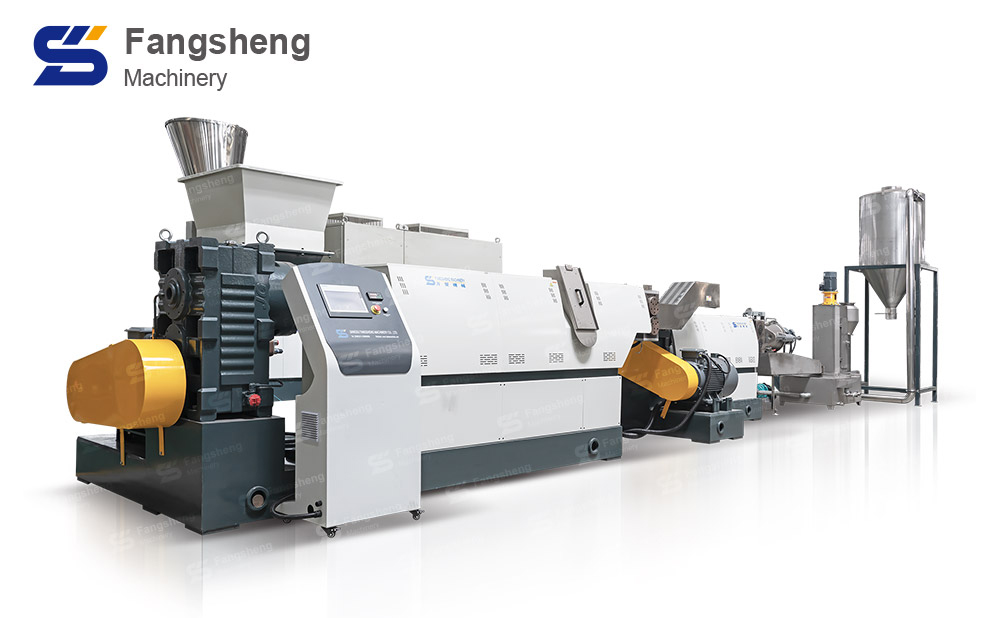 LLDPE Film Granulating System Features:
1. The LLDPE film granulating  line is continuously improved on the basis of advanced technology at home and abroad, with reasonable design and beautiful appearance, and the parts in contact with materials are made of stainless steel;
2. There is a drainage port and a vacuum pump on the barrel of the granulation line to drain and exhaust to ensure the quality of the particles;
3. Efficient forced feeding ensures high feeding and low energy consumption.
4. Pelletizing system: Both strips and water ring are available. If the extrusion die uses water ring cutting, the perfect appearance of the particles can be ensured.
LLDPE Film Granulating System Application:

LLDPE Film Granulating Line Video:
LLDPE Film Granulating Line Technical Parameter:
FS series single-stage granulator machine
Model
Extruder
Screw diameter(mm)
L/D ratio
Power(kw)
Productivity(PE)(kg/h)
Productivity(PP)(kg/h)
FSJ70
70/33
φ70
33:1
110
110-150
100-130
FSJ85
85/33
φ85
33:1
150
180-250
150-200
FSJ100
100/33
φ100
33:1
210
280-350
250-300
FSJ130
130/33
φ130
33:1
300
480-550
400-480
FSJ160
160/33
φ160
33:1
370
650-750
550-650
FSJ180
180/33
φ180
33:1
460
800-1000
750-850
FS series double-stage granulator machine
Model
FSJ100/120
FSJ130/130
FSJ160/160
FSJ180/200
First extruder parameter
Screw diameter(mm)
φ100
φ130
φ160
φ180
L/D ratio
33
33
30
30
Extruder motor(kw)
90
132
185
250
Heating power(kw)
45
55
70
70
Screw speed(RPM)
0-120
0-120
0-120
0-120
Second extruder parameter
Screw diameter(mm)
φ120
φ130
φ160
φ200
L/D ratio
10-15
10-15
10-15
10-15
Extruder motor(kw)
30
45
55
75
Heating power(kw)
30
35
45
60
Screw speed(RPM)
0-120
0-120
0-120
0-120
Productivity(kg/h)
250-350
400-550
500-700
800-1000
LLDPE Film Granulating Line Detail:
Detail 1
Detail 2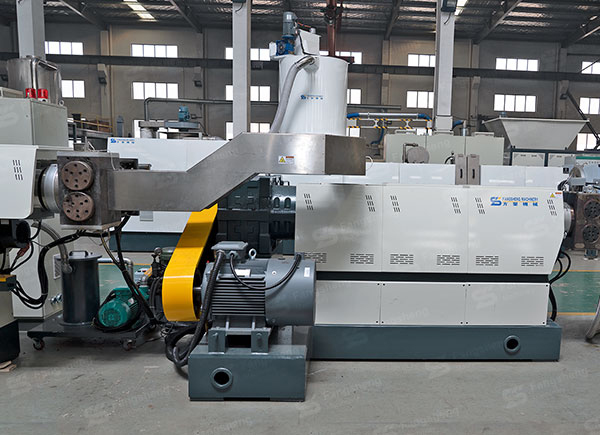 Detail 3
Detail 4
Detail 5
Detail 6