LLDPE Film Pelletizing System Description:
The LLDPE film pelletizing system is novel in design, reasonable in structure, stable in operation, low in noise, low in energy consumption, and high in output. It is an ideal equipment for film pelletizing, and is especially suitable for LLDPE and LDPE recycling crushed materials.
LLDPE Film Pelletizing System Features:
1. In order to keep the extruded plastic from having insufficient fluidity due to temperature drop, it prevents extrusion. A heating ring with a certain power is specially added outside the machine head to ensure the normal and full discharge of the material. And the discharging hole set on the machine head is of parallel 15-hole type, which increases the discharging volume and increases the production speed.
3. Through the evenly distributed heating ring outside the barrel, the LLDPE film pelletizing system can automatically adjust the temperature through the instrument on the electric cabinet, and evenly complete the heating and plasticizing of the material in the barrel.
2. The cooling fan added at the bottom of the barrel can also automatically control the temperature, which improves the stability of the internal temperature of the barrel.
LLDPE Film Pelletizing System Application:

LLDPE Film Pelletizing Machine Video:
LLDPE Film Pelletizing Machine Technical Parameter:
FS series single-stage granulator machine
Model
Extruder
Screw diameter(mm)
L/D ratio
Power(kw)
Productivity(PE)(kg/h)
Productivity(PP)(kg/h)
FSJ70
70/33
φ70
33:1
110
110-150
100-130
FSJ85
85/33
φ85
33:1
150
180-250
150-200
FSJ100
100/33
φ100
33:1
210
280-350
250-300
FSJ130
130/33
φ130
33:1
300
480-550
400-480
FSJ160
160/33
φ160
33:1
370
650-750
550-650
FSJ180
180/33
φ180
33:1
460
800-1000
750-850
FS series double-stage granulator machine
Model
FSJ100/120
FSJ130/130
FSJ160/160
FSJ180/200
First extruder parameter
Screw diameter(mm)
φ100
φ130
φ160
φ180
L/D ratio
33
33
30
30
Extruder motor(kw)
90
132
185
250
Heating power(kw)
45
55
70
70
Screw speed(RPM)
0-120
0-120
0-120
0-120
Second extruder parameter
Screw diameter(mm)
φ120
φ130
φ160
φ200
L/D ratio
10-15
10-15
10-15
10-15
Extruder motor(kw)
30
45
55
75
Heating power(kw)
30
35
45
60
Screw speed(RPM)
0-120
0-120
0-120
0-120
Productivity(kg/h)
250-350
400-550
500-700
800-1000
LLDPE Film Pelletizing Machine Detail:
Detail 1
Detail 2
Detail 3
Detail 4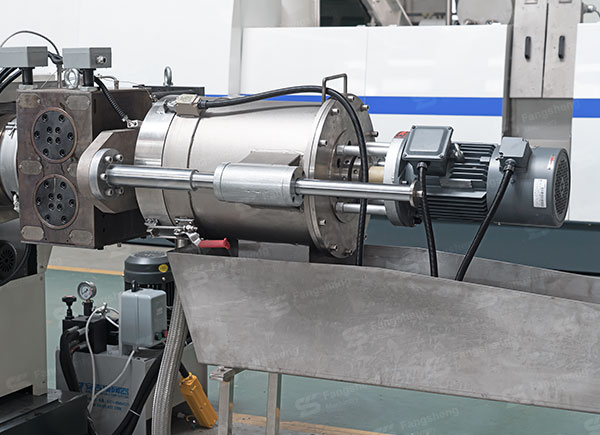 Detail 5
Detail 6