PE Film Granulation Line Description:
Our PE film granulation line uses a wet plastic granulator to cut large pieces of PP/PE film into uniform small pieces, the size is between 12-18mm. Our PE film granulation line has the unique ability to cut the plastic film quickly and efficiently using a fast-rotating open rotor and heavy-duty scissors. The rotor is installed in a double-scissors cutting array. When the plastic film enters the cutting chamber of the granulator, the rotor knife comes into contact with the fixed knife, thereby effectively cutting the film in a continuous manner.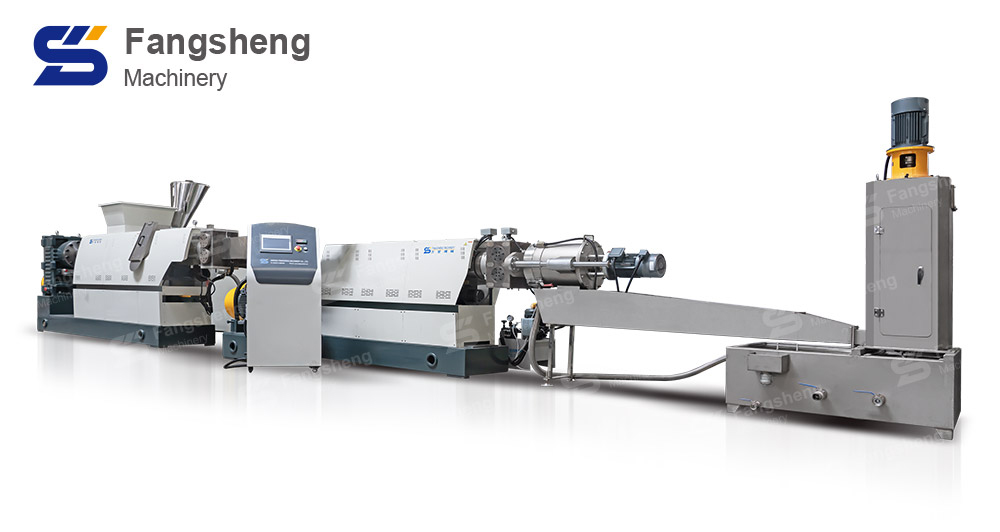 PE Film Granulation Line Features:
1.To further benefit from our already robust structural design, our PE film granulation line use a wet granulation process where water is sprayed into the cutting chamber via nozzles. This not only partially cleans the PP/PE films, it also adds a layer of lubrication to reduce friction and heat during long operations. Based on our testing and experimentation, our wet granulators require 2-3 times less knife sharpening compared to dry granulating.
2.The size of the PE film shreds are controlled by a screen filter with holes that is mounted underneath the cutting chamber. The plastic film is held within the cutting chamber until it reaches the desired size and falls through this screen filter.
3.To ensure reliability and dulling in the most demanding situations, all knives used in our granulator is made from high quality SDK11 steel. For the sake of usability, all 12 rotor knives and 3 stationary knives can be easily adjusted with hydraulic assisted access to the cutting chamber.
PE Film Granulation Line Application:

PE Film Granulation Machine Video:
PE Film Granulation Machine Technical Parameter:
FS series single-stage granulator machine
Model
Extruder
Screw diameter(mm)
L/D ratio
Power(kw)
Productivity(PE)(kg/h)
Productivity(PP)(kg/h)
FSJ70
70/33
φ70
33:1
110
110-150
100-130
FSJ85
85/33
φ85
33:1
150
180-250
150-200
FSJ100
100/33
φ100
33:1
210
280-350
250-300
FSJ130
130/33
φ130
33:1
300
480-550
400-480
FSJ160
160/33
φ160
33:1
370
650-750
550-650
FSJ180
180/33
φ180
33:1
460
800-1000
750-850
FS series double-stage granulator machine
Model
FSJ100/120
FSJ130/130
FSJ160/160
FSJ180/200
First extruder parameter
Screw diameter(mm)
φ100
φ130
φ160
φ180
L/D ratio
33
33
30
30
Extruder motor(kw)
90
132
185
250
Heating power(kw)
45
55
70
70
Screw speed(RPM)
0-120
0-120
0-120
0-120
Second extruder parameter
Screw diameter(mm)
φ120
φ130
φ160
φ200
L/D ratio
10-15
10-15
10-15
10-15
Extruder motor(kw)
30
45
55
75
Heating power(kw)
30
35
45
60
Screw speed(RPM)
0-120
0-120
0-120
0-120
Productivity(kg/h)
250-350
400-550
500-700
800-1000
PE Film Granulation Machine Detail:
Detail 1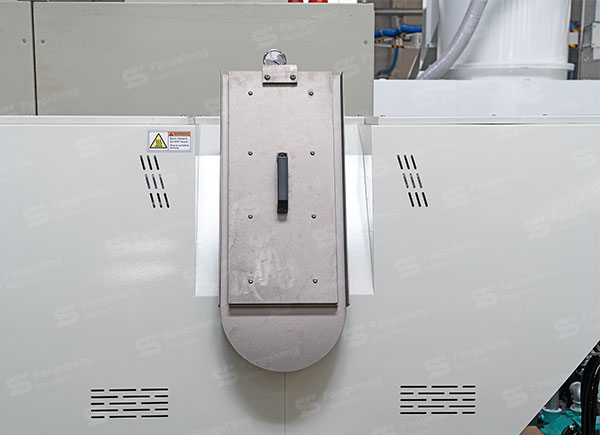 Detail 2
Detail 3
Detail 4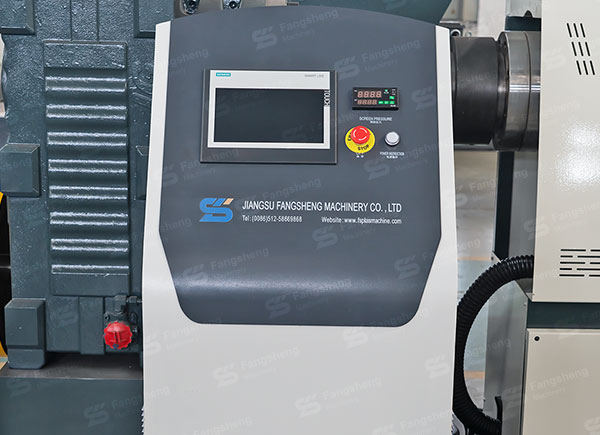 Detail 5
Detail 6