PE Film Granulation System Description:
The PE film granulation system adopts a three-machine integrated (crushing-washing-granulation) structure design. Through automatic operation, the production efficiency is high and the processing capacity is strong. It is suitable for the recycling and granulation of most PE waste plastic films. The pelletizing unit completes one-time operation from feeding, crushing, cleaning, pelletizing, and pelletizing. The main and auxiliary machines and supporting equipment can choose a variety of specifications and models. Users can choose cost-effective options according to their own needs and budget. High configuration, and the entire production line can be customized design and production according to the area and space of the user's production area, which can make more reasonable use of the delivery room space without waste.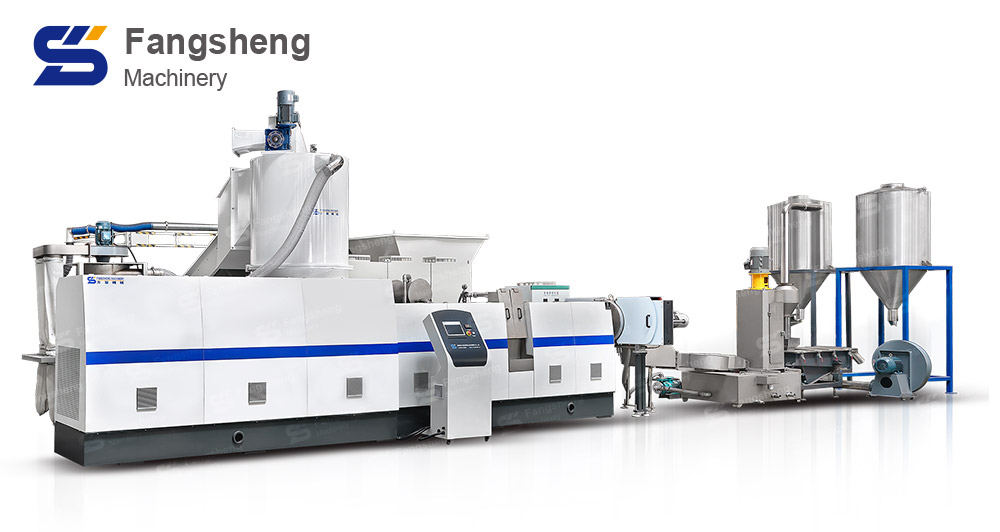 PE Film Granulation System Features:
1. The hopper type feeder and the forced feeder combine to feed materials evenly and orderly, and the unloading is unobstructed, without manual feeding.
2. The screws and barrels of the main and auxiliary machines of the PE film granulator are treated with high temperature nitriding, which is more wear-resistant than the ordinary screw and barrel, and has twice the service life.
3. Automatically change the screen die without stopping the machine, realize one-key screen change, which is faster.
4. The supporting cleaning equipment of this PE film granulation line has realized multiple processes, repeated rinsing, and solved the problem of difficult cleaning and slagging of sand, stones and grass in the PE film recycling material. Especially for the recycled waste agricultural film, the effect is remarkable.
PE Film Granulation System Application:

PE Film Granulation System Video:
PE Film Granulation System Technical Parameter:
FS series single-stage granulator machine
Model
Extruder
Screw diameter(mm)
L/D ratio
Power(kw)
Productivity(PE)(kg/h)
Productivity(PP)(kg/h)
FSJ70
70/33
φ70
33:1
110
110-150
100-130
FSJ85
85/33
φ85
33:1
150
180-250
150-200
FSJ100
100/33
φ100
33:1
210
280-350
250-300
FSJ130
130/33
φ130
33:1
300
480-550
400-480
FSJ160
160/33
φ160
33:1
370
650-750
550-650
FSJ180
180/33
φ180
33:1
460
800-1000
750-850
FS series double-stage granulator machine
Model
FSJ100/120
FSJ130/130
FSJ160/160
FSJ180/200
First extruder parameter
Screw diameter(mm)
φ100
φ130
φ160
φ180
L/D ratio
33
33
30
30
Extruder motor(kw)
90
132
185
250
Heating power(kw)
45
55
70
70
Screw speed(RPM)
0-120
0-120
0-120
0-120
Second extruder parameter
Screw diameter(mm)
φ120
φ130
φ160
φ200
L/D ratio
10-15
10-15
10-15
10-15
Extruder motor(kw)
30
45
55
75
Heating power(kw)
30
35
45
60
Screw speed(RPM)
0-120
0-120
0-120
0-120
Productivity(kg/h)
250-350
400-550
500-700
800-1000
PE Film Granulation Machine Detail:
Detail 1
Detail 2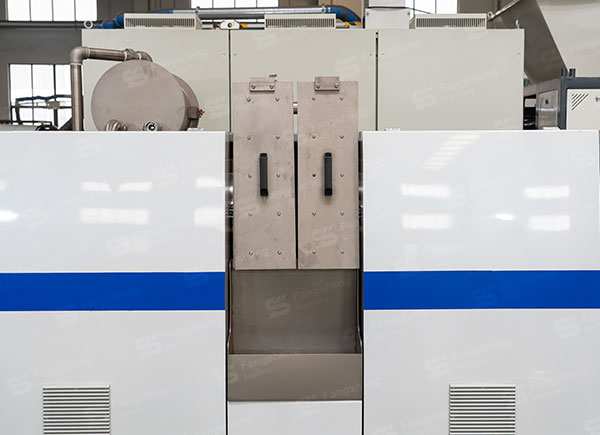 Detail 3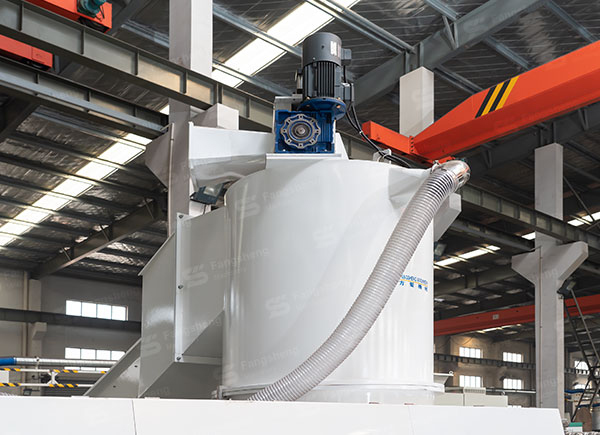 Detail 4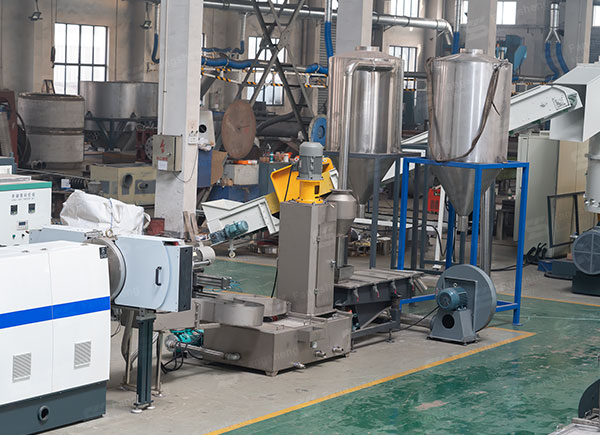 Detail 5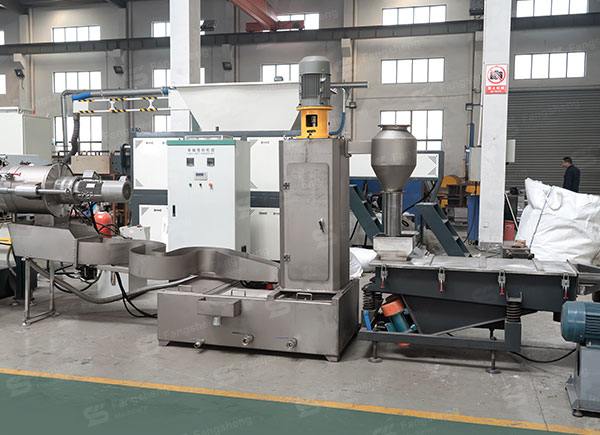 Detail 6