PE Film Granulator Equipment Description:
This kind of PE film granulator equipment is very suitable for the recycling of various waste plastics, such as plastic films, sheets and pattern materials. Adopt PID temperature control, non-stop filter screen hydraulic reversal, high degree of automation. The special feature of this PE film granulator equipment is the particles with good plastic properties.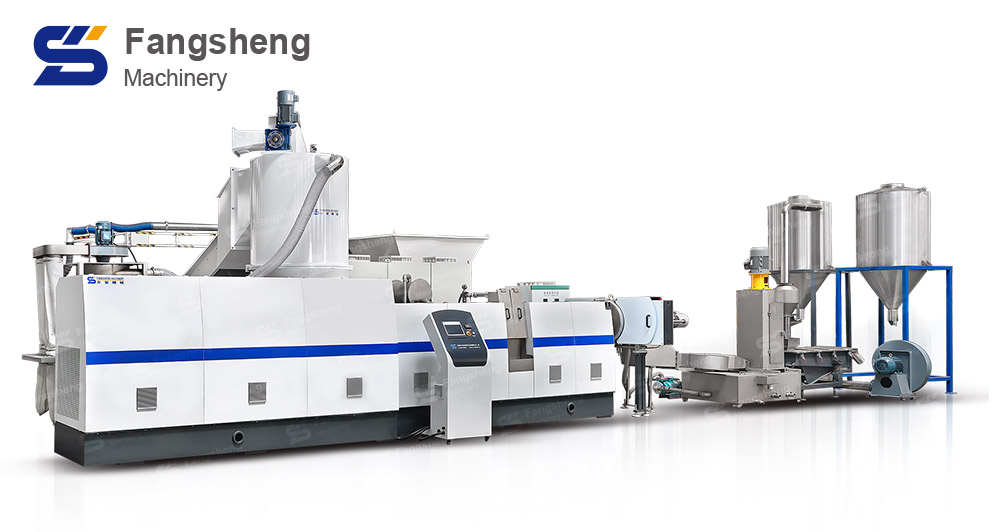 PE Film Granulator Equipment Features:
1.The PE film granulator system has the versatility of crushing and granulating, the whole plastic bag can be directly granulated without crushing.
2. The PE film granulator machine  has a double-column online screening exchanger with a larger filtration area.
3. Water ring particle cutting to avoid material contamination.
PE Film Granulator Machine Application:

PE Film Granulator Machine Video:
PE Film Granulator Machine Technical Parameter:
FS series single-stage granulator machine
Model
Extruder
Screw diameter(mm)
L/D ratio
Power(kw)
Productivity(PE)(kg/h)
Productivity(PP)(kg/h)
FSJ70
70/33
φ70
33:1
110
110-150
100-130
FSJ85
85/33
φ85
33:1
150
180-250
150-200
FSJ100
100/33
φ100
33:1
210
280-350
250-300
FSJ130
130/33
φ130
33:1
300
480-550
400-480
FSJ160
160/33
φ160
33:1
370
650-750
550-650
FSJ180
180/33
φ180
33:1
460
800-1000
750-850
FS series double-stage granulator machine
Model
FSJ100/120
FSJ130/130
FSJ160/160
FSJ180/200
First extruder parameter
Screw diameter(mm)
φ100
φ130
φ160
φ180
L/D ratio
33
33
30
30
Extruder motor(kw)
90
132
185
250
Heating power(kw)
45
55
70
70
Screw speed(RPM)
0-120
0-120
0-120
0-120
Second extruder parameter
Screw diameter(mm)
φ120
φ130
φ160
φ200
L/D ratio
10-15
10-15
10-15
10-15
Extruder motor(kw)
30
45
55
75
Heating power(kw)
30
35
45
60
Screw speed(RPM)
0-120
0-120
0-120
0-120
Productivity(kg/h)
250-350
400-550
500-700
800-1000
PE Film Granulator Machine Detail: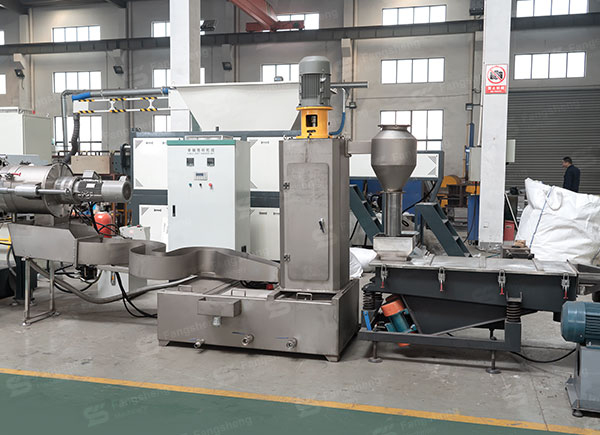 Detail 1
Detail 2
Detail 3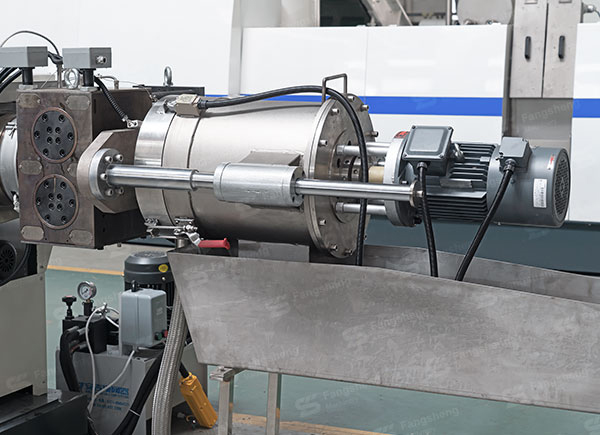 Detail 4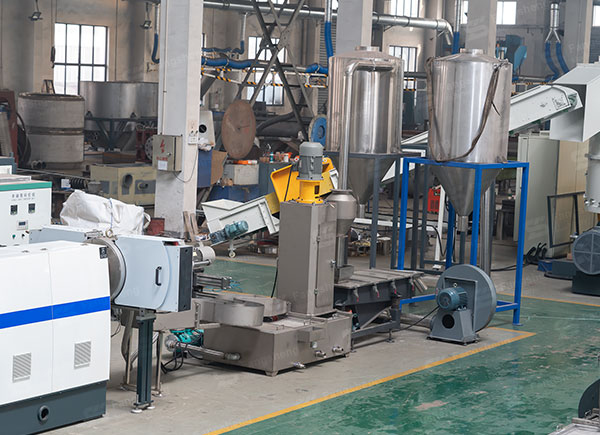 Detail 5
Detail 6