PE Film Granulator Line Description:
PE film granulator line is mainly used for waste polyethylene (PE) such as: plastic film, convenient bag, greenhouse film lining bag, packaging film, etc. or waste polypropylene (PP) such as: woven bag, space bag, cement packaging bag, tons Bags etc. PE film granulator machine for extruding, cooling, pelletizing, and producing plastic pellets.The pellets produced are used in blown film, bag making, wire drawing, injection molding and other industries.
PE Film Granulator Line Features:
1. The PE film granulator system has high output, high performance, economical and durable
2. The PE film granulator system adopts automatic intelligent power distribution system, automatic constant temperature control system, high efficiency and energy saving.
3. The screw and barrel of the PE film granulator system are made of imported high-strength and high-quality carbon structural steel, which is durable and wear-resistant.
4. The process is simple, the operation is convenient, the technology is advanced, and the PE film granulator machine is suitable for granulating a variety of different waste plastics.
5. The PE film granulator machine is used for crushing, washing, wire drawing, and pelletizing, avoiding manual cleaning and manual drying. The PE film granulator machine can be directly produced and used for dry and wet purposes.
PE Film Granulator Machine Application:

PE Film Granulator Line Video:
PE Film Granulator Machine Technical Parameter:
FS series single-stage granulator machine
Model
Extruder
Screw diameter(mm)
L/D ratio
Power(kw)
Productivity(PE)(kg/h)
Productivity(PP)(kg/h)
FSJ70
70/33
φ70
33:1
110
110-150
100-130
FSJ85
85/33
φ85
33:1
150
180-250
150-200
FSJ100
100/33
φ100
33:1
210
280-350
250-300
FSJ130
130/33
φ130
33:1
300
480-550
400-480
FSJ160
160/33
φ160
33:1
370
650-750
550-650
FSJ180
180/33
φ180
33:1
460
800-1000
750-850
FS series double-stage granulator machine
Model
FSJ100/120
FSJ130/130
FSJ160/160
FSJ180/200
First extruder parameter
Screw diameter(mm)
φ100
φ130
φ160
φ180
L/D ratio
33
33
30
30
Extruder motor(kw)
90
132
185
250
Heating power(kw)
45
55
70
70
Screw speed(RPM)
0-120
0-120
0-120
0-120
Second extruder parameter
Screw diameter(mm)
φ120
φ130
φ160
φ200
L/D ratio
10-15
10-15
10-15
10-15
Extruder motor(kw)
30
45
55
75
Heating power(kw)
30
35
45
60
Screw speed(RPM)
0-120
0-120
0-120
0-120
Productivity(kg/h)
250-350
400-550
500-700
800-1000
PE Film Granulator Line Detail:
Detail 1
Detail 2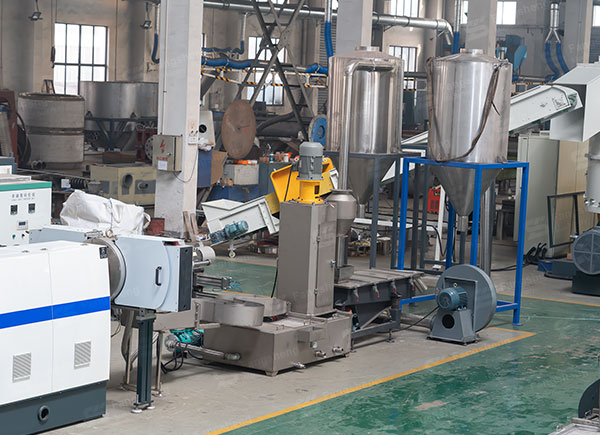 Detail 3
Detail 4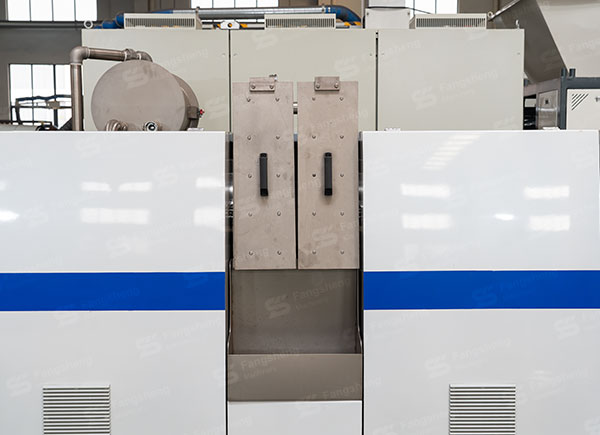 Detail 5
Detail 6