PE Film Pelletizing System Description:
The PE film pelletizing system is designed and manufactured by Fangsheng Machinery, widely used in waste plastic PE PP material, such as clean PE bag, clean HDPE, LDPE, LLDPE film sheet, etc.. The material through the transmission system, extrusion system, cooling system and collection system will become clean and perfect particles, reusable. You can choose between two or single stage extruders depending on the cleanliness of the material.
PE Film Pelletizing System Features:
1.Belt conveyor: feed PE film bag or sheet material into compactor. If there is some scrap iron, a metal detector may be needed.
2.Compaction machine: through the multi-blade crushing and forcing the flake particles into the extruder, to ensure efficient and stable production.
3.Single screw extruder (first stage) : high temperature plasticized material discharge hot air.
4.Hydraulic screen exchanger: filter material impurities.
5.PE film granulator Single screw extruder (stage 2) : further plasticize and filter materials at high temperatures.
6.Hydraulic screen exchanger: further filter material impurities, make production more stable.
7.Die-cutting machine: high speed rotary grain cutting.
8.Tank: cool precipitate with cold water.
9.Dehydrator: dry particles.
10.Blower: Blow the fine particles into the silo.
11.Storage bin: Collect particles.
PE Film Pelletizing System Application:

PE Film Pelletizing System Video:
PE Film Pelletizing Line Technical Parameter:
FS series single-stage granulator machine
Model
Extruder
Screw diameter(mm)
L/D ratio
Power(kw)
Productivity(PE)(kg/h)
Productivity(PP)(kg/h)
FSJ70
70/33
φ70
33:1
110
110-150
100-130
FSJ85
85/33
φ85
33:1
150
180-250
150-200
FSJ100
100/33
φ100
33:1
210
280-350
250-300
FSJ130
130/33
φ130
33:1
300
480-550
400-480
FSJ160
160/33
φ160
33:1
370
650-750
550-650
FSJ180
180/33
φ180
33:1
460
800-1000
750-850
FS series double-stage granulator machine
Model
FSJ100/120
FSJ130/130
FSJ160/160
FSJ180/200
First extruder parameter
Screw diameter(mm)
φ100
φ130
φ160
φ180
L/D ratio
33
33
30
30
Extruder motor(kw)
90
132
185
250
Heating power(kw)
45
55
70
70
Screw speed(RPM)
0-120
0-120
0-120
0-120
Second extruder parameter
Screw diameter(mm)
φ120
φ130
φ160
φ200
L/D ratio
10-15
10-15
10-15
10-15
Extruder motor(kw)
30
45
55
75
Heating power(kw)
30
35
45
60
Screw speed(RPM)
0-120
0-120
0-120
0-120
Productivity(kg/h)
250-350
400-550
500-700
800-1000
PE Film Pelletizing Line Detail: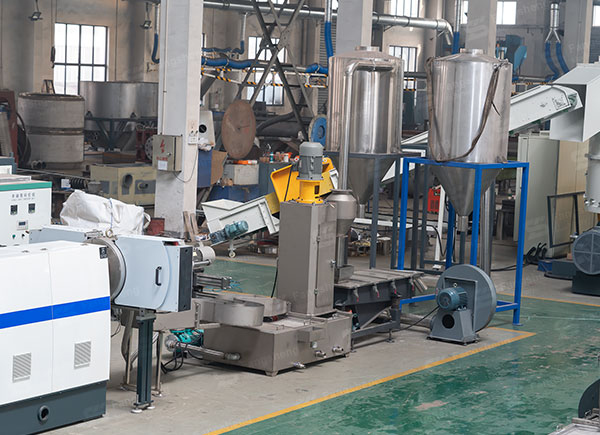 Detail 1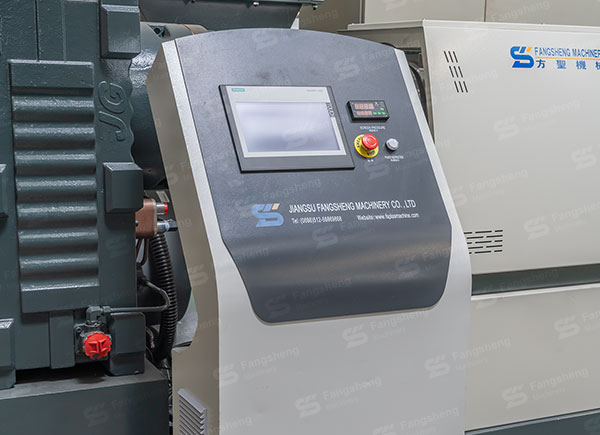 Detail 2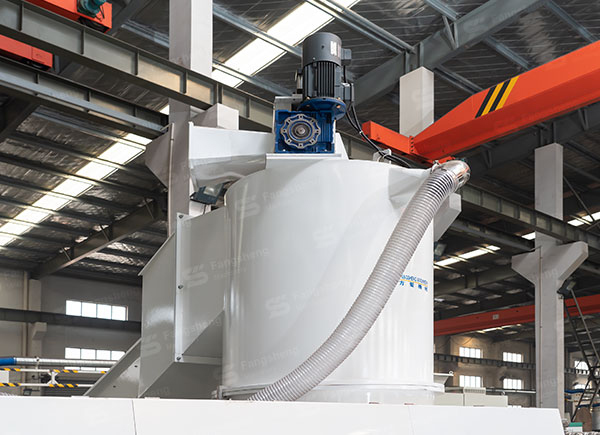 Detail 3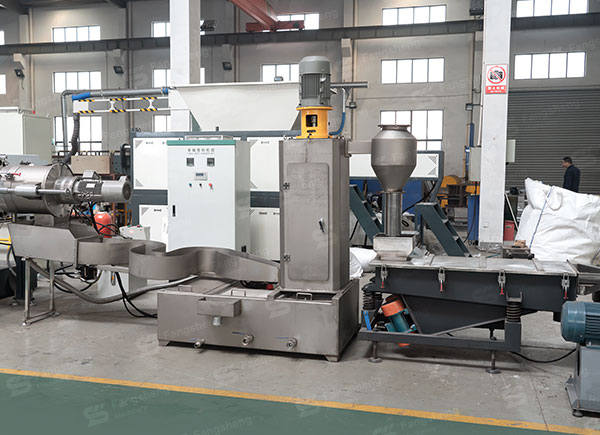 Detail 4
Detail 5
Detail 6