PLA Degradable Film Pelletizer Description:
This PLA degradable film pelletizer is suitable for the granulation of PLA biodegradable plastics. The PLA degradable film pelletizing machine combines twin-screw high-speed, strong mixing and single-screw low-speed, low-temperature, and weak shear characteristics to maximize strengths and avoid weaknesses, high process automation, assembly line operation, excellent dispersion effect, high output, and clean working conditions. PLA degradable film pelletizing machine is a modified model of heat-sensitive and shear-sensitive materials.
PLA Degradable Film Pelletizer Features:
1: Efficient forced feeding ensures high feeding and low energy consumption.
2: The PLA degradable film granulator is equipped with a specially designed barrel and screw and a single screw with an exhaust system to ensure high output.
3: Pelletizing system: Both stretch strips and water ring can be used. If the extrusion die uses water ring cutting, the perfect appearance of the particles can be ensured.
4: Auxiliary machine part: particle cooling and classification.
PLA Degradable Film Pelletizer Application:

PLA Degradable Film Granulator  Video:
PLA Degradable Film Granulator Technical Parameter:
FS series single-stage granulator machine
Model
Extruder
Screw diameter(mm)
L/D ratio
Power(kw)
Productivity(PE)(kg/h)
Productivity(PP)(kg/h)
FSJ70
70/33
φ70
33:1
110
110-150
100-130
FSJ85
85/33
φ85
33:1
150
180-250
150-200
FSJ100
100/33
φ100
33:1
210
280-350
250-300
FSJ130
130/33
φ130
33:1
300
480-550
400-480
FSJ160
160/33
φ160
33:1
370
650-750
550-650
FSJ180
180/33
φ180
33:1
460
800-1000
750-850
FS series double-stage granulator machine
Model
FSJ100/120
FSJ130/130
FSJ160/160
FSJ180/200
First extruder parameter
Screw diameter(mm)
φ100
φ130
φ160
φ180
L/D ratio
33
33
30
30
Extruder motor(kw)
90
132
185
250
Heating power(kw)
45
55
70
70
Screw speed(RPM)
0-120
0-120
0-120
0-120
Second extruder parameter
Screw diameter(mm)
φ120
φ130
φ160
φ200
L/D ratio
10-15
10-15
10-15
10-15
Extruder motor(kw)
30
45
55
75
Heating power(kw)
30
35
45
60
Screw speed(RPM)
0-120
0-120
0-120
0-120
Productivity(kg/h)
250-350
400-550
500-700
800-1000
PLA Degradable Film Granulator Detail:
Detail 1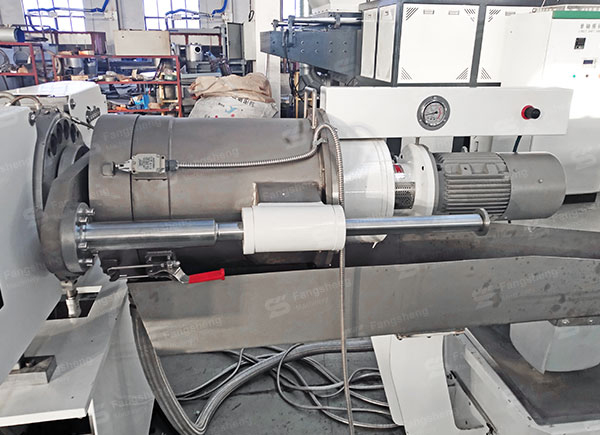 Detail 2
Detail 3