PLA Degradable Film Pelletizing Equipment Description:
The particle-making parent PLA degradable film pelletizing equipment has reasonable structure, convenient operation, stable operation, safe power saving, and high degree of automation. The main machine is equipped with different heads and auxiliary machines, and can produce various sorted waste plastics. It is mainly used in PLA, PBAT, etc. In the process of plastic recycling and color mixing and granulation, it is also used to process waste plastic films, woven bags, furniture and other supplies. It is a kind of plastic recycling processing machinery and equipment widely used in the waste plastic recycling industry. The particles produced are widely used .
PLA Degradable Film Pelletizing Equipment Features:
1. Our PLA degradable film granulator is specially designed for processing residues and used biodegradable materials.
2. With our new PLA PBAT film granulator, it is easy to operate and labor-saving, and can be used for plastic recycling.
3. The newly designed barrel and screw can ensure better melt uniformity, lower melt temperature and higher output.
4. For most applications, standard nitrided steel is used for barrels and screws with high corrosion resistance. Unusual materials can be handled by choosing two metals.
PLA Degradable Film Pelletizing Equipment Application:

PLA Degradable Film Pelletizing Machine Video:
PLA Degradable Film Pelletizing Machine Technical Parameter:
FS series single-stage granulator machine
Model
Extruder
Screw diameter(mm)
L/D ratio
Power(kw)
Productivity(PE)(kg/h)
Productivity(PP)(kg/h)
FSJ70
70/33
φ70
33:1
110
110-150
100-130
FSJ85
85/33
φ85
33:1
150
180-250
150-200
FSJ100
100/33
φ100
33:1
210
280-350
250-300
FSJ130
130/33
φ130
33:1
300
480-550
400-480
FSJ160
160/33
φ160
33:1
370
650-750
550-650
FSJ180
180/33
φ180
33:1
460
800-1000
750-850
FS series double-stage granulator machine
Model
FSJ100/120
FSJ130/130
FSJ160/160
FSJ180/200
First extruder parameter
Screw diameter(mm)
φ100
φ130
φ160
φ180
L/D ratio
33
33
30
30
Extruder motor(kw)
90
132
185
250
Heating power(kw)
45
55
70
70
Screw speed(RPM)
0-120
0-120
0-120
0-120
Second extruder parameter
Screw diameter(mm)
φ120
φ130
φ160
φ200
L/D ratio
10-15
10-15
10-15
10-15
Extruder motor(kw)
30
45
55
75
Heating power(kw)
30
35
45
60
Screw speed(RPM)
0-120
0-120
0-120
0-120
Productivity(kg/h)
250-350
400-550
500-700
800-1000
PLA Degradable Film Pelletizing Machine Detail:
Detail 1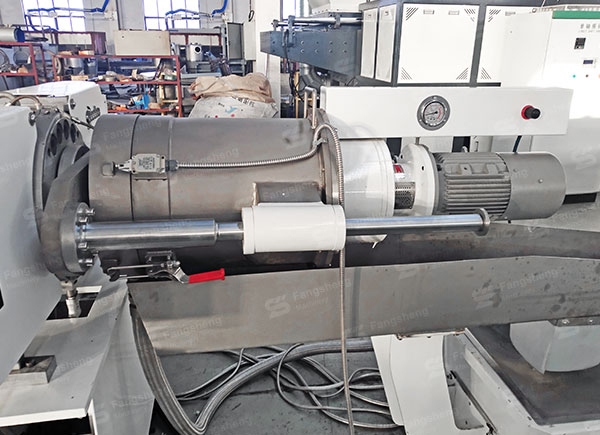 Detail 2
Detail 3