Plastic Film Recycle Pelletizing Line Description:
The plastic film recycle pelletizing line is based on the domestic and foreign advanced technology of Fangsheng Machinery, which is continuously improved and improved. The design is reasonable, the appearance is beautiful, and it is durable. The parts in contact with the materials are made of stainless steel. The finished pellets are of high quality, without bubbles, and are full and round; the shape is in the form of a disc, and the size and thickness can be adjusted.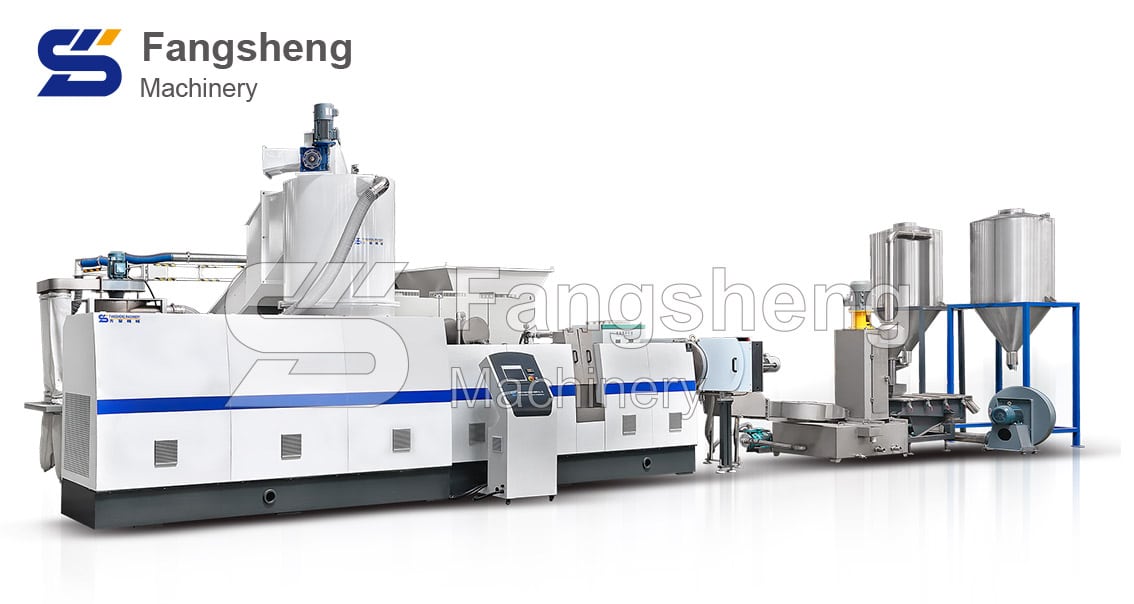 The plastic film pelletizing line adopts a non-stop hydraulic screen changing device, and there is a pressure sensor on the die head to prompt the screen to be changed. The screen change does not need to be stopped, and the screen change speed is fast and convenient.
Plastic Film Pelletizing Line Process Flow:
1. The plastic film pelletizing line adopts the process of high temperature melting, plasticization and extrusion to change the physical properties of the plastic, and achieve the plasticization and molding of the plastic.
2. Raw material classification → raw material crushing and cleaning → automatic feeding into the main machine for plasticization → auxiliary machine extrusion → water or air cooling → automatic pelletizing → bagging
Plastic Film Pelletizing Line Application:

Plastic Film Pelletizing Line Video:
Plastic Film Pelletizing Line Technical Parameter:
FS series single-stage granulator machine
Model
Extruder
Screw diameter(mm)
L/D ratio
Power(kw)
Productivity(PE)(kg/h)
Productivity(PP)(kg/h)
FSJ70
70/33
φ70
33:1
110
110-150
100-130
FSJ85
85/33
φ85
33:1
150
180-250
150-200
FSJ100
100/33
φ100
33:1
210
280-350
250-300
FSJ130
130/33
φ130
33:1
300
480-550
400-480
FSJ160
160/33
φ160
33:1
370
650-750
550-650
FSJ180
180/33
φ180
33:1
460
800-1000
750-850
FS series double-stage granulator machine
Model
FSJ100/120
FSJ130/130
FSJ160/160
FSJ180/200
First extruder parameter
Screw diameter(mm)
φ100
φ130
φ160
φ180
L/D ratio
33
33
30
30
Extruder motor(kw)
90
132
185
250
Heating power(kw)
45
55
70
70
Screw speed(RPM)
0-120
0-120
0-120
0-120
Second extruder parameter
Screw diameter(mm)
φ120
φ130
φ160
φ200
L/D ratio
10-15
10-15
10-15
10-15
Extruder motor(kw)
30
45
55
75
Heating power(kw)
30
35
45
60
Screw speed(RPM)
0-120
0-120
0-120
0-120
Productivity(kg/h)
250-350
400-550
500-700
800-1000
Plastic Film Pelletizing Line Detail: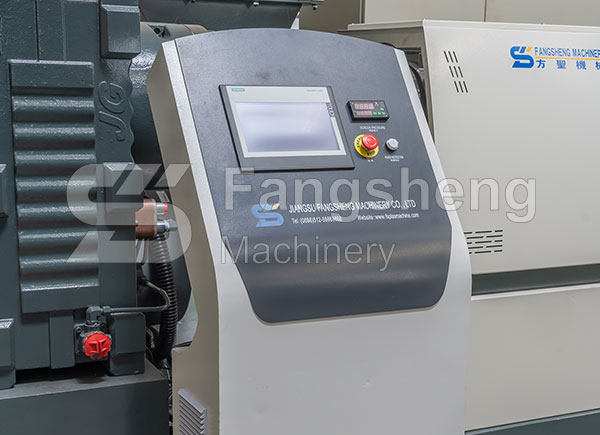 Detail 1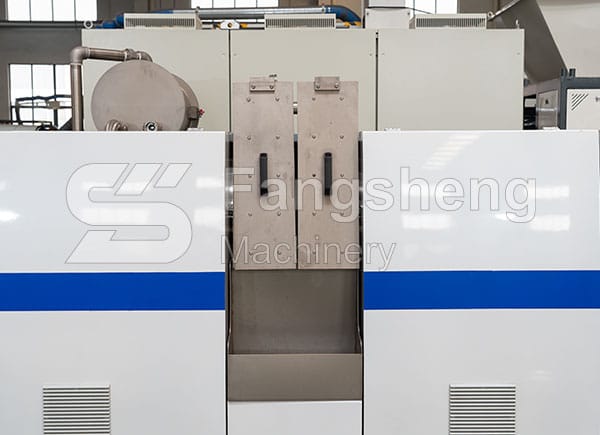 Detail 2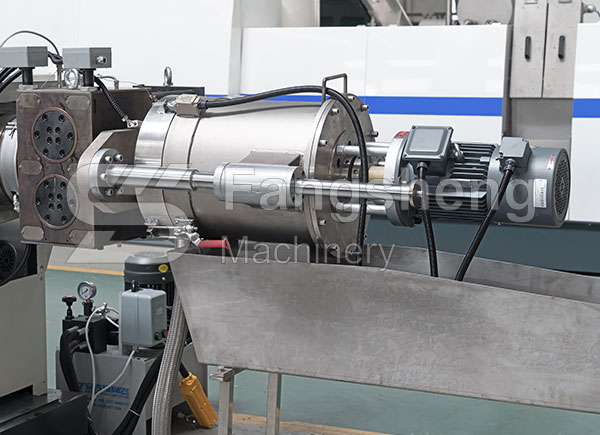 Detail 3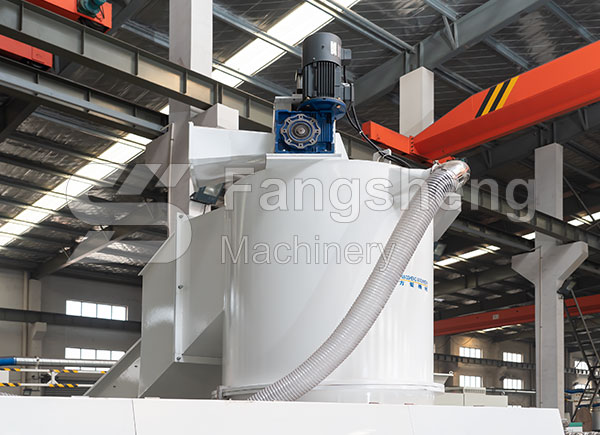 Detail 4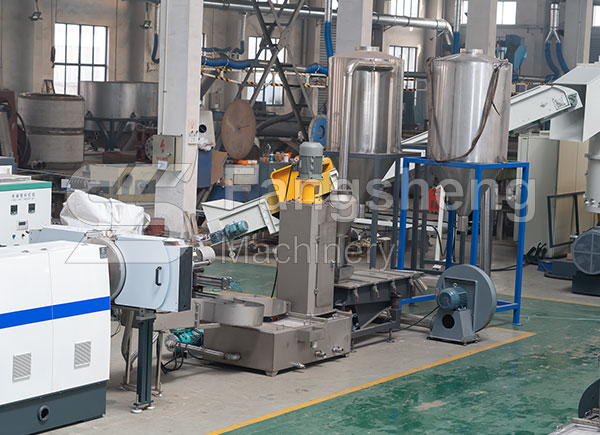 Detail 5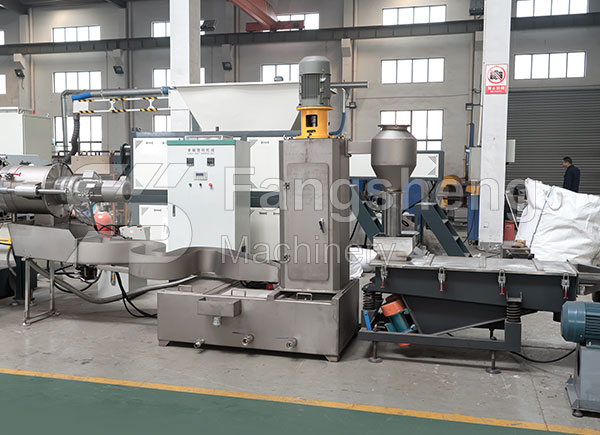 Detail 6