PP Film Granulation Equipment Description:
This PP film granulation equipment which is suitable for many kinds waste plastic materials recycling and making pellet, such as PP Film,bags,clean woven/nonwoven bag materials, etc. The film can be pressed in compressor and then be pelleted. And PP film granulating machine also has very developed design, makes sure this PP film granulating equipment has a long working life and economical efficiency in using. You can choose use single stage or double stage granulating machine according to how clean of you material; Also you can choose the cooling cutting system or die-face hot cutting system.
PP Film Granulation Equipment Features:
1. The main motor, plastic granulator and tractor operators adopt a frequency conversion control system, which is convenient to adjust, reliable, stable, and low energy consumption.
2. The extruder screw adopts a special design, the raw material plasticization effect is better, and the production is stable.
3. The PP film granulation equipment has high efficiency and is easy to install and maintain.
4. Adopt advanced components of world-renowned brands in pneumatic parts, electrical parts and operating parts.
5. The entire production line has a high degree of automation and is a fully automatic assembly line. As long as someone adds waste plastic in the front, and someone at the back receives the pelletized product, it can realize the direct transformation from waste plastic to pelletized product.
PP Film Granulation Equipment Application:

PP Film Granulation Machine Video:
PP Film Granulation Machine Technical Parameter:
FS series single-stage granulator machine
Model
Extruder
Screw diameter(mm)
L/D ratio
Power(kw)
Productivity(PE)(kg/h)
Productivity(PP)(kg/h)
FSJ70
70/33
φ70
33:1
110
110-150
100-130
FSJ85
85/33
φ85
33:1
150
180-250
150-200
FSJ100
100/33
φ100
33:1
210
280-350
250-300
FSJ130
130/33
φ130
33:1
300
480-550
400-480
FSJ160
160/33
φ160
33:1
370
650-750
550-650
FSJ180
180/33
φ180
33:1
460
800-1000
750-850
FS series double-stage granulator machine
Model
FSJ100/120
FSJ130/130
FSJ160/160
FSJ180/200
First extruder parameter
Screw diameter(mm)
φ100
φ130
φ160
φ180
L/D ratio
33
33
30
30
Extruder motor(kw)
90
132
185
250
Heating power(kw)
45
55
70
70
Screw speed(RPM)
0-120
0-120
0-120
0-120
Second extruder parameter
Screw diameter(mm)
φ120
φ130
φ160
φ200
L/D ratio
10-15
10-15
10-15
10-15
Extruder motor(kw)
30
45
55
75
Heating power(kw)
30
35
45
60
Screw speed(RPM)
0-120
0-120
0-120
0-120
Productivity(kg/h)
250-350
400-550
500-700
800-1000
PP Film Granulation Machine Detail: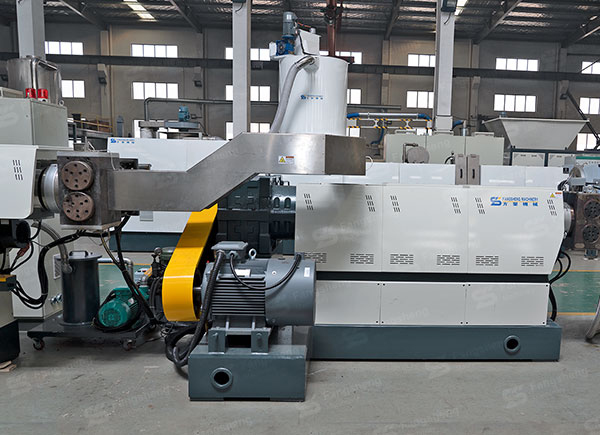 Detail 1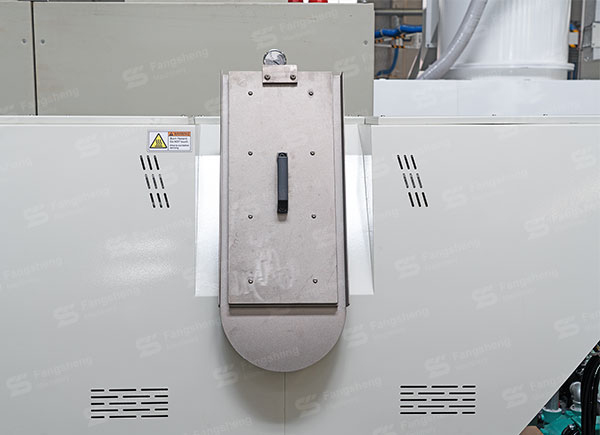 Detail 2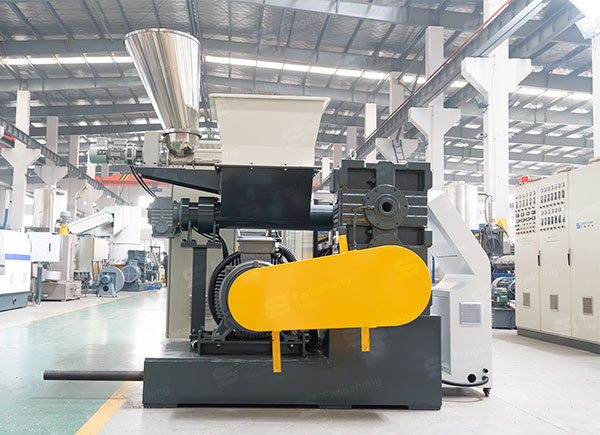 Detail 3
Detail 4
Detail 5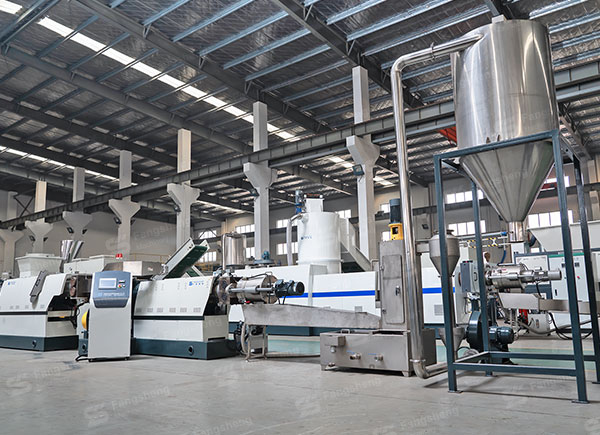 Detail 6