PP Film Granulation System Description:
There are two types of  PP film granulation system. Single-stage plastic pelletizer with die face cutting system, used to clean industrial waste PE film and PP shopping bags. There is also a two-stage plastic granulator with a die face cutting system for washing recycled PE film and PE shopping bag materials. Two-stage work is more stable and produces cleaner and higher-density particles.
PP Film Granulation System Features:
1, Compact feeder: the use of hydraulic system, compact hopper openings, glass Windows and lights can check the internal working conditions; At the bottom of the barrel, the temperature of the water cooling system is controlled by a solenoid valve. The barrel contact materials are all made of stainless steel.
2. Single screw extruder: Single screw extruder made of solid frame. PP film granulation machine running without vibration; The gearbox is installed, and the entire rack of motors and screws is finished milling. The frame is made of square tubes and thick steel at the top.
3. Hydraulic screen changer: double plate model made of 38CrMnAl forging, heat treatment will not be deformed after heating.
4. Vertical die-cutting system: frequency converter to adjust the cutting speed
The mould is made of 38CrMoAla material, which has been forged, surface nitriding and polished.
PP Film Granulation System Application:

PP Film Granulation System Video:
PP Film Granulation Line Technical Parameter:
FS series single-stage granulator machine
Model
Extruder
Screw diameter(mm)
L/D ratio
Power(kw)
Productivity(PE)(kg/h)
Productivity(PP)(kg/h)
FSJ70
70/33
φ70
33:1
110
110-150
100-130
FSJ85
85/33
φ85
33:1
150
180-250
150-200
FSJ100
100/33
φ100
33:1
210
280-350
250-300
FSJ130
130/33
φ130
33:1
300
480-550
400-480
FSJ160
160/33
φ160
33:1
370
650-750
550-650
FSJ180
180/33
φ180
33:1
460
800-1000
750-850
FS series double-stage granulator machine
Model
FSJ100/120
FSJ130/130
FSJ160/160
FSJ180/200
First extruder parameter
Screw diameter(mm)
φ100
φ130
φ160
φ180
L/D ratio
33
33
30
30
Extruder motor(kw)
90
132
185
250
Heating power(kw)
45
55
70
70
Screw speed(RPM)
0-120
0-120
0-120
0-120
Second extruder parameter
Screw diameter(mm)
φ120
φ130
φ160
φ200
L/D ratio
10-15
10-15
10-15
10-15
Extruder motor(kw)
30
45
55
75
Heating power(kw)
30
35
45
60
Screw speed(RPM)
0-120
0-120
0-120
0-120
Productivity(kg/h)
250-350
400-550
500-700
800-1000
PP Film Granulation Line Detail:
Detail 1
Detail 2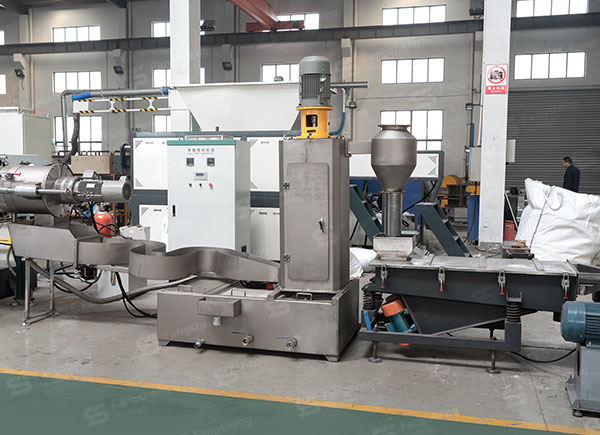 Detail 3