PP Film Pelletizer Line Description:
PP film pelletizer line is suitable for different shapes of materials, using different feeding methods; Different material materials, design the corresponding screw structure. After one or more net replacements, the residue can be better removed; The water ring pelletizer greatly improves the appearance of pellets. The air drying system greatly reduces the moisture content of the particles.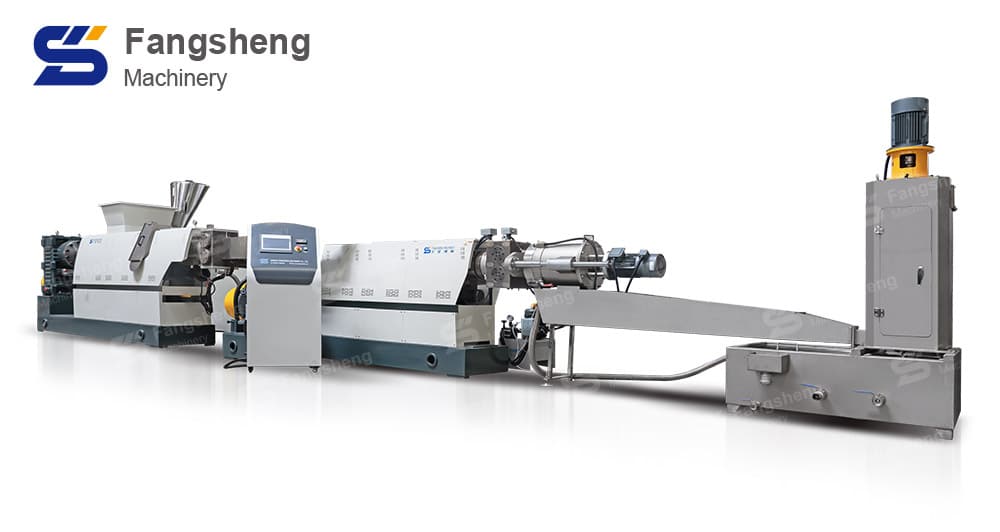 PP Film Pelletizer Line Features:
1.Conveyor belt: Conveyor belt can be continuous, high-efficiency, large inclination transportation, conveyor belt operation is safe, conveyor belt is easy to use, easy to maintain, reduce engineering costs, and save manpower and material resources.
2.Crushing pass: It is suitable for conveying various film materials to the feed port through the conveyor belt. The feed port is connected to the mouth of the crushing barrel. It is sheared and broken into granules by the side knife and the rotating bed knife. It is brought into the main machine by the rotary bed knife turntable to melt and plasticize. .
3.Stainless steel water tank: It is suitable for cooling the strip during the plastic granulation production line, so that the PP film pelletizer machine can work normally.
4.Air dryer: This plastic blow dryer is suitable for removing the surface water of the strands after cooling the strands of the plastic granulator through the water tank.
5.Pelletizer: It is suitable for pelletizing after the plastic pelletizer is stretched. It is used for pelletizing PP and other plastics.
6.Storage hopper:Widely used in: plastic particles storage, convenient packaging work, save labor.
PP Film Pelletizer Line Application:

PP Film Pelletizer Machine Video:
PP Film Pelletizer Machine Technical Parameter:
FS series single-stage granulator machine
Model
Extruder
Screw diameter(mm)
L/D ratio
Power(kw)
Productivity(PE)(kg/h)
Productivity(PP)(kg/h)
FSJ70
70/33
φ70
33:1
110
110-150
100-130
FSJ85
85/33
φ85
33:1
150
180-250
150-200
FSJ100
100/33
φ100
33:1
210
280-350
250-300
FSJ130
130/33
φ130
33:1
300
480-550
400-480
FSJ160
160/33
φ160
33:1
370
650-750
550-650
FSJ180
180/33
φ180
33:1
460
800-1000
750-850
FS series double-stage granulator machine
Model
FSJ100/120
FSJ130/130
FSJ160/160
FSJ180/200
First extruder parameter
Screw diameter(mm)
φ100
φ130
φ160
φ180
L/D ratio
33
33
30
30
Extruder motor(kw)
90
132
185
250
Heating power(kw)
45
55
70
70
Screw speed(RPM)
0-120
0-120
0-120
0-120
Second extruder parameter
Screw diameter(mm)
φ120
φ130
φ160
φ200
L/D ratio
10-15
10-15
10-15
10-15
Extruder motor(kw)
30
45
55
75
Heating power(kw)
30
35
45
60
Screw speed(RPM)
0-120
0-120
0-120
0-120
Productivity(kg/h)
250-350
400-550
500-700
800-1000
PP Film Pelletizer Machine Detail: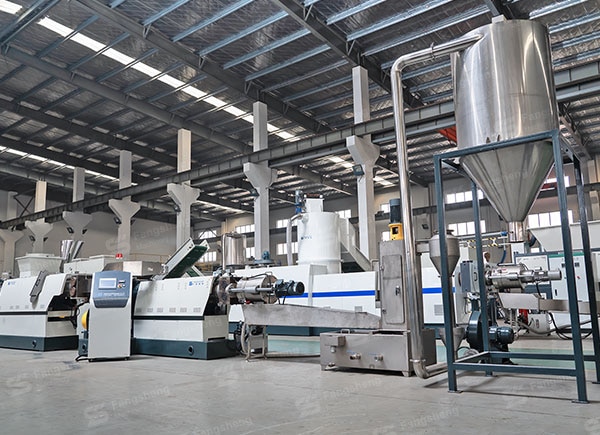 Detail 1
Detail 2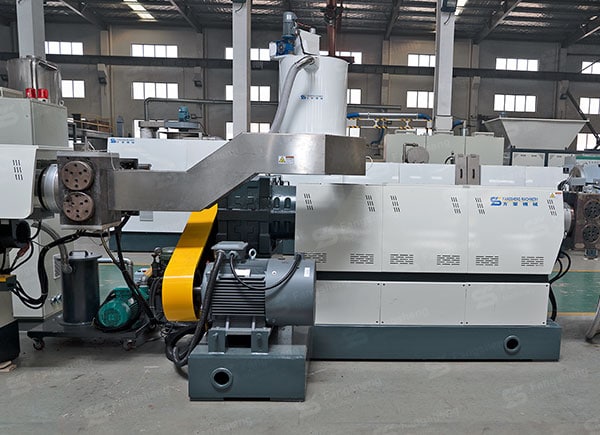 Detail 3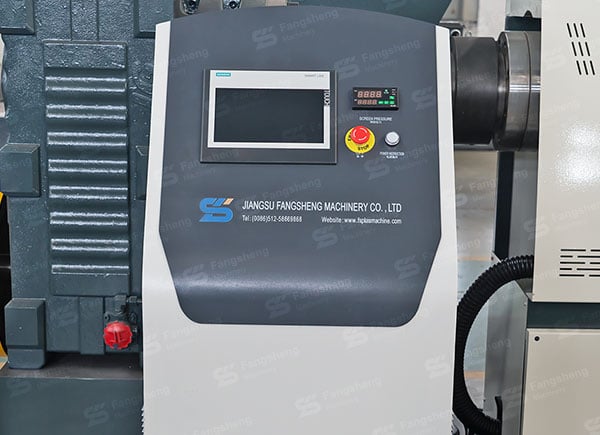 Detail 4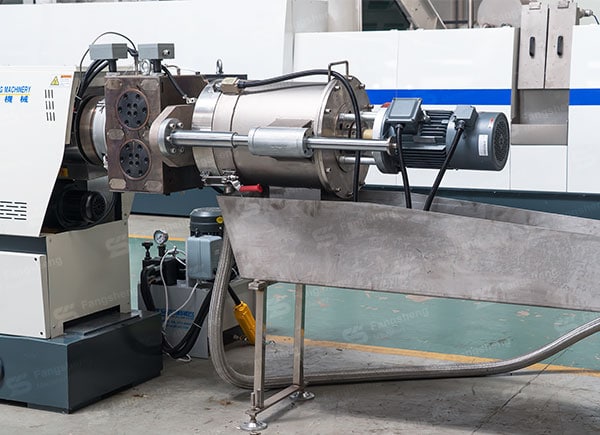 Detail 5
Detail 6