PP Film Pelletizing Equipment Description:
This PP film pelletizing equipment combines compactors (agglomerates) with conventional granulation production lines as much as possible, and the work efficiency has been greatly improved. Before being fed into the heating screw, the film is put in a semi-melted state to obtain a higher density. Compared with the same screw size of the conventional pelletizing line, the use of the compactor system greatly improves the production efficiency. Special screw design, vacuum degassing system and strict filtration system, excellent granulation quality, low moisture and no bubbles. Water ring cutting system is our advantage, it can cut PE film and PP woven material.
PP Film Pelletizing Equipment Features:
1. Using water ring cutting, saving production line area, convenient operation, convenient operation, uniform particle size and beautiful appearance.
2. The waste plastic film/bag is recycled after washing. We can use this PP film pelletizing equipment to make plastic pellets.
The new pellets after blow molding or injection can be used to make new plastic products. For example, plastic films, plastic bags, plastic bottles, plastic pallets, plastic boxes, plastic barrels, etc.
3. The gear reducer of the PP film pelletizing equipment: high torque, hard surface gear reducer with a water-cooled circulation system, which can ensure the pipeline runs smoothly, quietly and has a long service life.
4. Easy to operate: with automatic constant temperature control, stable performance. After adjustment, 1 or 2 workers are enough to run the PP film pelletizing machine, feed the material and replace the pellet receiver.
PP Film Pelletizing Equipment Application:

PP Film Pelletizing Machine Video:
PP Film Pelletizing Machine Technical Parameter:
FS series single-stage granulator machine
Model
Extruder
Screw diameter(mm)
L/D ratio
Power(kw)
Productivity(PE)(kg/h)
Productivity(PP)(kg/h)
FSJ70
70/33
φ70
33:1
110
110-150
100-130
FSJ85
85/33
φ85
33:1
150
180-250
150-200
FSJ100
100/33
φ100
33:1
210
280-350
250-300
FSJ130
130/33
φ130
33:1
300
480-550
400-480
FSJ160
160/33
φ160
33:1
370
650-750
550-650
FSJ180
180/33
φ180
33:1
460
800-1000
750-850
FS series double-stage granulator machine
Model
FSJ100/120
FSJ130/130
FSJ160/160
FSJ180/200
First extruder parameter
Screw diameter(mm)
φ100
φ130
φ160
φ180
L/D ratio
33
33
30
30
Extruder motor(kw)
90
132
185
250
Heating power(kw)
45
55
70
70
Screw speed(RPM)
0-120
0-120
0-120
0-120
Second extruder parameter
Screw diameter(mm)
φ120
φ130
φ160
φ200
L/D ratio
10-15
10-15
10-15
10-15
Extruder motor(kw)
30
45
55
75
Heating power(kw)
30
35
45
60
Screw speed(RPM)
0-120
0-120
0-120
0-120
Productivity(kg/h)
250-350
400-550
500-700
800-1000
PP Film Pelletizing Machine Detail:
Detail 1
Detail 2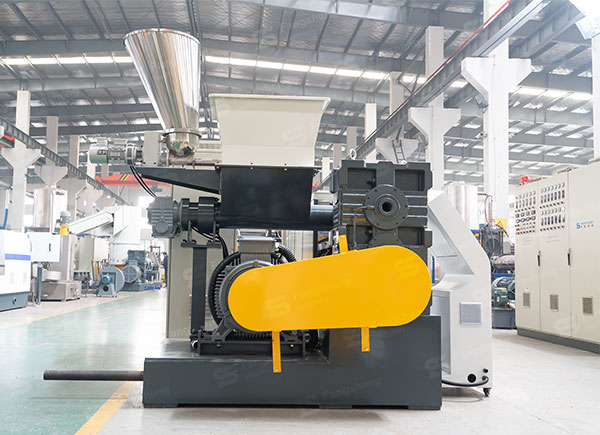 Detail 3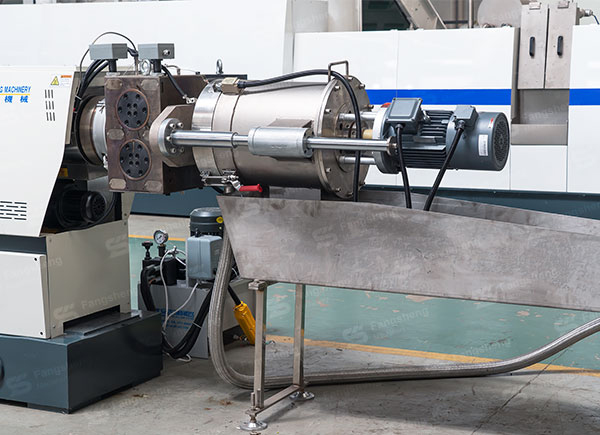 Detail 4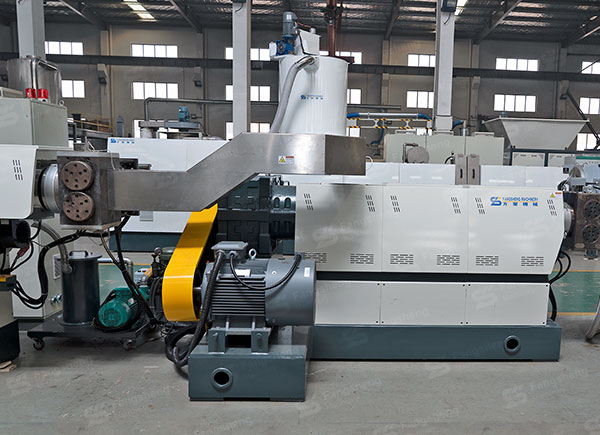 Detail 5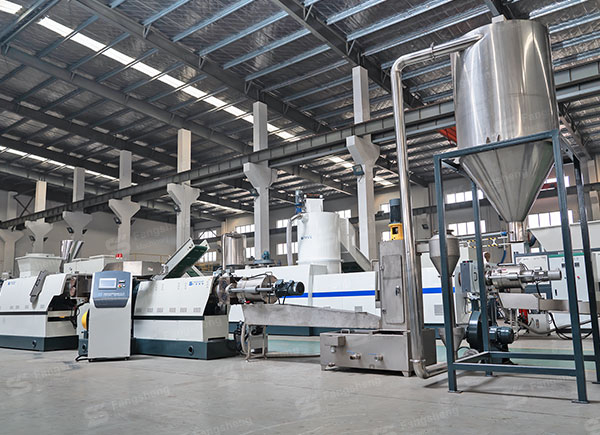 Detail 6