PP Film Pelletizing System Description:
PP film pelletizing system is widely used for PP/PE plastic soft plastic. Such as shopping bags, packaging films, garbage bags, woven bags, non-woven bags and films, the PP film pelletizing machine will make them into small balls/particles.
The PP film pelletizing systeme has high degree of automation, low energy consumption, labor saving, power saving, water saving and convenient maintenance. With advanced design, concept and technology, the PP film pelletizing machine can be adapted to different waste plastic bags/films. The PP film pelletizing line can be arranged in "L", "S" or "U" shape according to different workshops.
PP Film Pelletizing System Features:
1. The PP film pelletizing machine is equipped with an efficient forced feeder to ensure large-capacity feeding and low energy consumption.
2. Recycling and pelletizing of polyethylene (PE), polypropylene (PP), polystyrene (PS), polyvinyl chloride (pvc), PET, HDPE, ABS and other engineering plastics or ordinary plastics made of plastic pellets.
3. The main machine of the PP film pelletizing equipment is equipped with a fully automatic control cabinet and a PLC operating system. Simple operation and stable performance.
4. The water cavity with die cutter simplifies the process.
PP Film Pelletizing Line Application:

PP Film Pelletizing Line Video:
PP Film Pelletizing Line Technical Parameter:
FS series single-stage granulator machine
Model
Extruder
Screw diameter(mm)
L/D ratio
Power(kw)
Productivity(PE)(kg/h)
Productivity(PP)(kg/h)
FSJ70
70/33
φ70
33:1
110
110-150
100-130
FSJ85
85/33
φ85
33:1
150
180-250
150-200
FSJ100
100/33
φ100
33:1
210
280-350
250-300
FSJ130
130/33
φ130
33:1
300
480-550
400-480
FSJ160
160/33
φ160
33:1
370
650-750
550-650
FSJ180
180/33
φ180
33:1
460
800-1000
750-850
FS series double-stage granulator machine
Model
FSJ100/120
FSJ130/130
FSJ160/160
FSJ180/200
First extruder parameter
Screw diameter(mm)
φ100
φ130
φ160
φ180
L/D ratio
33
33
30
30
Extruder motor(kw)
90
132
185
250
Heating power(kw)
45
55
70
70
Screw speed(RPM)
0-120
0-120
0-120
0-120
Second extruder parameter
Screw diameter(mm)
φ120
φ130
φ160
φ200
L/D ratio
10-15
10-15
10-15
10-15
Extruder motor(kw)
30
45
55
75
Heating power(kw)
30
35
45
60
Screw speed(RPM)
0-120
0-120
0-120
0-120
Productivity(kg/h)
250-350
400-550
500-700
800-1000
PP Film Pelletizing System Detail:
Detail 1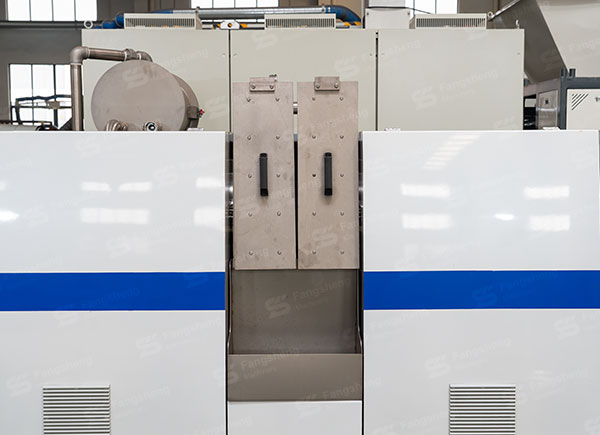 Detail 2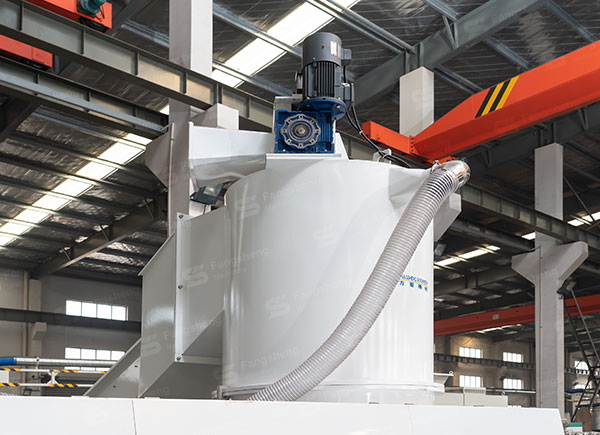 Detail 3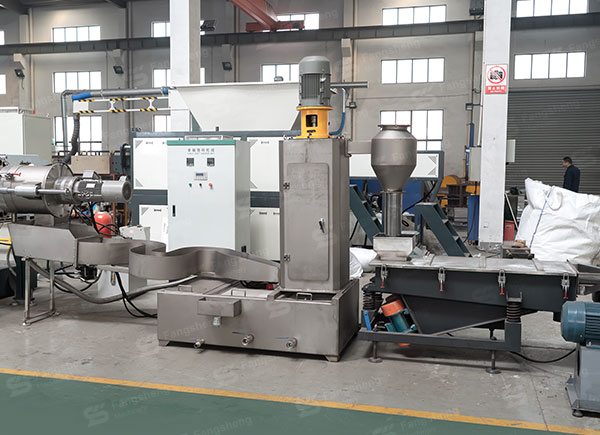 Detail 4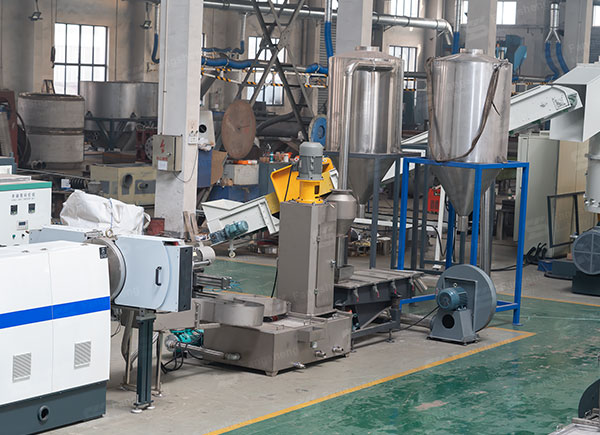 Detail 5
Detail 6