This plastic film pelletizing line is designed specially by Fangsheng Machinery, which is mainly used for processing of waste plastic film (industrial packaging film, agricultural film, greenhouse film, beer package, bag, etc.), woven bags, agricultural convenience bag, PP fiber, PP no-woven fabrics,etc.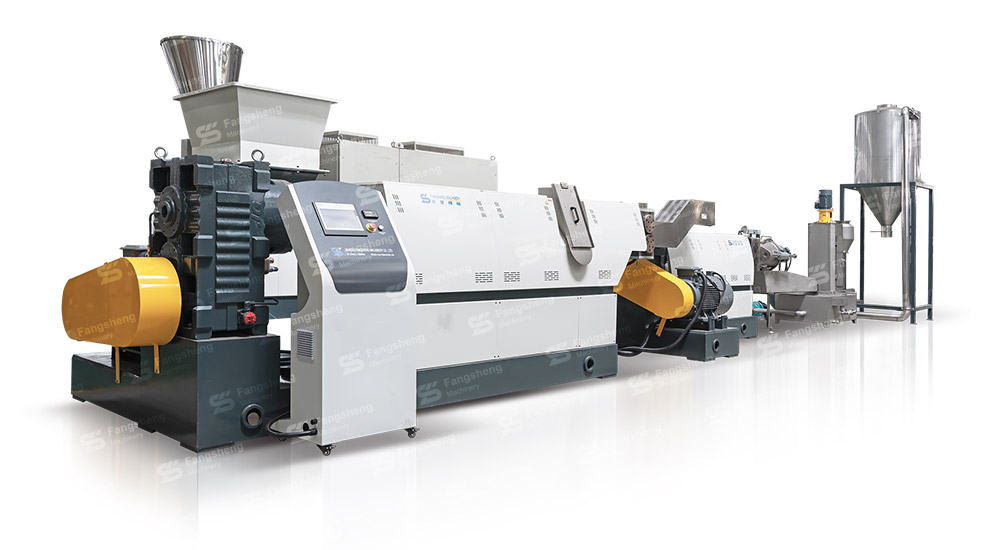 Through belt conveyer convey the PP/PE Film to compactor.Then the material will be cutted, then forced into extruder, cutting, water flume,dewatering machine, lastly blowing into storage hopper. Based on your requirements, you can choose compactor single stage granulator or double stage granulator.
Plastic Film Pelletizing Machine Features:
1. The plastic film pelletizing machine capacity between 200kg/h-1000kg/h.
2. Parts which contact material use SUS304, thickness more than 3mm, ensure long service life time.
3. World famous brand components applied on the pelletizing line- SKF bearing, Siemens contactor, Japan RKC temperature, ABB invertor, Siemens PLC control.
4. The plastic film pelletizing machine with CE certification, ISO9001 certification.
Plastic Film Pelletizing Machine Video:
Plastic Film Pelletizing Machine Technical Parameter:
FS series single-stage granulator machine
Model
Extruder
Screw diameter(mm)
L/D ratio
Power(kw)
Productivity(PE)(kg/h)
Productivity(PP)(kg/h)
FSJ70
70/33
φ70
33:1
110
110-150
100-130
FSJ85
85/33
φ85
33:1
150
180-250
150-200
FSJ100
100/33
φ100
33:1
210
280-350
250-300
FSJ130
130/33
φ130
33:1
300
480-550
400-480
FSJ160
160/33
φ160
33:1
370
650-750
550-650
FSJ180
180/33
φ180
33:1
460
800-1000
750-850
FS series double-stage granulator machine
Model
FSJ100/120
FSJ130/130
FSJ160/160
FSJ180/200
First extruder parameter
Screw diameter(mm)
φ100
φ130
φ160
φ180
L/D ratio
33
33
30
30
Extruder motor(kw)
90
132
185
250
Heating power(kw)
45
55
70
70
Screw speed(RPM)
0-120
0-120
0-120
0-120
Second extruder parameter
Screw diameter(mm)
φ120
φ130
φ160
φ200
L/D ratio
10-15
10-15
10-15
10-15
Extruder motor(kw)
30
45
55
75
Heating power(kw)
30
35
45
60
Screw speed(RPM)
0-120
0-120
0-120
0-120
Productivity(kg/h)
250-350
400-550
500-700
800-1000
Plastic Film Pelletizing Machine Detail:
Detail 1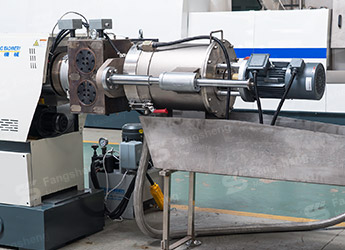 Detail 2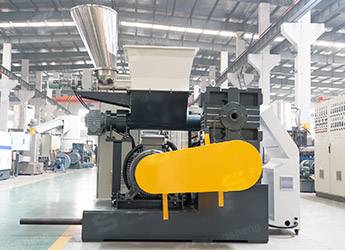 Detail 3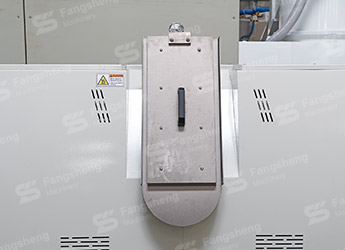 Detail 4
Detail 5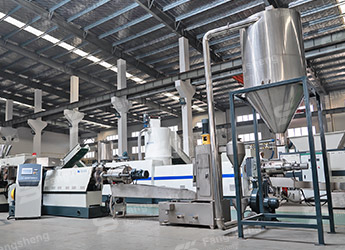 Detail 6