Plastic Film Granulator Machine Description:
Plastic film granulator machine adopts automatic compaction silo water ring granulation, mainly for PP/PE film, PP/PE plastic bags, PE agricultural film/plastic film/greenhouse film and other granulation equipment, plastic particles made beautiful appearance, full particles, uniform, no pores, is the high quality choice of waste plastic recycling granulation equipment manufacturers.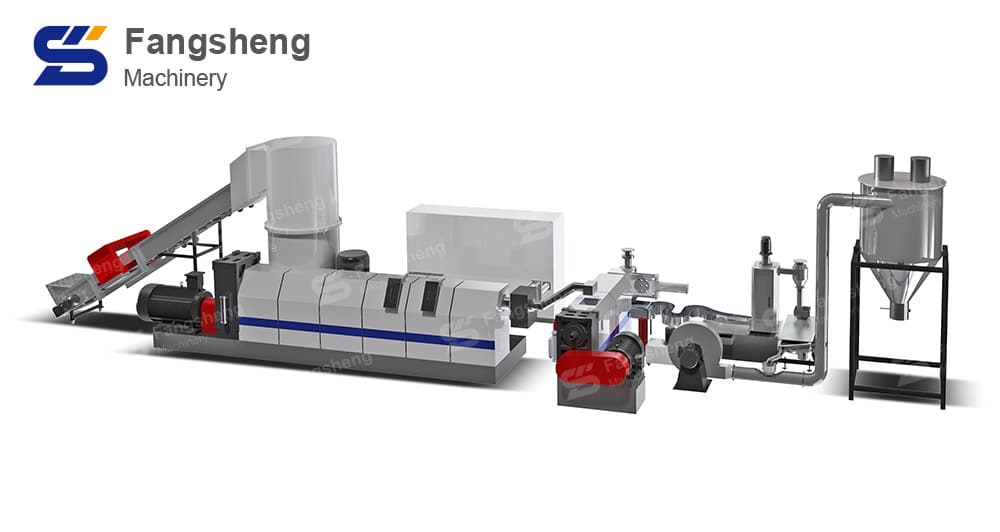 Plastic film granulation line is mainly composed of: conveyor belt, compaction silo, single screw extruder, non-stop hydraulic net changing device, die head, water ring granulator, vibrating screen, centrifugal dehydrator, cyclone silo, control panel and so on.
Plastic film granulation line adopts advanced design principle, using mechanical friction to reach the softening point temperature double rub into strips and granulation, which changes the traditional heating drawing granulation principle. Plastic film granulation line has the advantages of small loss of granulation material, high production rate, high efficiency and energy saving, easy operation and stable product quality.
Plastic Film Granulator Application:

Plastic Film Granulator Video:
Learn more about YouTube's plastic film granulation line
Plastic Film Granulator Parameter:
FS series single-stage granulator machine
Model
Extruder
Screw diameter(mm)
L/D ratio
Power(kw)
Productivity(PE)(kg/h)
Productivity(PP)(kg/h)
FSJ70
70/33
φ70
33:1
110
110-150
100-130
FSJ85
85/33
φ85
33:1
150
180-250
150-200
FSJ100
100/33
φ100
33:1
210
280-350
250-300
FSJ130
130/33
φ130
33:1
300
480-550
400-480
FSJ160
160/33
φ160
33:1
370
650-750
550-650
FSJ180
180/33
φ180
33:1
460
800-1000
750-850
FS series double-stage granulator machine
Model
FSJ100/120
FSJ130/130
FSJ160/160
FSJ180/200
First extruder parameter
Screw diameter(mm)
φ100
φ130
φ160
φ180
L/D ratio
33
33
30
30
Extruder motor(kw)
90
132
185
250
Heating power(kw)
45
55
70
70
Screw speed(RPM)
0-120
0-120
0-120
0-120
Second extruder parameter
Screw diameter(mm)
φ120
φ130
φ160
φ200
L/D ratio
10-15
10-15
10-15
10-15
Extruder motor(kw)
30
45
55
75
Heating power(kw)
30
35
45
60
Screw speed(RPM)
0-120
0-120
0-120
0-120
Productivity(kg/h)
250-350
400-550
500-700
800-1000
Plastic Film Granulator Detail:
Detail 1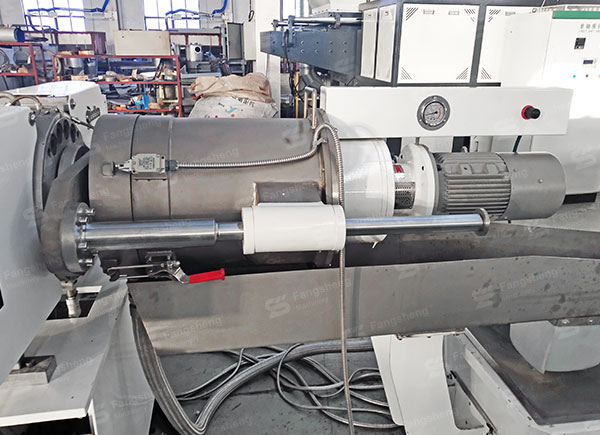 Detail 2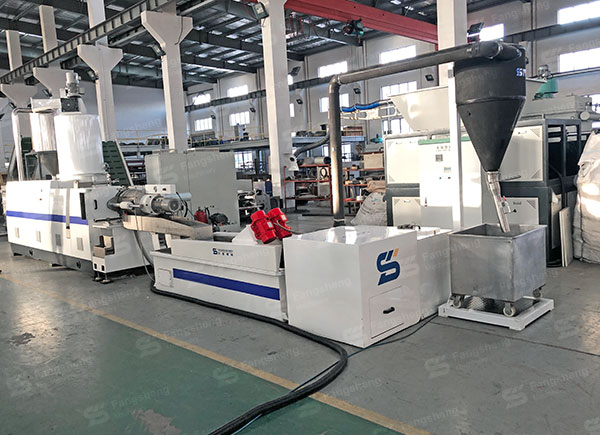 Detail 3