Beverage Bottle Recycling Washing Machine Instruction:
1. The beverage bottle recycling washing machine can be used to wash glass bottles, plastic bottles and cans.
2. This machine is a manual rail up and down type bottle washing, flushing tracking type internal flushing, positioning type external shower, flushing time is about 8 seconds, bottle control time is about 26 seconds.
3. The beverage bottle recycling washing machine has water filtration facilities, which can filter the impurities in the water and can be recycled.
4. the exposed part of the machine and the part in contact with the liquid are made of stainless steel, brass and nylon materials, in line with food hygiene standards.
5. The water distribution valve body is made of reinforced nylon, with low water absorption rate. The valve body tray is made of stainless steel. The machine is supported by springs and polished on the upper surface. Therefore, the coefficient of friction is low and the service life is long.

Bottle Recycling Washing Machine Description:
The bottle recycling washing machine has an intelligent modular design and is designed for recycling agricultural film, industrial packaging film and bagged waste. The machine includes sorting, size reduction, metal removal, hot and cold cleaning, efficient friction cleaning and drying modules. The machine effectively removes most contaminants, such as ferrous and non-ferrous metal contaminants. In addition, the solution offers all water treatment, sludge treatment, paper sticks, labels, etc.
Bottle Recycling Washing Machine Video:
Bottle Recycling Washing Machine Detail:
High-speed Friction Washer
Crusher Machine
Dewatering Machine
Steam washer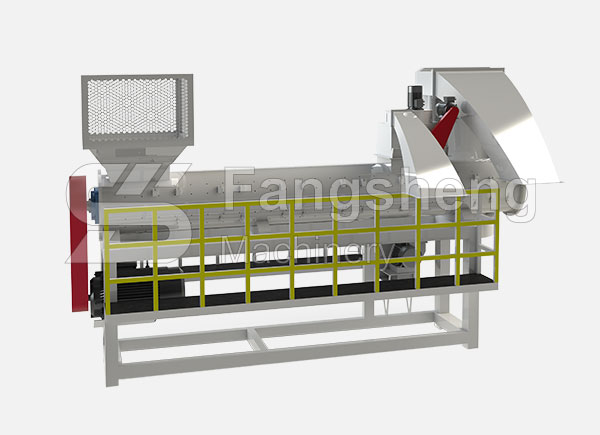 Label scfraping machine
Label separator by air
Bottle Recycling Washing Machine Technical Parameter:
Name

Motor power (kw)

Dimension (mm)

Water consumption (T/H)

Stainless steel standard (mm)

Electric standard

Belt conveyor

2.2

3500*900*3000

–

–

According to customers standard

Label scraping machine

11

2600*1200*1800

0.6-1.0

3-5

Manual separating machine

2.2

6000*800*1200

–

–

Metal detectory

0.4

2200*1200*1500

–

3-5

Belt conveyer

2.2

3500*900*3000

–

–

Crusher

37

2200*2200*3000

0.6-1.0

–

Screw converor

3

2800*800*2600

–

3-5

High speed friction washer

30

3200*1400*2000

1-2

3-5

Screw conveyer

3

2800*800*2600

–

3-5

Floating washer

3*2

5200*1700*2200

0.5-1.5

3-5

Screw conveyer

36

2800*800*2600

–

3-5

Steam washer

7.5

1800*1800*2700

0.5-1.5

3-5

Screw conveyer

3

2800*800*2600

–

3-5

Floating washer

3*2

5200*1700*2200

0.5-1.5

3-5

Screw conveyer

3

2800*800*2600

–

3-5

Dewatering machine

5.5

800*2200*2200

–

5

Drying system

11

3500*2200*2200

–

3-5

Label separater

4

800*1100*3800

–

–

Storage hopper

–

1500*1500*3800

–

–

Electric elements

–

2000*450*1780

–

–