BOPP Film Pelletizing Line Description:
The BOPP film pelletizing line can drain away moisture and exhaust gas during the production process, so that while the discharge is stable, the rubber particles produced are stronger. It is derived from the special screw design of the granulator after hardening treatment and the high-torque gearbox design. The BOPP film pelletizing machine is smooth and noiseless during operation. Such a granulator has good mixing performance, high output, and at the same time guarantees the excellent quality of the product.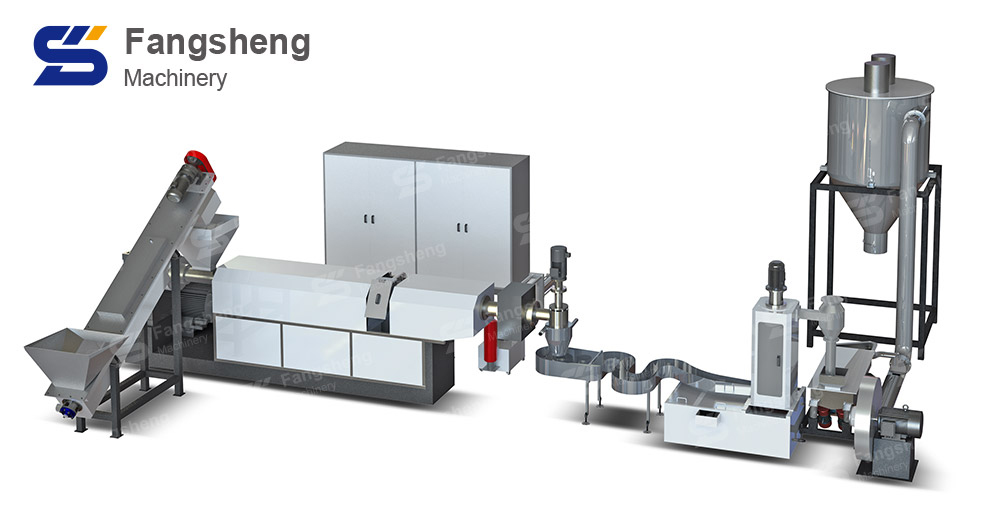 BOPP Film Pelletizing Line Features:
1) Single stage extruder and double stage extruders can be used according to user's requirement or material condition.
2) Plastic pelletized PP,BOPP, HDPE, ABS and other engineering plastics or general plastics recycling and granulation.
3) Granules cutting type: water ring face cutting, strip/noodle type cutting and hot cutting;
4) Waste woven bags and waste film can be directly put into the granulation line without crushing.
5) The main engine is equipped with full automatic control cabinet and PLC operating system.The  BOPP film pelletizing machine is easy to operate and has stable performance.
6) Low energy consumption, remarkable energy saving effect, high output, mechatronics.
BOPP Film Pelletizing Line Application:

BOPP Film Pelletizing Line Video:
BOPP Film Pelletizing Machine Technical Parameter:
FS series single-stage granulator machine
Model
Extruder
Screw diameter(mm)
L/D ratio
Power(kw)
Productivity(PE)(kg/h)
Productivity(PP)(kg/h)
FSJ70
70/33
φ70
33:1
110
110-150
100-130
FSJ85
85/33
φ85
33:1
150
180-250
150-200
FSJ100
100/33
φ100
33:1
210
280-350
250-300
FSJ130
130/33
φ130
33:1
300
480-550
400-480
FSJ160
160/33
φ160
33:1
370
650-750
550-650
FSJ180
180/33
φ180
33:1
460
800-1000
750-850
FS series double-stage granulator machine
Model
FSJ100/120
FSJ130/130
FSJ160/160
FSJ180/200
First extruder parameter
Screw diameter(mm)
φ100
φ130
φ160
φ180
L/D ratio
33
33
30
30
Extruder motor(kw)
90
132
185
250
Heating power(kw)
45
55
70
70
Screw speed(RPM)
0-120
0-120
0-120
0-120
Second extruder parameter
Screw diameter(mm)
φ120
φ130
φ160
φ200
L/D ratio
10-15
10-15
10-15
10-15
Extruder motor(kw)
30
45
55
75
Heating power(kw)
30
35
45
60
Screw speed(RPM)
0-120
0-120
0-120
0-120
Productivity(kg/h)
250-350
400-550
500-700
800-1000
BOPP Film Pelletizing Machine Detail: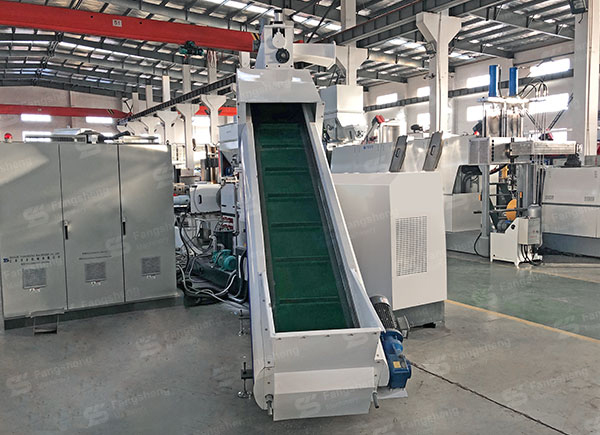 Detail 1
Detail 2
Detail 3