HDPE Bottle Flake Pelletizing Machine Introduction:
This HDPE bottle flake pelletizing machine is is suitable for many kinds of plastic waste materials recycling and making pellet, include PE, HDPE, LDPE, LLDPE bottle, hollow container, buckets etc.
After the processing of feeding, heating, melt, cooling, drying, cutting etc., the final products are HDPE plastic pellets/granules that can be to produce plastic chair, plastic profile, plastic bottle, drainage pipes, plastic sheet etc.
HDPE Bottle Flake Pelletizing Line Working Flow:
Screw feeder → Efficient extruder → Non-stop hydraulic screen filter changer → (second stage extruder → hydraulic screen filter changer → die head →) Water cooling → Strand cutting → Blower → Storage hopper → Electric control panel
HDPE Bottle Flake Pelletizing Line Features:
1. High efficiency single screw extruder, advantage screw design make better plastify.
2. Non-stope hydraulic screen changer, double station, can change sation in 2 second.
3. Second stage extruder, or called baby extrder, to make the plastic pellets have better quality.
4. Hydraulic station, to supply the power for the two screen changer.
5. HDPE flake pelletizing machine, to cutting the strand into pellets.
HDPE Bottle Flake Pelletizing Line Application:
HDPE Bottle Flake Pelletizing Line Video:

Learn more about YouTube's HDPE bottle flake pelletizing line
HDPE Bottle Flake Pelletizing Line Detail:
Detail 1
Detail 2
Detail 3
Detail 4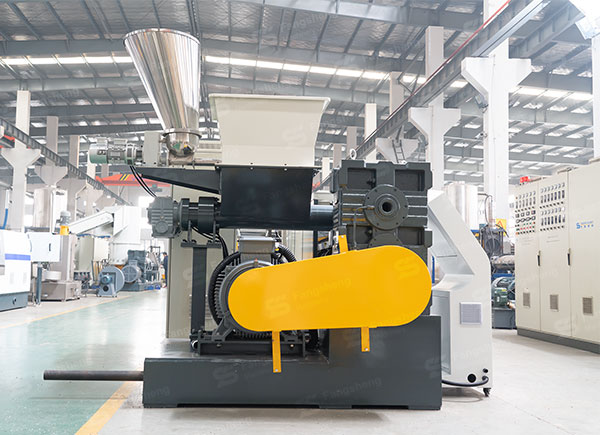 Detail 5
Detail 6