HDPE Film Granulating Machine Description:
HDPE film granulating machine is used for PE PP soft material. As compactor is equipped, film in big size can enter into the machine directly, not need extra crushing process. Compactor is controlled by PLC and inverter, the temperature inside is stable. Cooling is by water which has better cooling effect. Customer can choose water ring hot cutting or strand pelletizing. Single stage or double stage pelletizing for choice.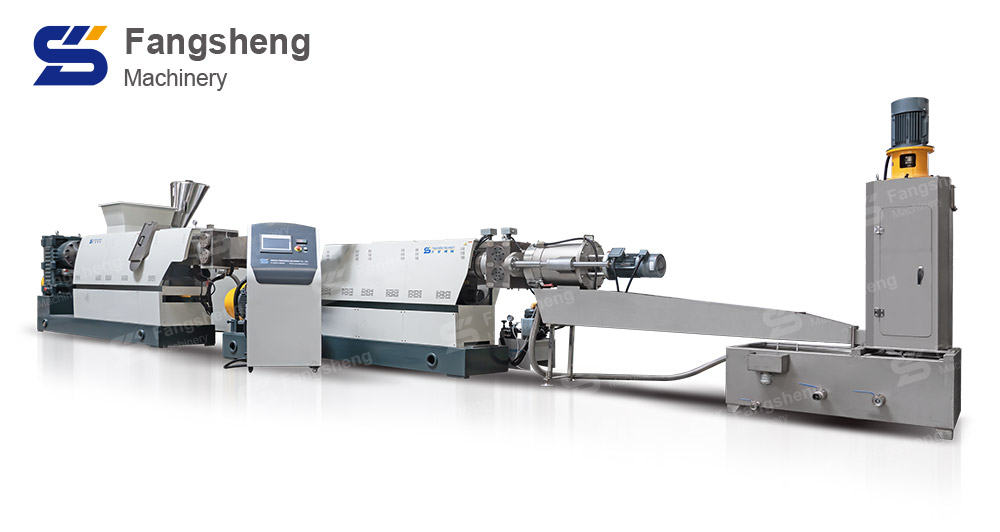 HDPE Film Granulating Machine Features:
1.Combines crushing ,compacting,pelletizing processes in one-stop,high automation degree,less labor-cost.
2.Suitable for various materials.
3.HDPE film granulating line is with automatical temperature controlling ,when reach set temperature ,automatical water spraying cooling ,to prevent material temperature too high ,which affect pelletizing quality.
4.Adopt water-ring cutting ,save production line area, easy to operate,pellets size uniform and beautiful.
5.Vibration dewatering method, saving power consumption and low noise.
HDPE Film Granulating Line Application:

HDPE Film Granulating Machine Video:
HDPE Film Granulating Line Technical Parameter:
FS series single-stage granulator machine
Model
Extruder
Screw diameter(mm)
L/D ratio
Power(kw)
Productivity(PE)(kg/h)
Productivity(PP)(kg/h)
FSJ70
70/33
φ70
33:1
110
110-150
100-130
FSJ85
85/33
φ85
33:1
150
180-250
150-200
FSJ100
100/33
φ100
33:1
210
280-350
250-300
FSJ130
130/33
φ130
33:1
300
480-550
400-480
FSJ160
160/33
φ160
33:1
370
650-750
550-650
FSJ180
180/33
φ180
33:1
460
800-1000
750-850
FS series double-stage granulator machine
Model
FSJ100/120
FSJ130/130
FSJ160/160
FSJ180/200
First extruder parameter
Screw diameter(mm)
φ100
φ130
φ160
φ180
L/D ratio
33
33
30
30
Extruder motor(kw)
90
132
185
250
Heating power(kw)
45
55
70
70
Screw speed(RPM)
0-120
0-120
0-120
0-120
Second extruder parameter
Screw diameter(mm)
φ120
φ130
φ160
φ200
L/D ratio
10-15
10-15
10-15
10-15
Extruder motor(kw)
30
45
55
75
Heating power(kw)
30
35
45
60
Screw speed(RPM)
0-120
0-120
0-120
0-120
Productivity(kg/h)
250-350
400-550
500-700
800-1000
HDPE Film Granulating Line Detail: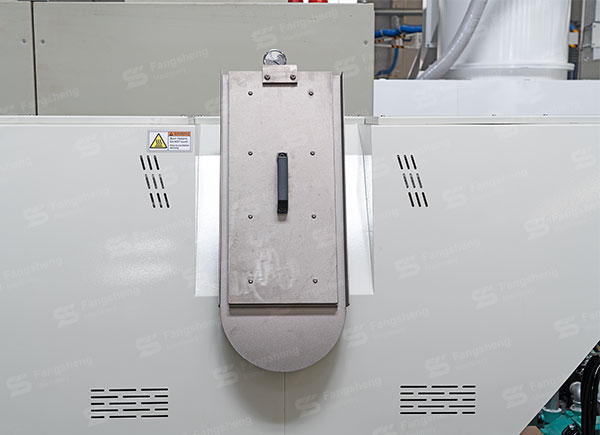 Detail 1
Detail 2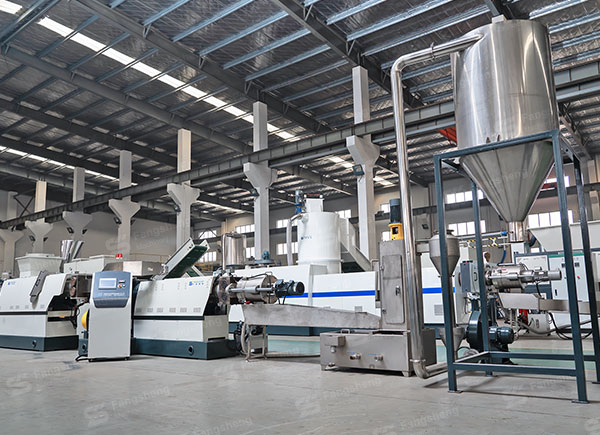 Detail 3
Detail 4
Detail 5
Detail 6