HDPE Film Granulation Line Description:
This HDPE film granulation line is single stage plastic regenerative pelletizer, which is suitable for many kinds of plastic waste materials recycling and making pellets, such as PP, HDPE, LDPE, LLDPE Film and clean woven/nonwoven bag materials, etc. The film can be pressed in the compressor and then be pelletized.
HDPE Film Granulation Line Features:
1.HDPE film granulation line: crushing and compress film, and feed compressed film into extruder forced, to make the production capacity high and stable.
3.Extruding system: plasticizing material and exhausting gas.
4.High-speed Net exchanging system and Die-head: filter material impurity, to make HDPE film granulation machine more stable.
5.Water ring pelletizing machine: cutting pellets in water.
6.Water tank: cooling pellets.
7.Dewater machine: make pellets dry.
8.Vibration sieve: remove bad pellet and HDPE film granulation machine keep good pellet.
9.Air Blower: convey good pellets into silo.
10.Storage silo: keep pellet.
HDPE Film Granulation System Application:

HDPE Film Granulation Machine Video:
HDPE Film Granulation Machine Technical Parameter:
FS series single-stage granulator machine
Model
Extruder
Screw diameter(mm)
L/D ratio
Power(kw)
Productivity(PE)(kg/h)
Productivity(PP)(kg/h)
FSJ70
70/33
φ70
33:1
110
110-150
100-130
FSJ85
85/33
φ85
33:1
150
180-250
150-200
FSJ100
100/33
φ100
33:1
210
280-350
250-300
FSJ130
130/33
φ130
33:1
300
480-550
400-480
FSJ160
160/33
φ160
33:1
370
650-750
550-650
FSJ180
180/33
φ180
33:1
460
800-1000
750-850
FS series double-stage granulator machine
Model
FSJ100/120
FSJ130/130
FSJ160/160
FSJ180/200
First extruder parameter
Screw diameter(mm)
φ100
φ130
φ160
φ180
L/D ratio
33
33
30
30
Extruder motor(kw)
90
132
185
250
Heating power(kw)
45
55
70
70
Screw speed(RPM)
0-120
0-120
0-120
0-120
Second extruder parameter
Screw diameter(mm)
φ120
φ130
φ160
φ200
L/D ratio
10-15
10-15
10-15
10-15
Extruder motor(kw)
30
45
55
75
Heating power(kw)
30
35
45
60
Screw speed(RPM)
0-120
0-120
0-120
0-120
Productivity(kg/h)
250-350
400-550
500-700
800-1000
HDPE Film Granulation Machine Detail:
Detail 1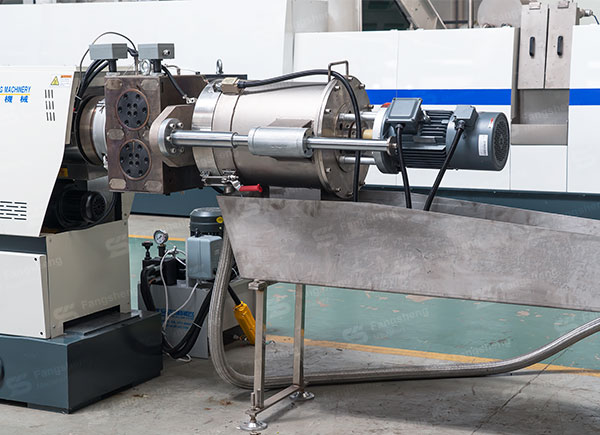 Detail 2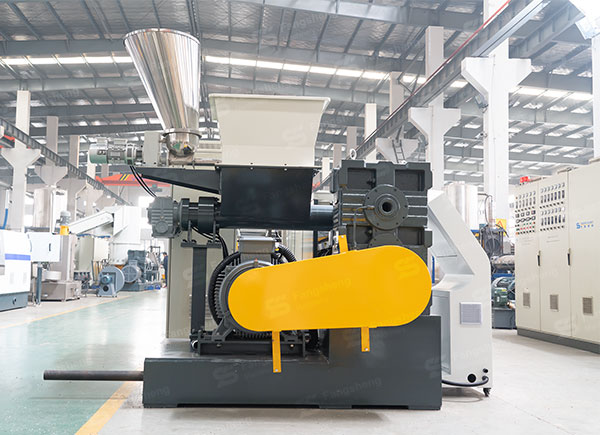 Detail 3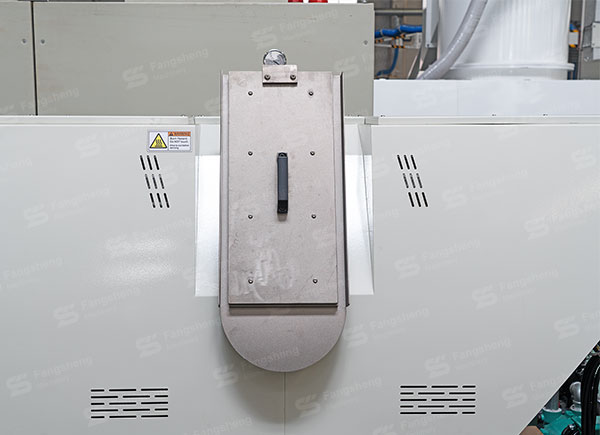 Detail 4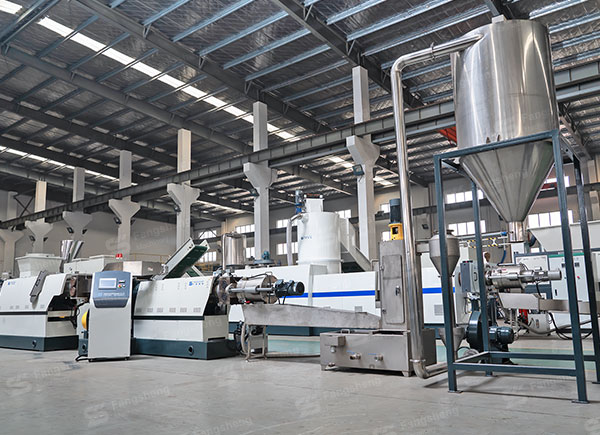 Detail 5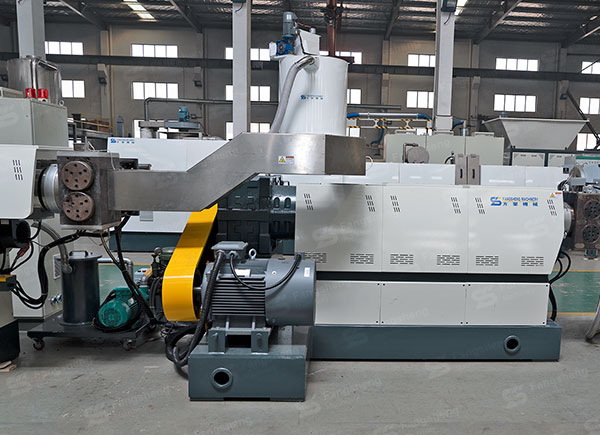 Detail 6