HDPE Film Recycling Washing Line Description:
HDPE film recycling washing line is mainly used to produce various packaging materials, such as bottles and barrels, which are widely known. Generally, large-size HDPE materials need to be shredded first, and small-size HDPE materials can be shredded directly.HDPE film recycling washing machine is mainly composed of: conveyor belt, crusher, friction cleaning machine, sedimentation and rinsing tank, screw elevator, dehydrator, air duct drying system, silo, control panel, etc.
HDPE film recycling washing machine is developed by introducing, digesting and absorbing the advanced concepts and technologies of the same industry in the world, and combining the needs of today's development and the characteristics of the secondary application of waste plastics. It can meet the environmental protection requirements for the recycling of waste plastics at home and abroad.
HDPE Film Recycling Washing Machine Flow Chart:
HDPE Film Recycling Washing Machine Application:
HDPE Film Recycling Washing Machine Video:
Learn more about YouTube's HDPE Film Recycling Washing Machine
HDPE Film Recycling Washing Machine Technical Parameter:
Name
Motor power (kw)
Dimension (mm)
Water consumption (T/H)
Stainless steel standard (mm)
Electric standard
Belt conveyor
2.2
3500*900*3000
–
–
According to customers standard
Label scraping machine
11
2600*1200*1800
0.6-1.0
3-5
Manual separating machine
2.2
6000*800*1200
–
–
Metal detectory
0.4
2200*1200*1500
–
3-5
Belt conveyer
2.2
3500*900*3000
–
–
Crusher
37
2200*2200*3000
0.6-1.0
–
Screw converor
3
2800*800*2600
–
3-5
High speed friction washer
30
3200*1400*2000
1-2
3-5
Screw conveyer
3
2800*800*2600
–
3-5
Floating washer
3*2
5200*1700*2200
0.5-1.5
3-5
Screw conveyer
36
2800*800*2600
–
3-5
Steam washer
7.5
1800*1800*2700
0.5-1.5
3-5
Screw conveyer
3
2800*800*2600
–
3-5
Floating washer
3*2
5200*1700*2200
0.5-1.5
3-5
Screw conveyer
3
2800*800*2600
–
3-5
Dewatering machine
5.5
800*2200*2200
–
5
Drying system
11
3500*2200*2200
–
3-5
Label separater
4
800*1100*3800
–
–
Storage hopper
–
1500*1500*3800
–
–
Electric elements
–
2000*450*1780
–
–
HDPE Film Recycling Washing Machine Detail:
Dewatering Machine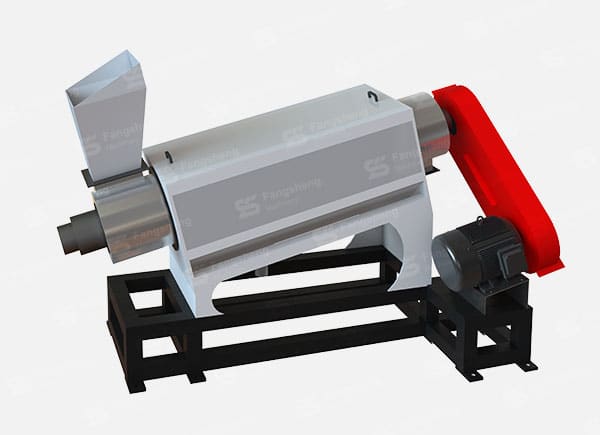 High-speed Friction Washer
Leave a Message
If you have any questions, please leave us a message and we will reply to you as soon as possible