HDPE LDPE PE PP film compactor pelletizing machine is designed with latest technology, the compactor pelletizing machine is a very integrated system which can be used for a wide range of materials. The extruder is combined together with agglomerator and feeding belt, the raw material will be compacted firstly in the agglomerator,then get into screw immediately, in this way, the material feeding is much more stable and the output is bigger, especially for HDPE LDPE PE PP film, PP bags and other soft material.The agglomerator equipped with cutting blades can process massive material like shopping bags, woven bags, and film in roll, no need to crush the materials in advance.With frequency control, this film compactor pelletizing line also can process rigid regrind materials.
Film Compactor Pelletizing Machine Advantage:
1. Save manpower and the whole film pelletizing production line only need 1~2 workers to operate.
2. No need another crusher to crushing material into pieces, big material can be feed to machine directly. Save time and very convenient.
3. The film pelletizing line has low energy consumption, as well save the cost.
4. The granules will high quality and beautiful.
Film Compactor Pelletizing Machine Video:
Film Compactor Pelletizing Line Technical Parameter:
FS series single-stage granulator machine
Model
Extruder
Screw diameter(mm)
L/D ratio
Power(kw)
Productivity(PE)(kg/h)
Productivity(PP)(kg/h)
FSJ70
70/33
φ70
33:1
110
110-150
100-130
FSJ85
85/33
φ85
33:1
150
180-250
150-200
FSJ100
100/33
φ100
33:1
210
280-350
250-300
FSJ130
130/33
φ130
33:1
300
480-550
400-480
FSJ160
160/33
φ160
33:1
370
650-750
550-650
FSJ180
180/33
φ180
33:1
460
800-1000
750-850
FS series double-stage granulator machine
Model
FSJ100/120
FSJ130/130
FSJ160/160
FSJ180/200
First extruder parameter
Screw diameter(mm)
φ100
φ130
φ160
φ180
L/D ratio
33
33
30
30
Extruder motor(kw)
90
132
185
250
Heating power(kw)
45
55
70
70
Screw speed(RPM)
0-120
0-120
0-120
0-120
Second extruder parameter
Screw diameter(mm)
φ120
φ130
φ160
φ200
L/D ratio
10-15
10-15
10-15
10-15
Extruder motor(kw)
30
45
55
75
Heating power(kw)
30
35
45
60
Screw speed(RPM)
0-120
0-120
0-120
0-120
Productivity(kg/h)
250-350
400-550
500-700
800-1000
Film Compactor Pelletizing Line Detail:
Detail 1
Detail 2
Detail 3
Detail 4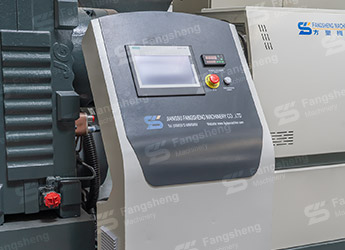 Detail 5
Detail 6