LDPE Film Pelletizing Line Description:
LDPE film pelletizing line is mainly used to recycle plastic packaging film, agricultural mulching film, greenhouse film PE/PP plastic, PE/PP plastic garbage mixture, waste PP woven bags, plastic bags, household garbage plastic, waste agricultural film mulching film. The LDPE film pelletizing machine is developed by introducing and absorbing advanced concepts and technologies from the same industry in the world, combined with the needs of today's development and the characteristics of the secondary application of waste plastics, and can meet the environmental protection requirements of waste plastic recycling at home and abroad.
LDPE Film Pelletizing Line Features:
1. Highly automatic: only 2 people in a production line
2. Improve feeding efficiency, suitable for recycling and pelletizing operations of film, fiber, waste silk, plastic rope, fishing net, and foaming material
3. The LDPE film pelletizing machine is low-cost, with little maintenance
4. The granulator has low energy consumption and is convenient for mass production
5. Both braces and water rings are acceptable. If the extrusion die uses water ring cutting, the perfect appearance of the particles can be ensured.
LDPE Film Pelletizing Line Application:

LDPE Film Pelletizing Line Video:
LDPE Film Pelletizing Machine Technical Parameter:
FS series single-stage granulator machine
Model
Extruder
Screw diameter(mm)
L/D ratio
Power(kw)
Productivity(PE)(kg/h)
Productivity(PP)(kg/h)
FSJ70
70/33
φ70
33:1
110
110-150
100-130
FSJ85
85/33
φ85
33:1
150
180-250
150-200
FSJ100
100/33
φ100
33:1
210
280-350
250-300
FSJ130
130/33
φ130
33:1
300
480-550
400-480
FSJ160
160/33
φ160
33:1
370
650-750
550-650
FSJ180
180/33
φ180
33:1
460
800-1000
750-850
FS series double-stage granulator machine
Model
FSJ100/120
FSJ130/130
FSJ160/160
FSJ180/200
First extruder parameter
Screw diameter(mm)
φ100
φ130
φ160
φ180
L/D ratio
33
33
30
30
Extruder motor(kw)
90
132
185
250
Heating power(kw)
45
55
70
70
Screw speed(RPM)
0-120
0-120
0-120
0-120
Second extruder parameter
Screw diameter(mm)
φ120
φ130
φ160
φ200
L/D ratio
10-15
10-15
10-15
10-15
Extruder motor(kw)
30
45
55
75
Heating power(kw)
30
35
45
60
Screw speed(RPM)
0-120
0-120
0-120
0-120
Productivity(kg/h)
250-350
400-550
500-700
800-1000
LDPE Film Pelletizing Machine Detail: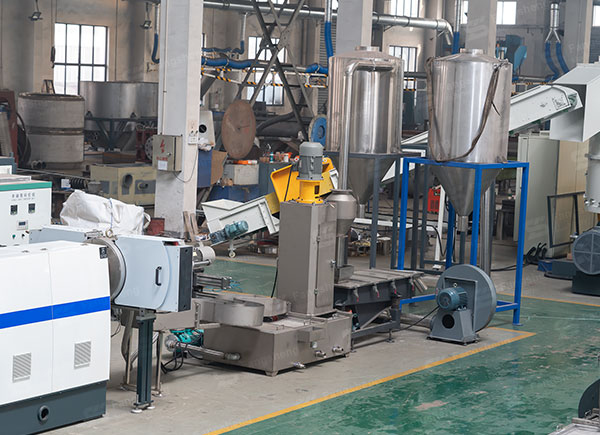 Detail 1
Detail 2
Detail 3
Detail 4
Detail 5
Detail 6