PE Film Pelletizing Equipment Description:
PE film felletizing equipment is used for drying those washed film, woven bags.etc. and make it like granules. After that the granules can put into the extruder directly.PE film pelletizing line make the materials have high degree of drying and full plasticizing, low power consumption, high output.
PE Film Pelletizing Machine Features:
1. PE film felletizing equipment has wide usage for kinds of waste plastic PE PP films and bags.
2.good plasticizing and degassing for materials.
3.alloy knives for pelletizing cutter, smooth cutting, long use time.
4.embedded circular water cooling system, good cooling result for die and pellets.
5.PE film felletizing machine easy operation and maintenance.
6.low power consumption
7.less manpower, high automation.
8.strong machine structure.
PE Film Pelletizing Machine Application:

PE Film Pelletizing Equipment Video:
PE Film Pelletizing Equipment Technical Parameter:
FS series single-stage granulator machine
Model
Extruder
Screw diameter(mm)
L/D ratio
Power(kw)
Productivity(PE)(kg/h)
Productivity(PP)(kg/h)
FSJ70
70/33
φ70
33:1
110
110-150
100-130
FSJ85
85/33
φ85
33:1
150
180-250
150-200
FSJ100
100/33
φ100
33:1
210
280-350
250-300
FSJ130
130/33
φ130
33:1
300
480-550
400-480
FSJ160
160/33
φ160
33:1
370
650-750
550-650
FSJ180
180/33
φ180
33:1
460
800-1000
750-850
FS series double-stage granulator machine
Model
FSJ100/120
FSJ130/130
FSJ160/160
FSJ180/200
First extruder parameter
Screw diameter(mm)
φ100
φ130
φ160
φ180
L/D ratio
33
33
30
30
Extruder motor(kw)
90
132
185
250
Heating power(kw)
45
55
70
70
Screw speed(RPM)
0-120
0-120
0-120
0-120
Second extruder parameter
Screw diameter(mm)
φ120
φ130
φ160
φ200
L/D ratio
10-15
10-15
10-15
10-15
Extruder motor(kw)
30
45
55
75
Heating power(kw)
30
35
45
60
Screw speed(RPM)
0-120
0-120
0-120
0-120
Productivity(kg/h)
250-350
400-550
500-700
800-1000
PE Film Pelletizing Equipment Detail:
Detail 1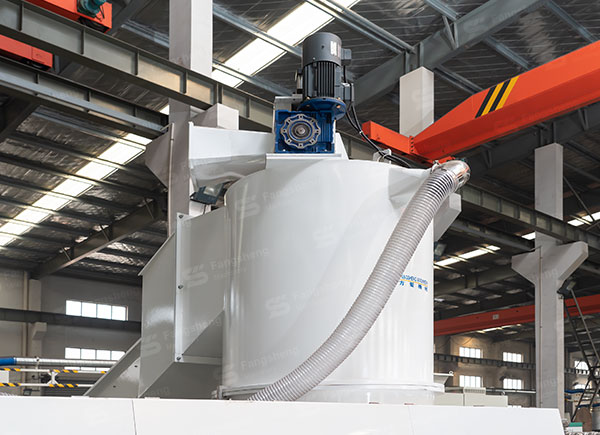 Detail 2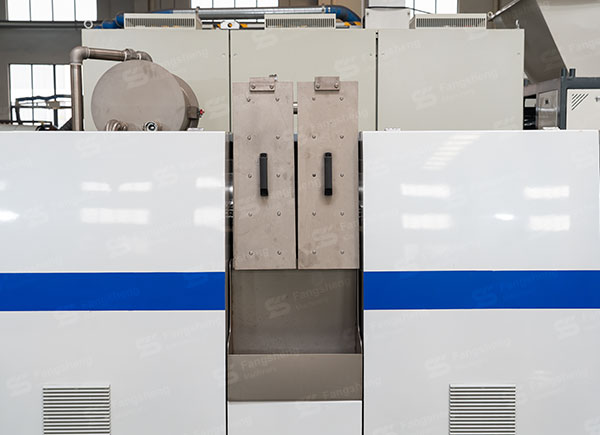 Detail 3
Detail 4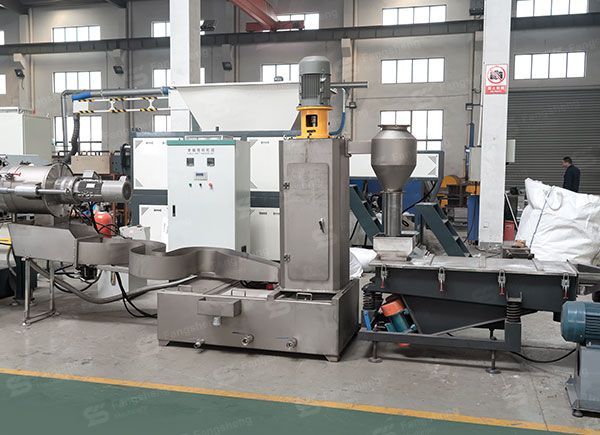 Detail 5
Detail 6