PE Film Pelletizing Line Description:
The PE film pelletizing machine manufactured by Fangsheng Machinery is specially designed to recycle PE (HDPE, LDPE, LLDPE) and PP packaging materials. Except for the clean waste (waste from the production line), the printed surface, the washed waste and the crushed small fragments, all can be recycled with a PE film pelletizing  machine. The waste suitable for the PE film pelletizing system includes: plastic bag factory waste, food packaging waste, all kinds of plastic bags, shrink film, bale film, agricultural film, PE&PS foam material, PP wire drawing, woven bag, Space bags and crushed hollow molding and injection products can all be recycled and pelletized using the PE film pelletizing line.
PE Film Pelletizing Machine Features:
1. One-stop transportation and granulation, assembly line configuration, saving labor and improving efficiency,
2. The PE film pelletizing machine has excellent configuration, complete functions, very good comprehensive indicators and performance, and a high degree of automation. It is suitable for professional users with certain strength and scale.
3. The PE film pelletizing system has good adaptability. Almost all kinds of conventional plastic granulation can be adapted. The energy consumption ratio of the equipment, the quality of the output product and the comprehensive competitive advantage are obvious. There is no common failure or bad phenomenon of ordinary granulator.
PE Film Pelletizing Machine Application:

PE Film Pelletizing System Video:
PE Film Pelletizing Line Technical Parameter:
FS series single-stage granulator machine
Model
Extruder
Screw diameter(mm)
L/D ratio
Power(kw)
Productivity(PE)(kg/h)
Productivity(PP)(kg/h)
FSJ70
70/33
φ70
33:1
110
110-150
100-130
FSJ85
85/33
φ85
33:1
150
180-250
150-200
FSJ100
100/33
φ100
33:1
210
280-350
250-300
FSJ130
130/33
φ130
33:1
300
480-550
400-480
FSJ160
160/33
φ160
33:1
370
650-750
550-650
FSJ180
180/33
φ180
33:1
460
800-1000
750-850
FS series double-stage granulator machine
Model
FSJ100/120
FSJ130/130
FSJ160/160
FSJ180/200
First extruder parameter
Screw diameter(mm)
φ100
φ130
φ160
φ180
L/D ratio
33
33
30
30
Extruder motor(kw)
90
132
185
250
Heating power(kw)
45
55
70
70
Screw speed(RPM)
0-120
0-120
0-120
0-120
Second extruder parameter
Screw diameter(mm)
φ120
φ130
φ160
φ200
L/D ratio
10-15
10-15
10-15
10-15
Extruder motor(kw)
30
45
55
75
Heating power(kw)
30
35
45
60
Screw speed(RPM)
0-120
0-120
0-120
0-120
Productivity(kg/h)
250-350
400-550
500-700
800-1000
PE Film Pelletizing Line Detail: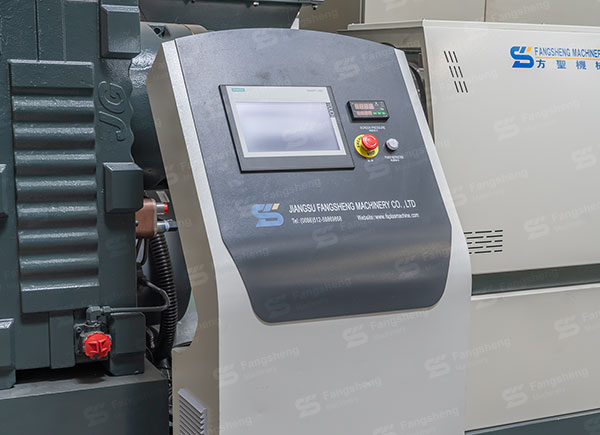 Detail 1
Detail 2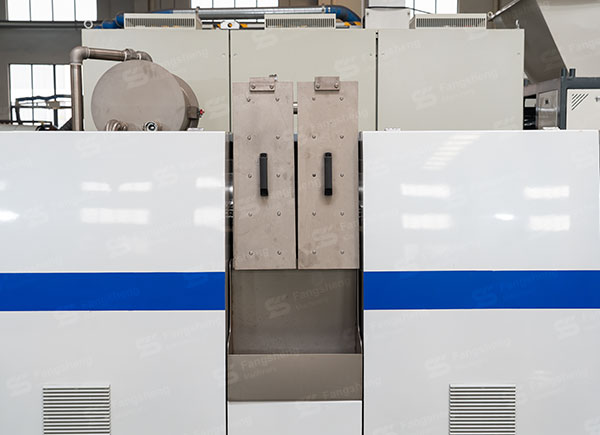 Detail 3
Detail 4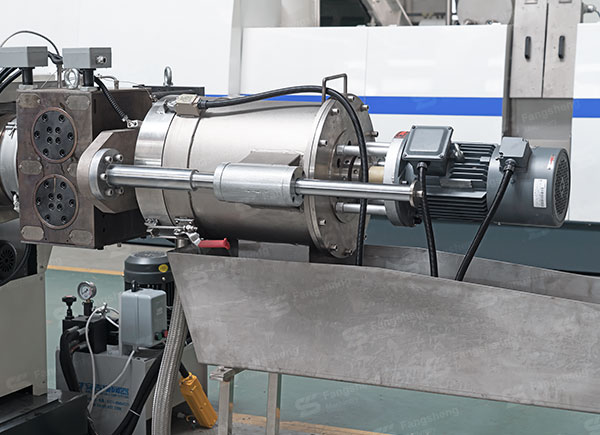 Detail 5
Detail 6