PE PP Soft Material Washing Line Introduction:
The PE PP soft material washing line is developed and manufactured by Fangsheng Machinery, which is widely used in waste plastic PE/LDPE/LLDPE films, PP woven bags, PP ton bags, etc.
The PE PP washing line is suitable for cleaning various films and woven bags with impurity content of up to 80%. The waste and dirty materials are crushed, washed by friction, washed, dehydrated, and dried with hot air to become clean flakes for the granulator.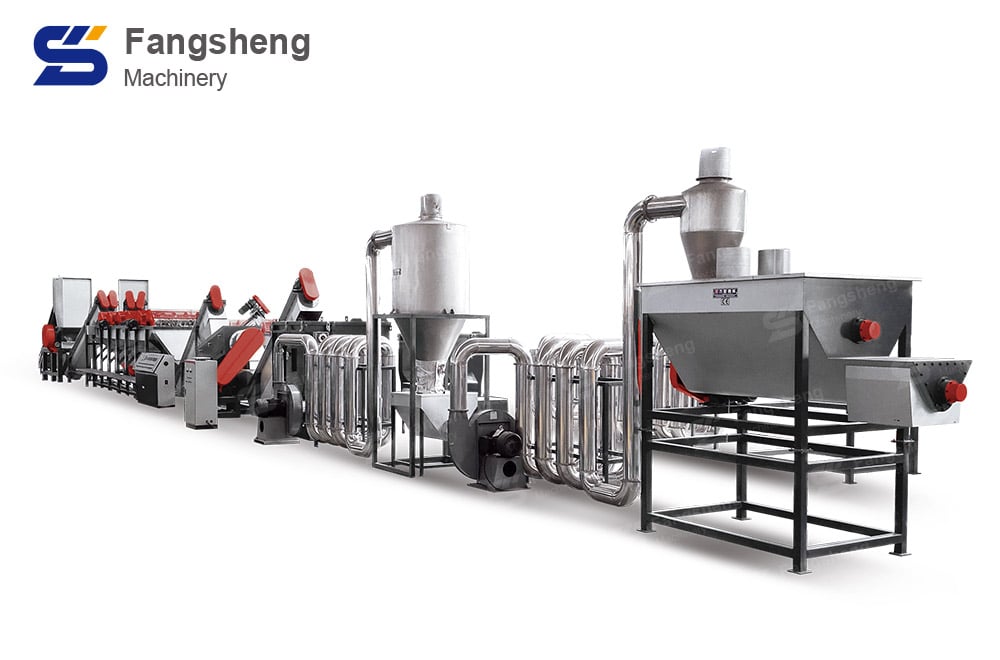 PE PP Washing Line Features:
1. The high-speed centrifugal cleaning system exerts corresponding impact force on different materials at an appropriate speed to achieve the cleaning effect.
2. The dehydrator, squeezer and hot air drying system strictly control the moisture content of the finished product within 5%, which is suitable for high-quality granulation requirements.
3. PE PP washing line can display "L" or "U" shape according to the customer's workshop.
4. Fangsheng Machinery can also customize plastic film washing line components according to customer's material and product requirements.
PE PP Washing Line Application:
PE PP Washing Line Video:
Learn more about YouTube's PE PP washing line
Complete PE PP Washing Line:

PE PP Washing Line Technical Parameter:
Name
Motor power (kw)
Dimension (mm)
Water consumption (T/H)
Stainless steel standard (mm)
Electric standard
Belt conveyor
2.2
4500*690
–
–
According to customers standard
Wet crusher
75
–
2-4
–
Friction washer
2.2*2
3000*300
1-2
3-5
Floating washer
2.2*2+1.5
4500*1300
2-4
3-5
Screw conveyor
2.2
2500*250
1-2
3-5
High-speed friction washer
30
–
2-4
3-5
Screw converor
2.2
2800*300
1-2
3-5
Dewatering machine
75
–
–
5
Drying system
36
–
–
–
Storage hopper for transition
–
–
–
–
Drying system
36
–
–
–
Storage hopper
2.2*2
–
–
–
PE PP Washing Line Detail:
High-speed Friction Washer
Crusher Machine
Dewatering Machine