PET Bottle Flake Granulation Machine Description:
PET bottle flake granulation machine has excellent mixing performence, good self-cleaning performance and flexible modular configuration characteristics which make them suitable for processing different types of materials. This PET bottle flake granulation line has adapter the character of film adequately and has made a pertinent scheme.
PET Bottle Flake Granulation Line Features:
1. Increasing the operation variables and realizing the process because of two-stage machine
2. PET bottle flake granulation line has high effective and production capacity.
3. Good at process heat-sensitive material and devolatilization operation, Such as PET, PVC.
4. Zero halogen cable, shield material, carbon black etc.
5. High output, long operating life and lower noise: it's the ideal waste plastics regenerative pelletizer machine for nowadays.
5. Low cost: In the long working life of this PET bottle flake granulation line, can save many sources in energy!
PET Bottle Flake Granulation Line Application:

PET Bottle Flake Granulation Line Video:
Learn more about YouTube's PET bottle flake granulation line
PET Bottle Flake Granulation Line Technical Parameter:
PET Bottle Flakes Pelletizing Machine
Model
Power(kw)
Screw Diameter(mm)
L/D
Capacity(kg/h)
SHJ-95B
600
93
40
600-900
PET Bottle Flake Granulation Line Detail:
Detail 1
Detail 2
Detail 3
Detail 4
Detail 5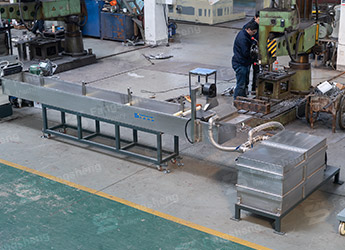 Detail 6