PET Bottle Recycling Washing Equipment Instruction:
PET bottle recycling washing equipment will be used to recycle pet bottle, water bottle, Sprite bottle, cola bottle, juice bottle, pet sheet, pet packing container, pet strap and so on. PET bottle washing line is the key solution for PET bottle recycling. This complete washing machine line turns baled, dirty polyester bottles into clean, dry PET flakes that can be pelletized or used to pelletized to granulas or for PET fiber making. This line is controlled from start to finish by a central electrical control panel.

PET Bottle Recycling Washing Equipment Description:
The whole production equipment is researched, designed and manufactured by our company, incorporating advanced technology, featuring high efficiency, stable work and high capacity. The waste plastic pet bottle crushing, cleaning and drying recycling line/machine/plant is widely used for processing waste plastics such as PET/PVC/HDPE bottles, water bottles, cola bottles and PET plastic scrap crushed into flakes. Pet bottle recycling line is a crushing, cleaning and drying line. PET flakes are mainly used for fiber production of PET tape, PET flakes and other related PET products.
PET bottle recycling washing machine adopts the international advanced industry concept and technology to meet the waste plastic recycling at home and abroad. This production line can show "L" or "U" shape, and we can also customize the line according to the customer's requirements.
1. We realize that one production line can process different kinds of raw materials.
2. Good quality of our machines (SUS-304 stainless steel, 4-6mm thickness or more).
3. High quality of final product with low humidity (less than 1%) and less impurities (less than 50PPM).
PET Bottle Equipment Video:
PET Bottle Equipment Detail: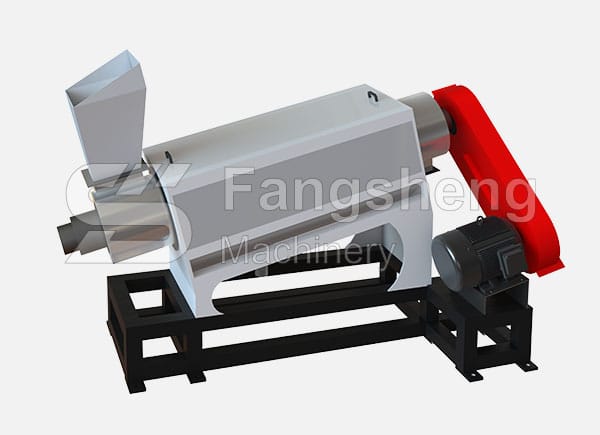 High-speed Friction Washer
Crusher Machine
Dewatering Machine
Steam washer
Label scfraping machine
Label separator by air
PET Bottle Equipment Technical Parameter:
Name

Motor power (kw)

Dimension (mm)

Water consumption (T/H)

Stainless steel standard (mm)

Electric standard

Belt conveyor

2.2

3500*900*3000

–

–

According to customers standard

Label scraping machine

11

2600*1200*1800

0.6-1.0

3-5

Manual separating machine

2.2

6000*800*1200

–

–

Metal detectory

0.4

2200*1200*1500

–

3-5

Belt conveyer

2.2

3500*900*3000

–

–

Crusher

37

2200*2200*3000

0.6-1.0

–

Screw converor

3

2800*800*2600

–

3-5

High speed friction washer

30

3200*1400*2000

1-2

3-5

Screw conveyer

3

2800*800*2600

–

3-5

Floating washer

3*2

5200*1700*2200

0.5-1.5

3-5

Screw conveyer

36

2800*800*2600

–

3-5

Steam washer

7.5

1800*1800*2700

0.5-1.5

3-5

Screw conveyer

3

2800*800*2600

–

3-5

Floating washer

3*2

5200*1700*2200

0.5-1.5

3-5

Screw conveyer

3

2800*800*2600

–

3-5

Dewatering machine

5.5

800*2200*2200

–

5

Drying system

11

3500*2200*2200

–

3-5

Label separater

4

800*1100*3800

–

–

Storage hopper

–

1500*1500*3800

–

–

Electric elements

–

2000*450*1780

–

–