PET Flakes Granulating Machine Description:
PET flakes granulating machine is mainly used in PET recycling and granulating, adopts strand pelletizing. PET flakes granulating line has good self-cleaning behavior, high flexibility.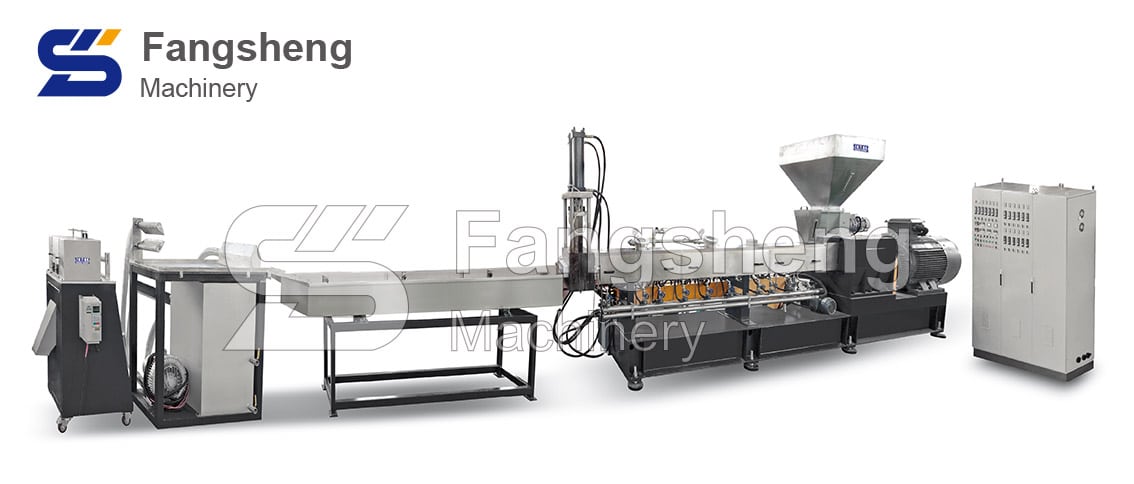 PET Flakes Granulating Line Working Flow:
Screw feeder → Twin screw efficient extruder → Non-stop hydraulic screen filter changer → Water cooling → Strand cutting → Blower → Storage hopper → Electric control panel
1. Screw feeder: the first step of the PET flakes granulating line, PET plastic flakes conveyed into the hopper through screw, the screw connect sensor to detect the material in hopper, once the flakes are full in hopper, the screw will stop; and once empty, the screw feeder will begin working.
2. Extruder: to plasticization and degassing, a specialized single screw extruder applied to melt the pre-compacted material. The plastic scraps will well melted, plasticized in the first stage extruder, and the plastic will be extrude by the second stage extruder. With double-zone vacuum degassing system, volatiles such as low molecular and moisture will be removed efficiency, especially suitable to heavy printed film and material with some water content.
3. Non-stop hydraulic screen filter changer: double stage filtering, fore filtering in the first extruder, and fine filtering in the second extruder, to reduce the frequency of filtering sieves changing. The requirements on the filter technology depend heavily on the quality of the input material as well as the planned use of granules.
4. Water cooling: made of 304 stainless steel, 4 meters length that fill with water, too cooling the melted plastic.
5. Cutting pelletizing: supplied with speed steel and hard alloy steel cutting blades for reliable performance. Compact structure allows less maintenance.
PET Flakes Granulating Machine Application:
PET Flakes Granulating Line Video:
Learn more about YouTube's PET flakes granulating machine
PET Flakes Granulating Line Technical Parameter:
PET Flake Pelletizing Line

Model

Power(kw)

Screw Diameter(mm)

L/D

Capacity(kg/h)

FST75B

200

71.8

40

400-500