PLA Degradable Film Pelletizing Line Description:
The PLA degradable film pelletizing line adopts big brand parts, highly automated control system, easy operation and stable quality. This PLA degradable film pelletizing machine has good mixing, dispersing and extrusion properties, which will help to produce high-quality granules.
PLA Degradable Film Pelletizing Line Features:
1. The PLA degradable film granulator integrates crushing, compaction and granulation, with high degree of automation and labor saving
2. The screw is designed for the characteristics of the material, the output is high, the material made is good and the particles are full, the configuration of the whole machine is increased, the service life of the equipment is increased, the appearance is rationalized and the design is beautiful.
3. The screw and barrel are made of imported high-strength carbon structural steel, which is durable;
4. The pelletizing line cuts pellets directly after cooling, and then is sent to the storage bin by the fan, without the problem of broken filaments;
5. The PLA degradable film granulator has low energy consumption, significant energy saving effect, high output, and electromechanical integration.
PLA Degradable Film Pelletizing Line Application:

PLA Degradable Film Pelletizing Machine Video:
PLA Degradable Film Pelletizing Machine Technical Parameter:
FS series single-stage granulator machine
Model
Extruder
Screw diameter(mm)
L/D ratio
Power(kw)
Productivity(PE)(kg/h)
Productivity(PP)(kg/h)
FSJ70
70/33
φ70
33:1
110
110-150
100-130
FSJ85
85/33
φ85
33:1
150
180-250
150-200
FSJ100
100/33
φ100
33:1
210
280-350
250-300
FSJ130
130/33
φ130
33:1
300
480-550
400-480
FSJ160
160/33
φ160
33:1
370
650-750
550-650
FSJ180
180/33
φ180
33:1
460
800-1000
750-850
FS series double-stage granulator machine
Model
FSJ100/120
FSJ130/130
FSJ160/160
FSJ180/200
First extruder parameter
Screw diameter(mm)
φ100
φ130
φ160
φ180
L/D ratio
33
33
30
30
Extruder motor(kw)
90
132
185
250
Heating power(kw)
45
55
70
70
Screw speed(RPM)
0-120
0-120
0-120
0-120
Second extruder parameter
Screw diameter(mm)
φ120
φ130
φ160
φ200
L/D ratio
10-15
10-15
10-15
10-15
Extruder motor(kw)
30
45
55
75
Heating power(kw)
30
35
45
60
Screw speed(RPM)
0-120
0-120
0-120
0-120
Productivity(kg/h)
250-350
400-550
500-700
800-1000
PLA Degradable Film Pelletizing Machine Detail:
Detail 1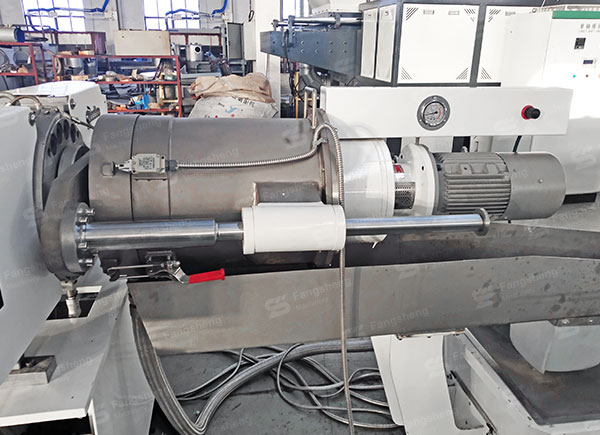 Detail 2
Detail 3