Plastic Bag / Film Pelletizing Line Description:
This plastic bag / film pelletizing line is specially designed by Fangsheng Machinery Company, according to your requirements, you can choose single-stage pelletizing machine or double-stage pelletizing machine.
The plastic pelletizing line is mainly used for waste plastic film, packaging film, agricultural film, plastic bag, plastic wrap etc. The plastic bags / films are conveyed to the compactor by a belt conveyor. The material is then cut, then forced into the extruder, pelletized, water tank, dehydrator, and finally blown into the storage hopper.
The granulation method of the plastic pelletizing machine adopts water ring granulation, and the granules are in the shape of round tablets. Compared with the traditional granulation method of pulling strips, the size of the cut particles is uniform, and there is no problem of changing the net and breaking the strip, and the equipment occupies an area. fewer advantages.
Plastic Bag  Pelletizing Line Application:
Plastic Pelletizing Line Video:
Learn more about YouTube's plastic pelletizing machine
Plastic Pelletizing Line Technical Parameter:
FS series single-stage granulator machine
Model
Extruder
Screw diameter(mm)
L/D ratio
Power(kw)
Productivity(PE)(kg/h)
Productivity(PP)(kg/h)
FSJ70
70/33
φ70
33:1
110
110-150
100-130
FSJ85
85/33
φ85
33:1
150
180-250
150-200
FSJ100
100/33
φ100
33:1
210
280-350
250-300
FSJ130
130/33
φ130
33:1
300
480-550
400-480
FSJ160
160/33
φ160
33:1
370
650-750
550-650
FSJ180
180/33
φ180
33:1
460
800-1000
750-850
FS series double-stage granulator machine
Model
FSJ100/120
FSJ130/130
FSJ160/160
FSJ180/200
First extruder parameter
Screw diameter(mm)
φ100
φ130
φ160
φ180
L/D ratio
33
33
30
30
Extruder motor(kw)
90
132
185
250
Heating power(kw)
45
55
70
70
Screw speed(RPM)
0-120
0-120
0-120
0-120
Second extruder parameter
Screw diameter(mm)
φ120
φ130
φ160
φ200
L/D ratio
10-15
10-15
10-15
10-15
Extruder motor(kw)
30
45
55
75
Heating power(kw)
30
35
45
60
Screw speed(RPM)
0-120
0-120
0-120
0-120
Productivity(kg/h)
250-350
400-550
500-700
800-1000
Plastic Film Pelletizing Line Detail:
Detail 1
Detail 2
Detail 3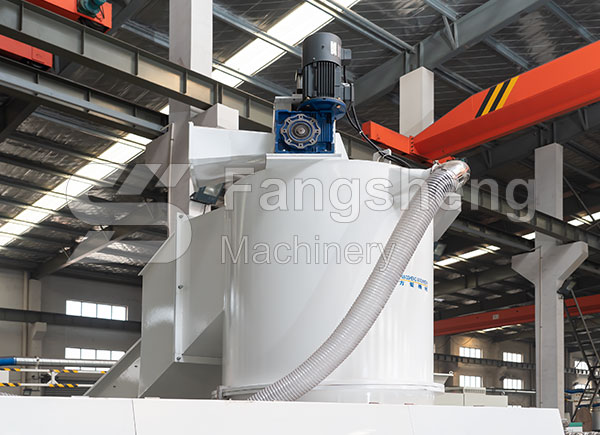 Detail 4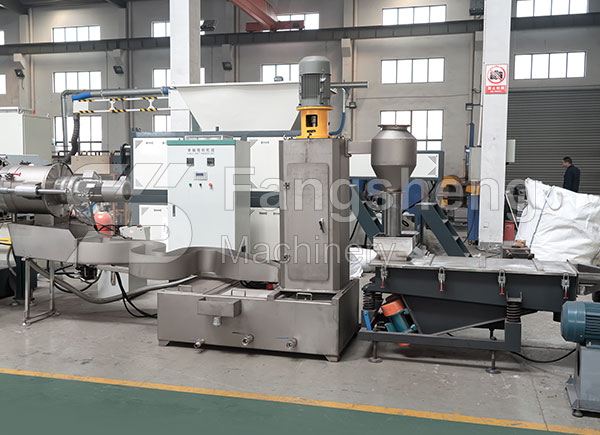 Detail 5
Detail 6