Plastic Bottle Washing Machine Description:
The plastic bottle washing machine is developed on the basis of digesting and absorbing advanced technology introducing from abroad and is with international advanced level. Plastic washing machine is mainly used for rising for 1st hand PET or glass bottles. Plastic washing machine is advanced in construction , steadily in performance, safe in operation , easy in maintenance high in production efficiency, and the speed can be regulated infinitively. The rinser is the ideal choice for drink factories of small and middle size.


The whole plastic washing machine is made of SUS304. The spring clamp is by Italian design, can be slightly adjustable according to bottle neck size difference and can protect bottle neck. And water spray system is from American, make sure water spray averagely. Easy for clean and maintenance.
Plastic Bottle  Washing Machine Video:
Plastic Bottle Washing Machine Detail: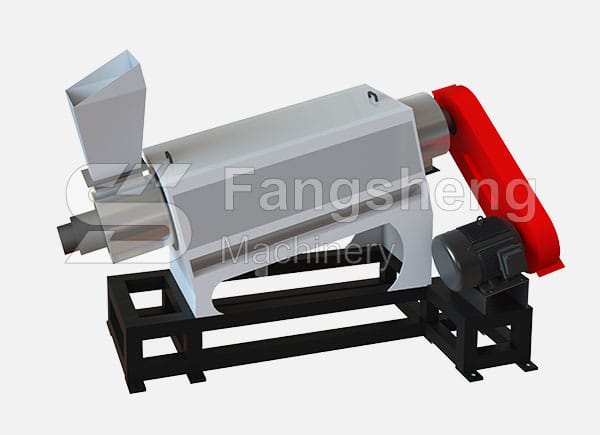 High-speed Friction Washer
Crusher Machine
Dewatering Machine
Steam washer
Label scfraping machine
Label separator by air
Plastic Washing Machine Technical Parameter:
Name
Motor power (kw)
Dimension (mm)
Water consumption (T/H)
Stainless steel standard (mm)
Electric standard
Belt conveyor
2.2
3500*900*3000
–
–
According to customers standard
Label scraping machine
11
2600*1200*1800
0.6-1.0
3-5
Manual separating machine
2.2
6000*800*1200
–
–
Metal detectory
0.4
2200*1200*1500
–
3-5
Belt conveyer
2.2
3500*900*3000
–
–
Crusher
37
2200*2200*3000
0.6-1.0
–
Screw converor
3
2800*800*2600
–
3-5
High speed friction washer
30
3200*1400*2000
1-2
3-5
Screw conveyer
3
2800*800*2600
–
3-5
Floating washer
3*2
5200*1700*2200
0.5-1.5
3-5
Screw conveyer
36
2800*800*2600
–
3-5
Steam washer
7.5
1800*1800*2700
0.5-1.5
3-5
Screw conveyer
3
2800*800*2600
–
3-5
Floating washer
3*2
5200*1700*2200
0.5-1.5
3-5
Screw conveyer
3
2800*800*2600
–
3-5
Dewatering machine
5.5
800*2200*2200
–
5
Drying system
11
3500*2200*2200
–
3-5
Label separater
4
800*1100*3800
–
–
Storage hopper
–
1500*1500*3800
–
–
Electric elements
–
2000*450*1780
–
–