POF Film Pelletizing Line Description:
POF film pelletizing line is special equipment for the film recycling granulating, equipped with compactoring machine which could pre- compact the film into smaller granules, then easily feed into screw barrel of extruder, ensure high capacity and save labor.
POF film pelletizing machine adopts water ring pelletizing which is easier to operate, and the shape and appearance of granule is good.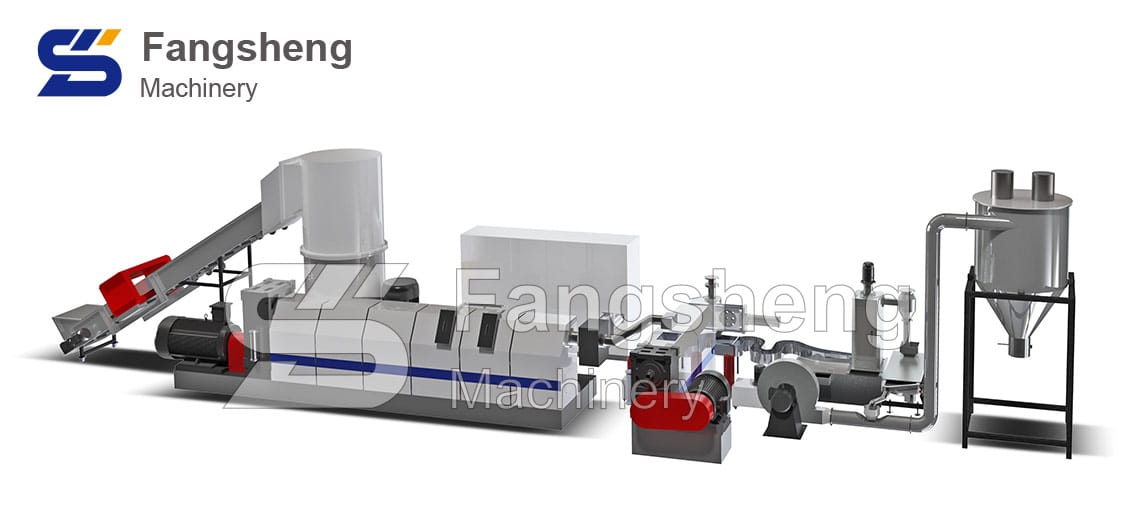 POF film pelletizing machine has two vacuum exhausting mouth on extruder barrel which can fully vent the moisture in the material and the final granule quality will be very perfect.
At the end of screw barrel, equipped with double post fast speed hydraulic non -stop screen changer which can effectively filter out the dirty in the plastic melt.
POF Film Pelletizing Machine Application:
PE, PP, BOPP, HDPE, POF, LDPE, LLDPE, ABS, EPE, EPS, XPS, Stretch film, Non woven fabric, Woven bags, etc.

POF Film Pelletizing Machine Video:
Learn more about YouTube's POF film pelletizing machine
POF Film Pelletizing Machine Technical Parameter:
FS series single-stage granulator machine
Model
Extruder
Screw diameter(mm)
L/D ratio
Power(kw)
Productivity(PE)(kg/h)
Productivity(PP)(kg/h)
FSJ70
70/33
φ70
33:1
110
110-150
100-130
FSJ85
85/33
φ85
33:1
150
180-250
150-200
FSJ100
100/33
φ100
33:1
210
280-350
250-300
FSJ130
130/33
φ130
33:1
300
480-550
400-480
FSJ160
160/33
φ160
33:1
370
650-750
550-650
FSJ180
180/33
φ180
33:1
460
800-1000
750-850
FS series double-stage granulator machine
Model
FSJ100/120
FSJ130/130
FSJ160/160
FSJ180/200
First extruder parameter
Screw diameter(mm)
φ100
φ130
φ160
φ180
L/D ratio
33
33
30
30
Extruder motor(kw)
90
132
185
250
Heating power(kw)
45
55
70
70
Screw speed(RPM)
0-120
0-120
0-120
0-120
Second extruder parameter
Screw diameter(mm)
φ120
φ130
φ160
φ200
L/D ratio
10-15
10-15
10-15
10-15
Extruder motor(kw)
30
45
55
75
Heating power(kw)
30
35
45
60
Screw speed(RPM)
0-120
0-120
0-120
0-120
Productivity(kg/h)
250-350
400-550
500-700
800-1000
POF Film Pelletizing Machine Detail: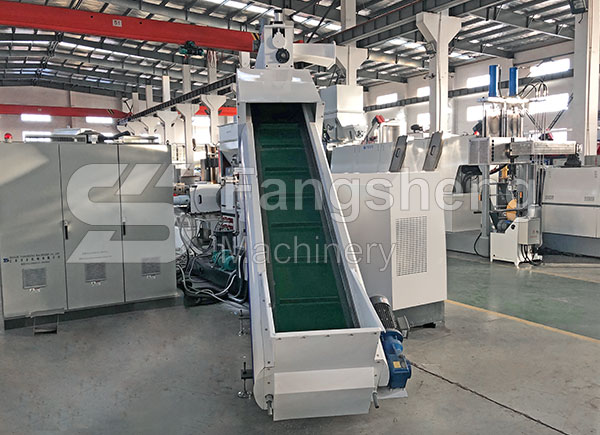 Detail 1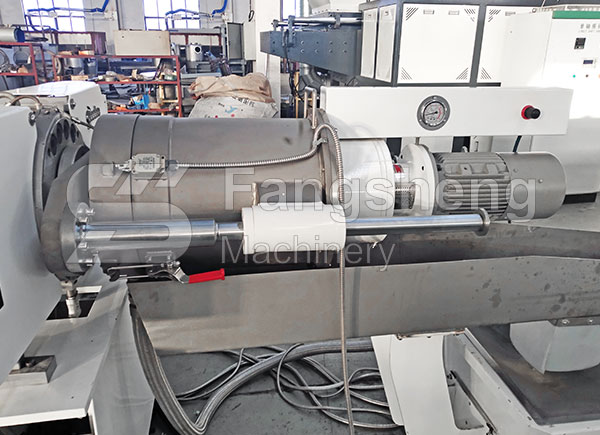 Detail 2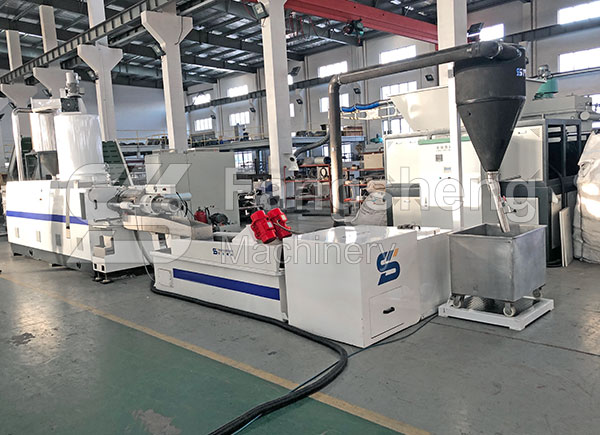 Detail 3