PP Film Granulating Line Description:
The R&D department of Fangsheng Machinery Co., Ltd. has developed a variety of plastic recycling and pelletizing machines,Among them, the PP film granulating line  is specially designed for plastic cleaning film, factory waste, and cleaned film. It has two extruders to ensure good plasticization, and the two-time filtration system makes the final product more purified. PE film, PP film, nylon film and other plastics can be processed and granulated through this type of production line.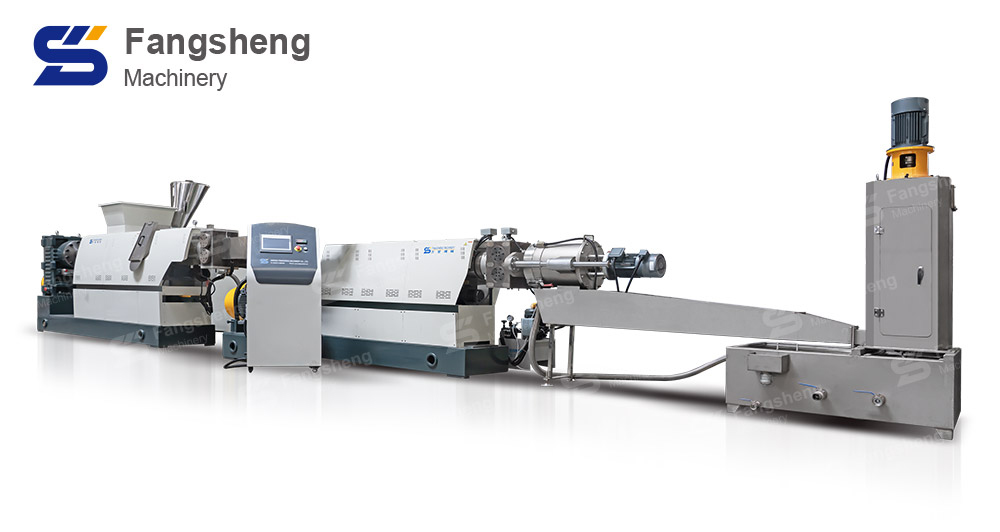 PP Film Granulating Line Features:
1. Highly automated operating system, high efficiency, environmental protection and energy saving;
2. PP film granulating line can be used in conjunction with different types of cutting solutions such as water ring cutting, strand cutting, underwater cutting, etc., to meet different types of raw materials and production requirements;
3. Automatic plate screen changer or continuous recoil automatic self-cleaning screen changer, which reduces labor and improves work efficiency and convenience;
4. Secondary filtration system, pre-filtration in the first extruder and fine filtration in the second extruder to ensure the high quality of the final product;
5. The PP film granulating line is suitable for different material processing, and one production line is applied to one or more materials, which reduces the investment cost.
6. The temperature of the second extruder can be set according to the production of the first extruder. Even if the material needs to be cooled during the processing of the second extruder, a water cooling system can also be used.
PP Film Granulating Line Application:

PP Film Granulating Machine Video:
PP Film Granulating Machine Technical Parameter:
FS series single-stage granulator machine
Model
Extruder
Screw diameter(mm)
L/D ratio
Power(kw)
Productivity(PE)(kg/h)
Productivity(PP)(kg/h)
FSJ70
70/33
φ70
33:1
110
110-150
100-130
FSJ85
85/33
φ85
33:1
150
180-250
150-200
FSJ100
100/33
φ100
33:1
210
280-350
250-300
FSJ130
130/33
φ130
33:1
300
480-550
400-480
FSJ160
160/33
φ160
33:1
370
650-750
550-650
FSJ180
180/33
φ180
33:1
460
800-1000
750-850
FS series double-stage granulator machine
Model
FSJ100/120
FSJ130/130
FSJ160/160
FSJ180/200
First extruder parameter
Screw diameter(mm)
φ100
φ130
φ160
φ180
L/D ratio
33
33
30
30
Extruder motor(kw)
90
132
185
250
Heating power(kw)
45
55
70
70
Screw speed(RPM)
0-120
0-120
0-120
0-120
Second extruder parameter
Screw diameter(mm)
φ120
φ130
φ160
φ200
L/D ratio
10-15
10-15
10-15
10-15
Extruder motor(kw)
30
45
55
75
Heating power(kw)
30
35
45
60
Screw speed(RPM)
0-120
0-120
0-120
0-120
Productivity(kg/h)
250-350
400-550
500-700
800-1000
PP Film Granulating Machine Detail: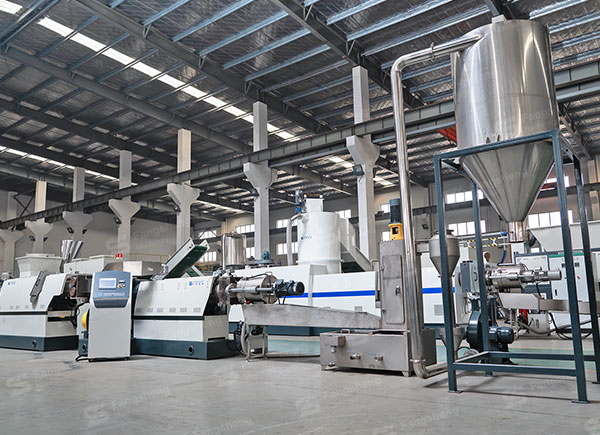 Detail 1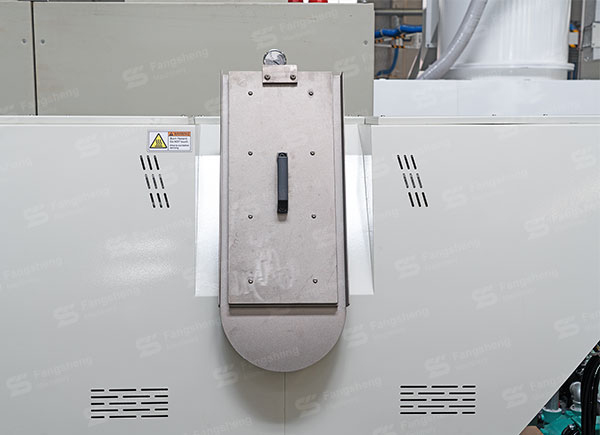 Detail 2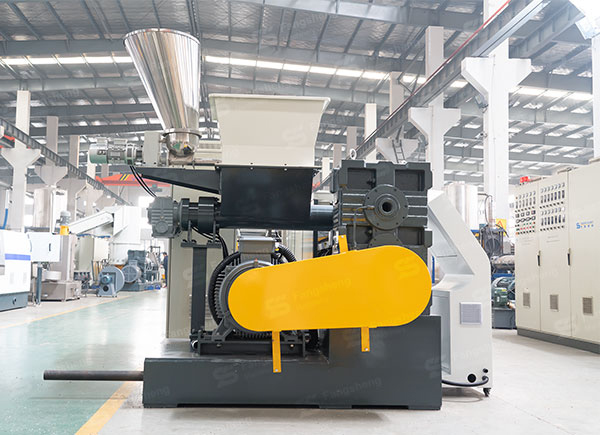 Detail 3
Detail 4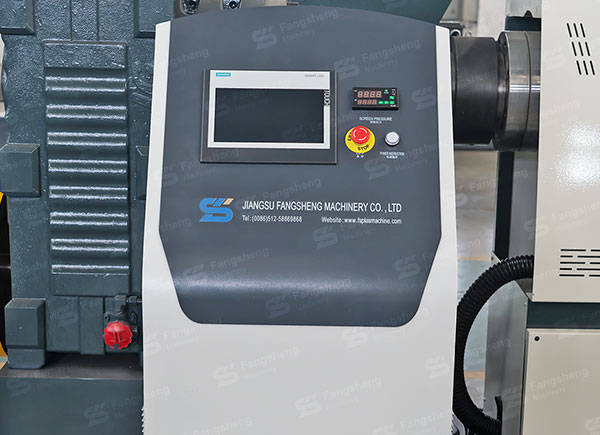 Detail 5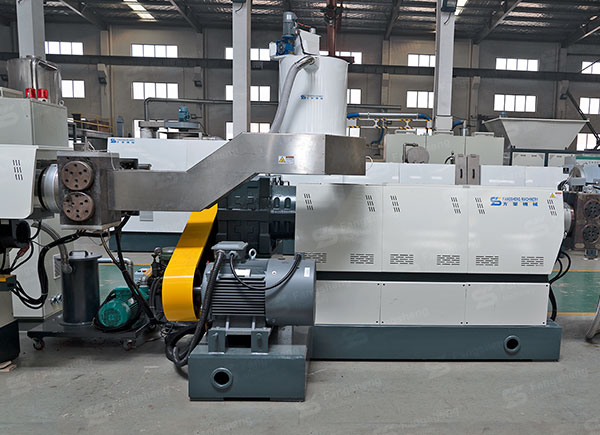 Detail 6