PP Film Granulating Machine Description:
The body of the fully automatic PP film ganulating machine includes a crushing unit, an extrusion unit and a pelletizing unit. The three-in-one design of the fully automatic PP film ganulating machine allows the collected materials to be directly sent to the machine for processing to obtain the final recycled plastic granules, eliminating the need for labor, factory space and power consumption for crushing, extruding and granulating separately.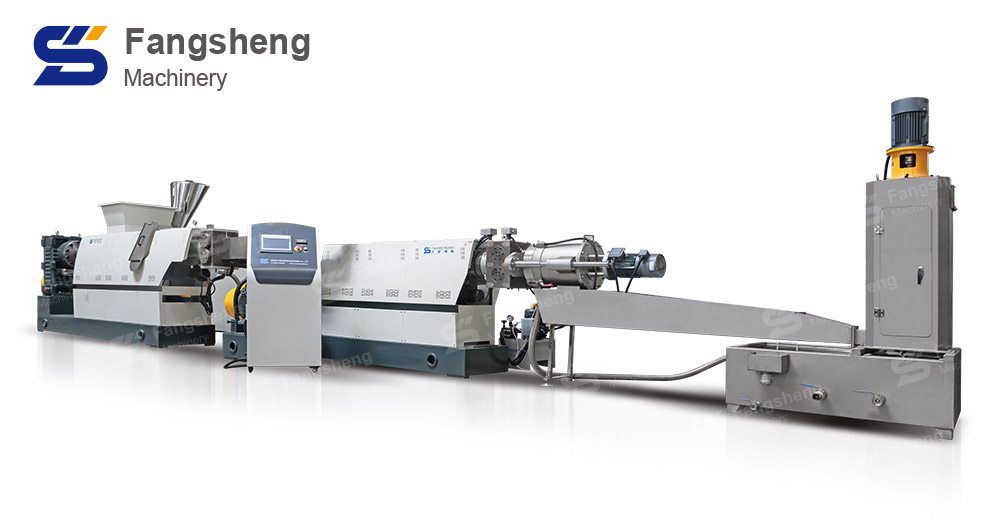 PP Film Granulating Machine Features:
1. The application of forced feeding machine not only realizes mechanized automatic feeding, saves labor, but also greatly improves the feeding volume.
3. The special hard-tooth surface reducer for hard-tooth surface adopts high-torque design, hydraulic oil pump control, and realizes the characteristics of stable transmission and low noise.
4. The screws and barrels of the main and auxiliary engines have been nitriding and quenching treatment, which have higher hardness, wear resistance, good mixing performance, and high output characteristics.
5. The PP film ganulating equipment adopts the design of vacuum exhaust or common exhaust port. During the melting and extrusion process of the barrel and screw, the moisture and exhaust gas in the material are smoothly discharged, so that the material extrusion is more stable, and the material is not broken. Phenomenon, the plastic particles are more full. The overall pellet quality is higher.
6. The storage bin is made of high-quality stainless steel, the cylinder wall is smooth, does not stick to particles, and the material is unobstructed.
7. High-efficiency circulating exhaust and exhaust fast and uniform; the feeder feeds the material quickly, which is convenient for the feeding of waste plastics.
PP Film Granulating Machine Application:

PP Film Granulating Machine Video:
PP Film Granulating Machine Technical Parameter:
FS series single-stage granulator machine
Model
Extruder
Screw diameter(mm)
L/D ratio
Power(kw)
Productivity(PE)(kg/h)
Productivity(PP)(kg/h)
FSJ70
70/33
φ70
33:1
110
110-150
100-130
FSJ85
85/33
φ85
33:1
150
180-250
150-200
FSJ100
100/33
φ100
33:1
210
280-350
250-300
FSJ130
130/33
φ130
33:1
300
480-550
400-480
FSJ160
160/33
φ160
33:1
370
650-750
550-650
FSJ180
180/33
φ180
33:1
460
800-1000
750-850
FS series double-stage granulator machine
Model
FSJ100/120
FSJ130/130
FSJ160/160
FSJ180/200
First extruder parameter
Screw diameter(mm)
φ100
φ130
φ160
φ180
L/D ratio
33
33
30
30
Extruder motor(kw)
90
132
185
250
Heating power(kw)
45
55
70
70
Screw speed(RPM)
0-120
0-120
0-120
0-120
Second extruder parameter
Screw diameter(mm)
φ120
φ130
φ160
φ200
L/D ratio
10-15
10-15
10-15
10-15
Extruder motor(kw)
30
45
55
75
Heating power(kw)
30
35
45
60
Screw speed(RPM)
0-120
0-120
0-120
0-120
Productivity(kg/h)
250-350
400-550
500-700
800-1000
PP Film Granulating Equipment Detail:
Detail 1
Detail 2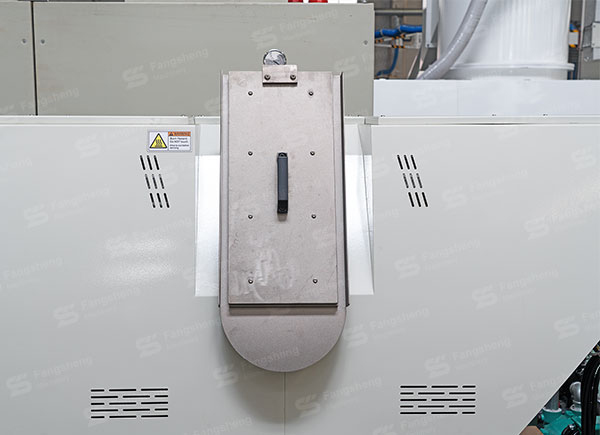 Detail 3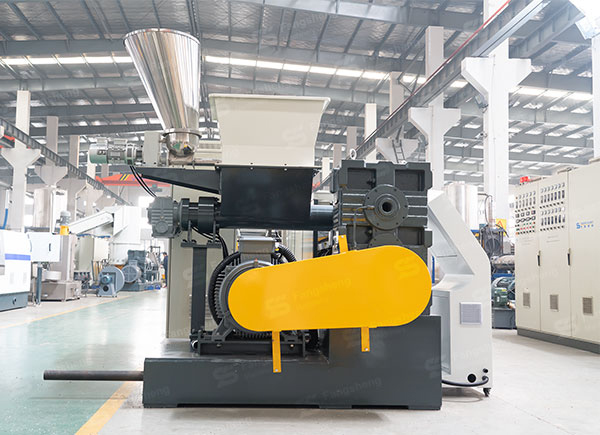 Detail 4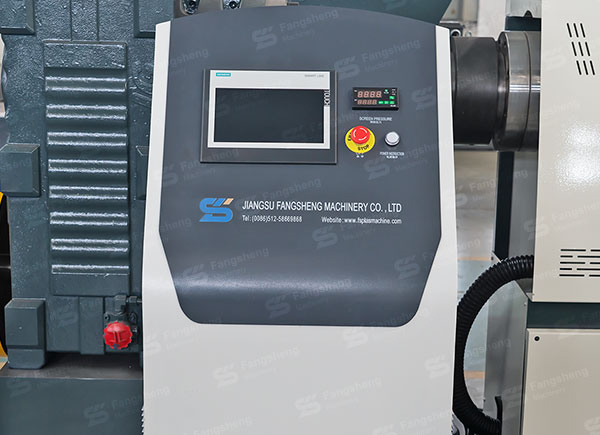 Detail 5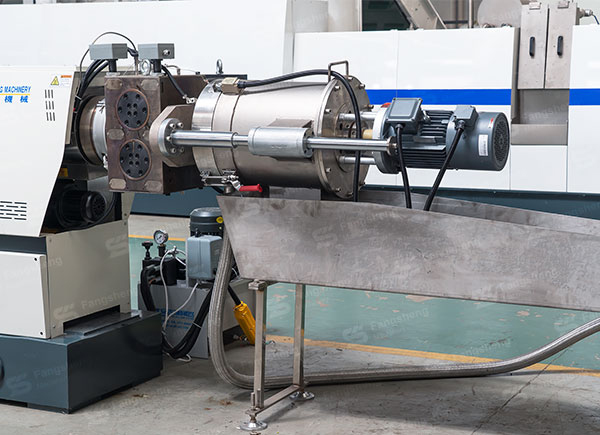 Detail 6