PP Film Granulation Machine Description:
PP film granulation machine adopts special screw design and different configuration, suitable for plastic regeneration and color mixing granulation such as production PP,PE,LCP,PET. Reducer adopts large torque design, smooth operation, no noise. Screw, cylinder after special hardening treatment, with wear resistance, good mixing performance, high yield characteristics, vacuum exhaust or ordinary exhaust design, can be in the production process of water, exhaust gas, use more stable, more solid colloidal particles, Ensure the excellent quality of the product.
PP Film Granulation Machine Features:
1. screw barrel are made of imported high strength carbon structural steel, durable;
2. all recycled materials after sorting and crushing cleaning without drying or drying, drying can be produced, both dry and wet;
3. make full use of high-voltage friction heating system, automatic heating production, avoid continuous heating, save electricity and energy;
4. adopt split automatic distribution system to ensure normal operation of motor;
5. from raw material crushing, cleaning, feed to make particles are automatic;
6. PP film granulation machine looks beautiful and generous. Can be based on customer requirements color spray paint.
PP Film Granulation Machine Application:

PP Film Granulation Line Video:
PP Film Granulation Line Technical Parameter:
FS series single-stage granulator machine
Model
Extruder
Screw diameter(mm)
L/D ratio
Power(kw)
Productivity(PE)(kg/h)
Productivity(PP)(kg/h)
FSJ70
70/33
φ70
33:1
110
110-150
100-130
FSJ85
85/33
φ85
33:1
150
180-250
150-200
FSJ100
100/33
φ100
33:1
210
280-350
250-300
FSJ130
130/33
φ130
33:1
300
480-550
400-480
FSJ160
160/33
φ160
33:1
370
650-750
550-650
FSJ180
180/33
φ180
33:1
460
800-1000
750-850
FS series double-stage granulator machine
Model
FSJ100/120
FSJ130/130
FSJ160/160
FSJ180/200
First extruder parameter
Screw diameter(mm)
φ100
φ130
φ160
φ180
L/D ratio
33
33
30
30
Extruder motor(kw)
90
132
185
250
Heating power(kw)
45
55
70
70
Screw speed(RPM)
0-120
0-120
0-120
0-120
Second extruder parameter
Screw diameter(mm)
φ120
φ130
φ160
φ200
L/D ratio
10-15
10-15
10-15
10-15
Extruder motor(kw)
30
45
55
75
Heating power(kw)
30
35
45
60
Screw speed(RPM)
0-120
0-120
0-120
0-120
Productivity(kg/h)
250-350
400-550
500-700
800-1000
PP Film Granulation Line Detail: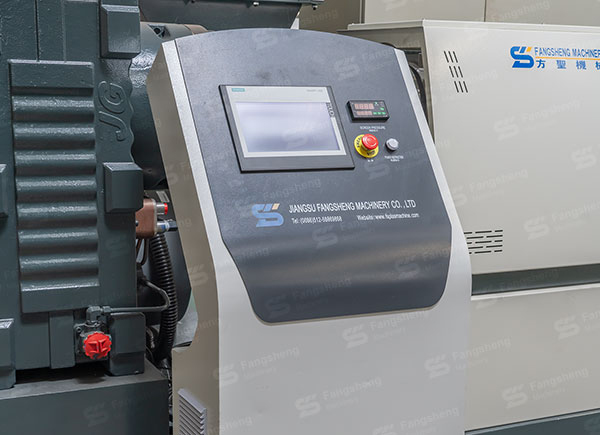 Detail 1
Detail 2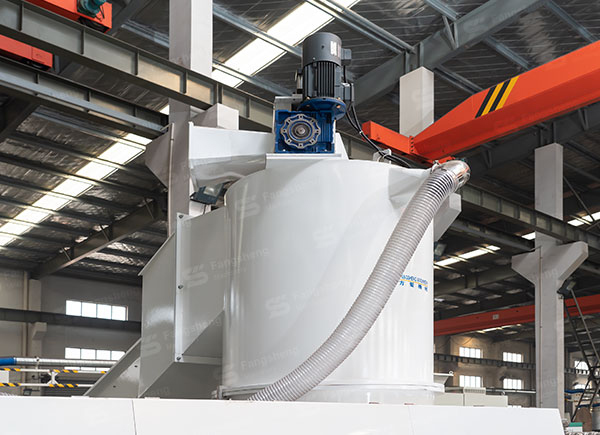 Detail 3
Detail 4
Detail 5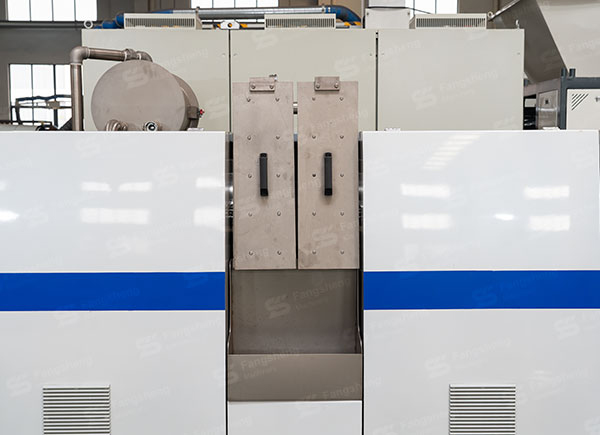 Detail 6