PP Jumbo Bag Pelletizing Line Description:
PP jumbo bag pelletizing line is mainly used for recycling and granulating waste plastics. Recycled plastics of different shapes and different compositions are granulated to obtain plastic particles of the same size. PP jumbo bag pelletizing machine can adopt corresponding special screw design and different configurations according to the different needs of users. The jumbo bag pelletizing machine adopts a high-torque, hard-tooth surface reducer to ensure stable operation and no noise. The special hardened surface treatment of the screw and barrel has good mixing performance and wear resistance.
The granulation method of the jumbo bag pelletizing line is that the plastic is extruded in the melt state, scraped by the blade, and solidified by circulating cold cutting water. After being dehydrated by a high-speed dehydrator, the water in the finished granules can be effectively removed. The drying effect is good, the pelletizing process is easy to operate, the degree of automation is high, there is no dust, the noise is low, the quality of the slicing is good, and the appearance is beautiful.
PP Jumbo Bag Pelletizing Machine Application:
PP Jumbo Bag Pelletizing Machine Video:
PP Jumbo Bag Pelletizing Machine Technical Parameter:
FS series single-stage granulator machine
Model
Extruder
Screw diameter(mm)
L/D ratio
Power(kw)
Productivity(PE)(kg/h)
Productivity(PP)(kg/h)
FSJ70
70/33
φ70
33:1
110
110-150
100-130
FSJ85
85/33
φ85
33:1
150
180-250
150-200
FSJ100
100/33
φ100
33:1
210
280-350
250-300
FSJ130
130/33
φ130
33:1
300
480-550
400-480
FSJ160
160/33
φ160
33:1
370
650-750
550-650
FSJ180
180/33
φ180
33:1
460
800-1000
750-850
FS series double-stage granulator machine
Model
FSJ100/120
FSJ130/130
FSJ160/160
FSJ180/200
First extruder parameter
Screw diameter(mm)
φ100
φ130
φ160
φ180
L/D ratio
33
33
30
30
Extruder motor(kw)
90
132
185
250
Heating power(kw)
45
55
70
70
Screw speed(RPM)
0-120
0-120
0-120
0-120
Second extruder parameter
Screw diameter(mm)
φ120
φ130
φ160
φ200
L/D ratio
10-15
10-15
10-15
10-15
Extruder motor(kw)
30
45
55
75
Heating power(kw)
30
35
45
60
Screw speed(RPM)
0-120
0-120
0-120
0-120
Productivity(kg/h)
250-350
400-550
500-700
800-1000
PP Jumbo Bag Pelletizing Machine Detail: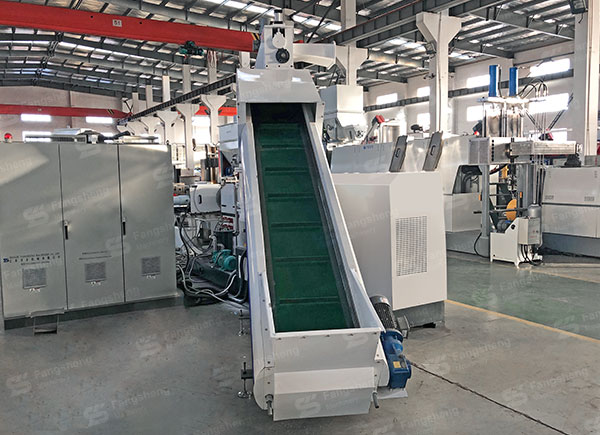 Detail 1
Detail 2
Detail 3