PP Jumbo Bag Pelletizing Machine Description:
The plastic pelletizing machine produced by Fangsheng Machinery includes: PP jumbo bag pelletizing machine, PP woven bag pelletizing line, raffia bag pelletizing line etc.
PP jumbo bag pelletizing line adopts three-jaw forced feeding to feed the crushed and cleaned material into the single-screw extruder; adopts a tapered thread design to squeeze the water out of the thin material, exhaust design, and Vacuum can be installed to remove moisture and volatile substances in the material, and carry out devolatilization treatment to improve the quality of particles.
PP jumbo bag pelletizing line adopts the water ring die surface to be eagerly cut, the particles are uniformly formed, the shape is round, there is no water pattern, and the selling is good.
The jumbo bag pelletizing machine adopts a new feeding method, and the densifier crushes, softens, compacts, compulsively feeds, increases the output, and reduces the unit energy consumption.
PP Jumbo Bag Pelletizing Line Application:
PP Jumbo Bag Pelletizing Line Video:
PP Jumbo Bag Pelletizing Line Technical Parameter:
FS series single-stage granulator machine
Model
Extruder
Screw diameter(mm)
L/D ratio
Power(kw)
Productivity(PE)(kg/h)
Productivity(PP)(kg/h)
FSJ70
70/33
φ70
33:1
110
110-150
100-130
FSJ85
85/33
φ85
33:1
150
180-250
150-200
FSJ100
100/33
φ100
33:1
210
280-350
250-300
FSJ130
130/33
φ130
33:1
300
480-550
400-480
FSJ160
160/33
φ160
33:1
370
650-750
550-650
FSJ180
180/33
φ180
33:1
460
800-1000
750-850
FS series double-stage granulator machine
Model
FSJ100/120
FSJ130/130
FSJ160/160
FSJ180/200
First extruder parameter
Screw diameter(mm)
φ100
φ130
φ160
φ180
L/D ratio
33
33
30
30
Extruder motor(kw)
90
132
185
250
Heating power(kw)
45
55
70
70
Screw speed(RPM)
0-120
0-120
0-120
0-120
Second extruder parameter
Screw diameter(mm)
φ120
φ130
φ160
φ200
L/D ratio
10-15
10-15
10-15
10-15
Extruder motor(kw)
30
45
55
75
Heating power(kw)
30
35
45
60
Screw speed(RPM)
0-120
0-120
0-120
0-120
Productivity(kg/h)
250-350
400-550
500-700
800-1000
PP Jumbo Bag Pelletizing Line Detail:
Detail 1
Detail 2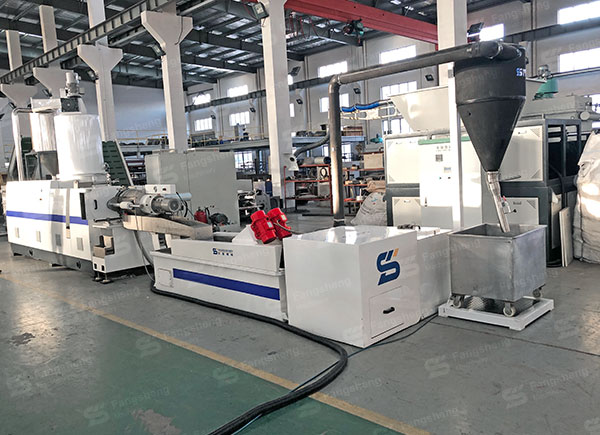 Detail 3