PP woven bag recycling washing line is developed by Fangsheng Machinery introducing, digesting and absorbing domestic and foreign advanced ideas and technology, and combining with the development of the demand and the characteristics of waste plastics recycling.
PP woven bag recycling washing machine is widely used to PP woven bag, jumbo bag, raffia bag etc. The woven bag recycling washing line is a crushing, washing, drying line.
Woven Bag Recycling Washing Line Advantages:
1. High degree of automation, please minimize labor costs, and ensure high processing capacity: 500-3000kg/h.
2. All parts are made of 304 stainless steel (thickness is greater than 3mm); Ensure there is no secondary contamination of the wafer.
3. The finished product quality is good, low humidity (less than 2%), less impurities (below 300PPM).
4. Woven bag recycling washing line can process different materials.
Woven Bag Recycling Washing Line Flow Chart:

Belt conveyer → Wet crusher → Screw conveyer → Floating washer → Screw conveyer → High speed friction washer → Screw conveyer → Dewatering machine → Drying system1 → Silo for transition → Drying system2 → Storage hopper
Woven Bag Recycling Washing Line Application:
Woven Bag Recycling Washing Line Video:
Woven Bag Recycling Washing Line Detail:
High-speed Friction Washer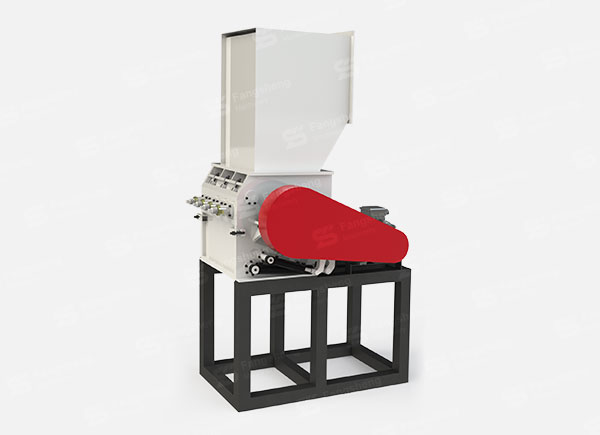 Crusher Machine
Dewatering Machine
Woven Bag Recycling Washing Line Technical Parameter:
Name
Motor power (kw)
Dimension (mm)
Water consumption (T/H)
Stainless steel standard (mm)
Electric standard
Belt conveyor
2.2
4500*690
–
–
According to customers standard
Wet crusher
75
–
2-4
–
Friction washer
2.2*2
3000*300
1-2
3-5
Floating washer
2.2*2+1.5
4500*1300
2-4
3-5
Screw conveyor
2.2
2500*250
1-2
3-5
High-speed friction washer
30
–
2-4
3-5
Screw converor
2.2
2800*300
1-2
3-5
Dewatering machine
75
–
–
5
Drying system
36
–
–
–
Storage hopper for transition
–
–
–
–
Drying system
36
–
–
–
Storage hopper
2.2*2
–
–
–